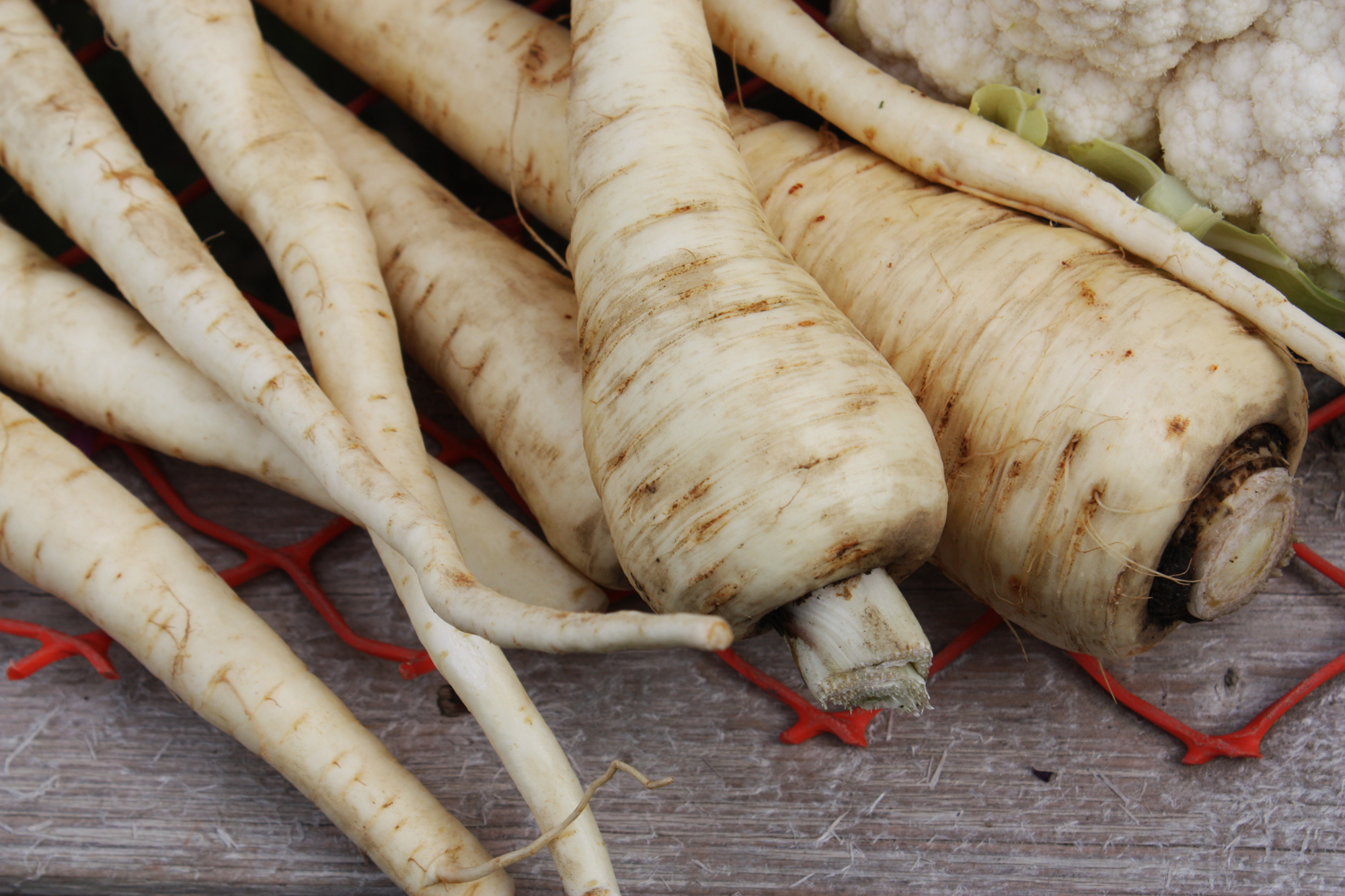 Fall is officially in full swing, which means the sweet summer produce is gone for now. However, despite the lack of bright fruits and crisp legumes, a lot of delicious, hearty vegetables, roots and squash start decorating the tables and bins of the farmers market. Notably, this is the time for winter squash, including delicious Delicata. You also see lots of pumpkins, which aren't just for making into festive Jack-o-lanterns by the way, you can turn these orbs into soup, pasta dishes, pie, and other sweet and savory treats. So, get ready to get cozy in the kitchen and start roasting, roasting and roasting — with a bit of stew making thrown in for good measure.
Delicata squash: This orange flesh of this long, yellow and green-striped squash proves creamier than its brethren, and has a pleasing, almost sweet potato flavor. When choosing a prime example, go for one that's heavier in relation to its size, meaning, small and weighty is good, large and light is bad. Preparing the squash is simple since the skin is thin and you don't have to peel it, a fact that also makes this item a beauty when sliced and served. To prepare, cut in half and scoop out the seeds, after that, ideally you just need a little salt, pepper, and olive oil, which you use to coat the tender flesh before roasting in the oven. Then, serve in half-moon slices or use in a soup, either way, it's a great accompaniment for a fall feast.
Pumpkin: Okay, so maybe this is another squash, but hey, October is all about winter squashes making the scene. Besides, there are dozens of pumpkins out there, including the one usually used to make Jack-o-lanterns called a field pumpkin. However, if you prefer to cook with this squash, the best ones to look for are sugar pumpkins, which you roast, peel, and the puree to make pies, bread, or muffins. You can also find right now the slightly flat, pale orange cheese pumpkins, which have dense, sweet flesh and, like the sugar variety, are good for baking. If you see a light bluish-gray squash, don't be afraid, it's not the ghost of pumpkins past, but instead, the Crown Prince varietal, which works brilliantly pureed into soup or used to make gnocchi.
Brussels sprouts: Most people know Brussels sprouts by their likeness to tiny heads of cabbage. Children also sort of hate them. But, while most kids don't dig the strong, earthy taste of this tiny vegetable, adults tend to love them, especially in their most popular form of being pan-fried or roasted and topped with succulent chunks of bacon. For ultimate freshness, look for these gems of the vegetable world in bunches, still attached to the stem they grew on.
Parsnips: Don't be nervous to pick up some of these unattractive roots that look like a cross between a carrot and a turnip, after all, the sweet, almost nutty flavor prevails and lends a decidedly unique flavor to any dish. At least, that's what Maine-based chefs Mark Gaier and Clark Frasier of the seasonal restaurant Arrows think. "Parsnips are one of the underrated varieties, but also one of our favorites," said Frasier, who likes to roast this root with ginger for a spicy and sweet bite. "This dish makes a great side at a dinner party, and even a great substitute at the Thanksgiving table for anyone who tires of the traditional sweet potato casserole." Also, try pairing this recipe with fresh game meat, pork loin, or even a hearty stripe steak for an everyday meal.
Ginger-Roasted Parsnips
By Mark Gaier and Clark Frasier
Ingredients
12 medium parsnips, peeled
¼ cup olive oil
2 tablespoons ginger root, finely chopped
Kosher salt
Freshly ground black pepper
Directions
1. Preheat the oven to 325 degrees. Toss the parsnips with the oil and ginger in a medium baking dish, sprinkle with salt and pepper and cover with foil.
2. Roast the parsnips, shaking the casserole occasionally to turn them, until they are golden and soft, about 30 to 40 minutes. Serve immediately or keep warm up to one hour.
More in-season stories on Food Republic: