Video: Isa Chandra Moskowitz Launches New Online Cooking Series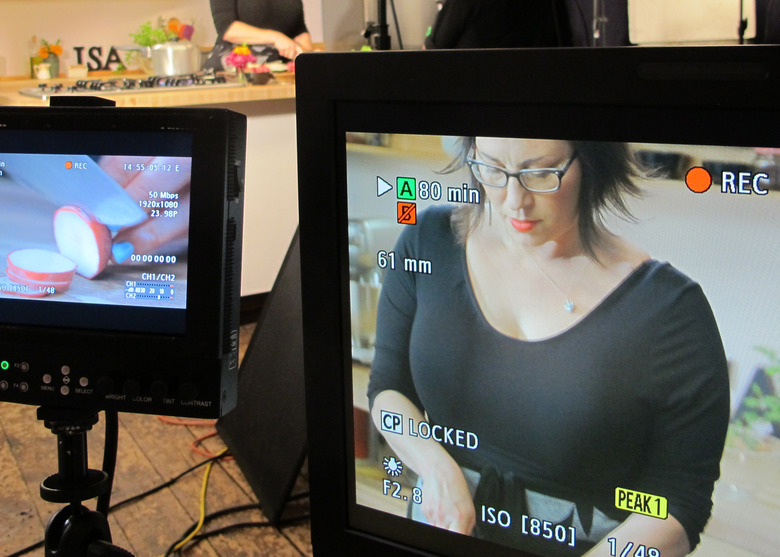 Isa Chandra Moskowitz is a best-selling cookbook author whose vegan recipes are so good that they're likely to convert quite a few meat eaters. Today, she releases the first three videos in a series called Make It Vegan, produced by Zero Point Zero Production (the parent company of Food Republic) in partnership with Breville, and now live on YouTube. Below are the videos, in which this up-and-coming chef and TV host cooks up rosemary chocolate chip cookies, chili and corn muffins, and New England Glam Chowder. The theme song, "Salt," is by the new band R. Ring, led by Kelley Deal of the Breeders. Watch the videos, then scroll down for the full release from ZPZ and Isa.
Make It Vegan: Rosemary Chocolate Chip Cookies
Make It Vegan: Chili and cornbread
Make It Vegan: New England Glam Chowder
And here's the full release:
NEW YORK CITY (October 16, 2013) – Zero Point Zero Production is proud to announce the release of original online series MAKE IT VEGAN, hosted by chef and cookbook author Isa Chandra Moskowitz. The series will premiere October 16 with three episodes, followed by seven more episodes on October 22, and will be available exclusively on YouTube.
This brand new series from the production company behind the James Beard Award-winning The Mind of a Chef and Emmy-winning Anthony Bourdain: Parts Unknown will consist of 10 short-form, online-only episodes, featuring vegan chef and cookbook author Isa Chandra Moskowitz's latest all-vegan recipes such as New England Glam Chowder, Bistro Beet Burgers, Pumpkin Pie Ice Cream, and more. In addition, the series' theme song "Salt" is sung by Kelley Deal from The Breeders, in her new band R. Ring. MAKE IT VEGAN is produced in association with Breville and will be featured at FoodThinkers.com, with the video series hosted at youtube.com/breville.
"It's exciting to be able to drive new, authentic, and original content to the viewer through all the alternative channels available to us today other than traditional television," says Zero Point Zero Executive Producer Joe Caterini. "YouTube provides us with the ultimate creativity and flexibility in pushing the stories we want to tell out to the public, and along the way discovering new characters that may be better suited to the format. Isa and her non-conformist approach to cooking is a perfect example of this, and we are thrilled to have partnered with her in creating this series."
The host, ISA CHANDRA MOSKOWITZ, has authored seven cookbooks that have sold a combined million copies, and her forthcoming and extremely comprehensive cookbook, Isa Does It—Amazingly Easy, Wildly Delicious Recipes for Every Day of the Week [Little, Brown and Company], is positioned to help the world of vegan cuisine take a great leap forward. Isa discovered that unlike most vegan chefs, she didn't need to rely on fake meat products to make her meat- and dairy-free food palatable, but instead uses fresh ingredients and simple yet effective techniques to create explosive flavors in a fun and educational setting. Isa's book is to be published on October 22nd, and available now for pre-order, and the MAKE IT VEGAN series is her first original video or television series in 10 years.
"I'm thrilled to work with the folks at Zero Point Zero on my first online video project – they make great food television, YouTube fits my style, and this venue provides a chance to reach a lot of people who may be new to vegan cooking," says Isa Chandra Moskowitz, "I want people to learn new things from this series, and have fun at the same time."
Zero Point Zero's new digital portfolio, alongside the MAKE IT VEGAN series with cookbook author Isa Chandra Moskowitz, also includes the newly acquired Food Republic website and digital platforms for the television show The Mind of a Chef, as well as Steven Rinella's MeatEater website and several YouTube channels.
Like on Facebook at www.facebook.com/PostPunkKitchen
Follow Isa on Twitter at @IsaChandra