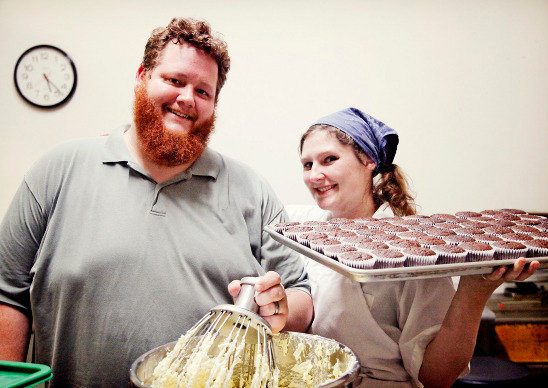 Allison Robicelli doesn't hold back for a hot Brooklyn second. With the well-placed swears that flow from her mouth. With the rich buttercream that tops the excellent cupcakes she bakes alongside her husband Matt. With the honesty she shows during a two-hour lunch with a complete stranger who happens to be holding a recorder. That stranger, me, had been reading an advance copy of the couple's cookbook — Robicelli's: A Love Story, with Cupcakes: With 50 Decidedly Grown-Up Recipes — and straight couldn't put it down on the subway ride home. Allison on a trip to the beach early in the couple's relationship. Remember, this is a cookbook:
That weekend, Matt and I learned something very important about each other. Matt learned that in any instance where he accidentally gets hit in the balls, I will laugh. And if he gets hit in the balls so hard that he starts throwing up, I will laugh to the point where I will start hyperventilating and start passing out.
The writing is crisp, with stories of the couple's unique bond — both in the kitchen and in life. And the 75+ recipes are broken into chapters (called "love letters") with cupcake tributes to everything from Christopher Guest, Columbus Day and The Golden Girls.
And a little secret. I'm probably not going to bake the Rue McClanahan, a peach cake topped with peach compote, anytime soon. I'd love to eat that! But baking takes time and attention, and I like Twitter too much. In essence, I read the book pretty much cover-to-cover while skipping over the recipes. Is this wrong? No way. This is a special cookbook. And Matt and Allison are special people, and outside of all the fun and MS Paint.
When Hurricane Sandy hit last year, the couple dropped everything (sanity included) to mobilize emergency relief for many parts of Brooklyn. On any given day Matt would be cooking in the Rockaways while Allison worked the phones from the couple's Bay Ridge apartment where they live with two small children. These efforts went on for weeks and weeks (Serious Eats published a thorough story following the couple). Their acts of pure selflessness were powerful to witness.
"We thought we were going to make 24 cupcakes a week," says Allison, during a late-summer lunch, of the company's modest beginnings — which have grown into a middle-pimping operation that serves over 250 types of cupcakes at festivals and holiday markets around New York City. And last week they took to their Tumblr to announce that they will be opening a stand-alone bakery in their neighborhood, Bay Ridge. "Why at the ass end of the R line, and not some trendy neighborhood like Carroll Gardens or GreenSwope or Wickvesant?," they asked in the post. If it isn't obvious, the Robicellis play by their own rules. We'll let Allison take it from here, where she talks about battling cancer, typos and those "fucking Islanders."
Learning to cook with Jacques Pepin
I'd always been an amateur baker, but I didn't really get it. Then one day I found this old box of VHS video tapes of a Jacques Pepin techniques series. The first one was "how to tie your towel around your apron" and I would sit there practicing and practicing. The next one was "how to cut a carrot."
Jacques Pepin's classic egg omelet how-to
It's his "In-A-Gadda-Da-Vida" — he'll go to Aspen and be like "watch what I do with eggs, I'm better than all you motherfuckers," drops the fork and walks out. 
Cooking at a comedy club
I had a drug dealer for my sous-chef and a guy who was trying to get out of the Crips doing my promotion. Comedians are very sad people. We cooked a lot of burgers for them.
Her cancer treatment in the early 2000s
I'm bald and I'm fat and here's the bullshit thing. When you get cancer, you are supposed to get skinny. But they gave me steroids and I looked like an egg in sweatpants staying home watching Rangers games.
New York City sports
I'm a big Knicks and a huge Rangers fan. Can we talk very seriously here. In 2015, when the Islanders move to Brooklyn, I'm moving to Staten Island because I am not living in the same borough as them. When the request came [to vend food] at the Barclays Center, I didn't put in. I'm not cooking for the fucking Islanders. This is probably not the smartest business decision.   
Chicken parm
When I make chicken parm, I take the chicken breasts and brine them for 24 hours and then do a panko crust, oven-roasted tomato sauce and fresh mozzarella. I don't fuck around with chicken parm.
Scones vs. Cupcakes
Nobody wants to write a story about scones.
Making the Robicelli American butter cream frosting
It takes two hours. There's an emulsion, there's ribbon stages, there's molten sugar. This is why we turn down a lot of business. Over the past five years we've attempted to grow our business at an ethical rate. There were opportunities where we could have gotten illegal immigrants and paid them nothing. We've always paid above ten dollars an hour, usually 12. I'm not in the business of exploiting people.
Parenting tactics during the holiday cupcake rush
Two Christmases ago we did Madison Square Eats and the Union Square Holiday Market, so for four weeks I did not see my children — and then for four weeks I completely spoil them. I sit my kids down and ask them, "Guys, you like toys right?" "Oh yeah, we like toys." "So here's what's going to happen. Daddy is in the kitchen baking all the time and then daddy gives the cupcakes to mommy and mommy gives the cupcakes to people at the market for money, and mommy goes to the store to buy toys." They look at me confused and the little one says, "That's silly, we'll just ask Santa to bring us toys and you can stay home and not have to do this." 
The food scene
Food has gotten kind of silly and full of itself and we sometimes don't get respect. For these 100 best food Twitters lists, we're never on it. Like, OMG the guys from the Meat Hook are so funny! But, honestly, I don't think I'd be happy if I was the most popular kid in the class. I like being the underdog. I like being the funny weird girl who is not asked to the prom.
The genesis for a book deal
Somebody from Harper Collins DMs me on Twitter and says that you need to write a damn book. And I wanted to write a book, but didn't really have the damn time. So through this DM I met my [future] agent at Junior's for matzo ball soup and we talked for three hours and now she's one of my best friends.
Typos
You get a cookbook and see a typo and are like "how can there be typos in a cookbook." You write a cookbook and wonder why there aren't more typos in cookbooks. You get stacks of papers with red markings and you sometimes don't really don't know what is going on.
Matt and Allison's first date
We went to Brighton Beach and bought a bunch of stuff to cook with.
A turning point for cupcakes
So many of the people who I have become friends with in the food world were so anti-cupcake for years, and now have changed their minds. Somebody told me that we wrote a traditional cookbook, while staying original. That we're giving [the cupcake industry] the finger, but it's a loving representation as well. And that's really cool.
MS Paint is awesome
Watch the book trailer