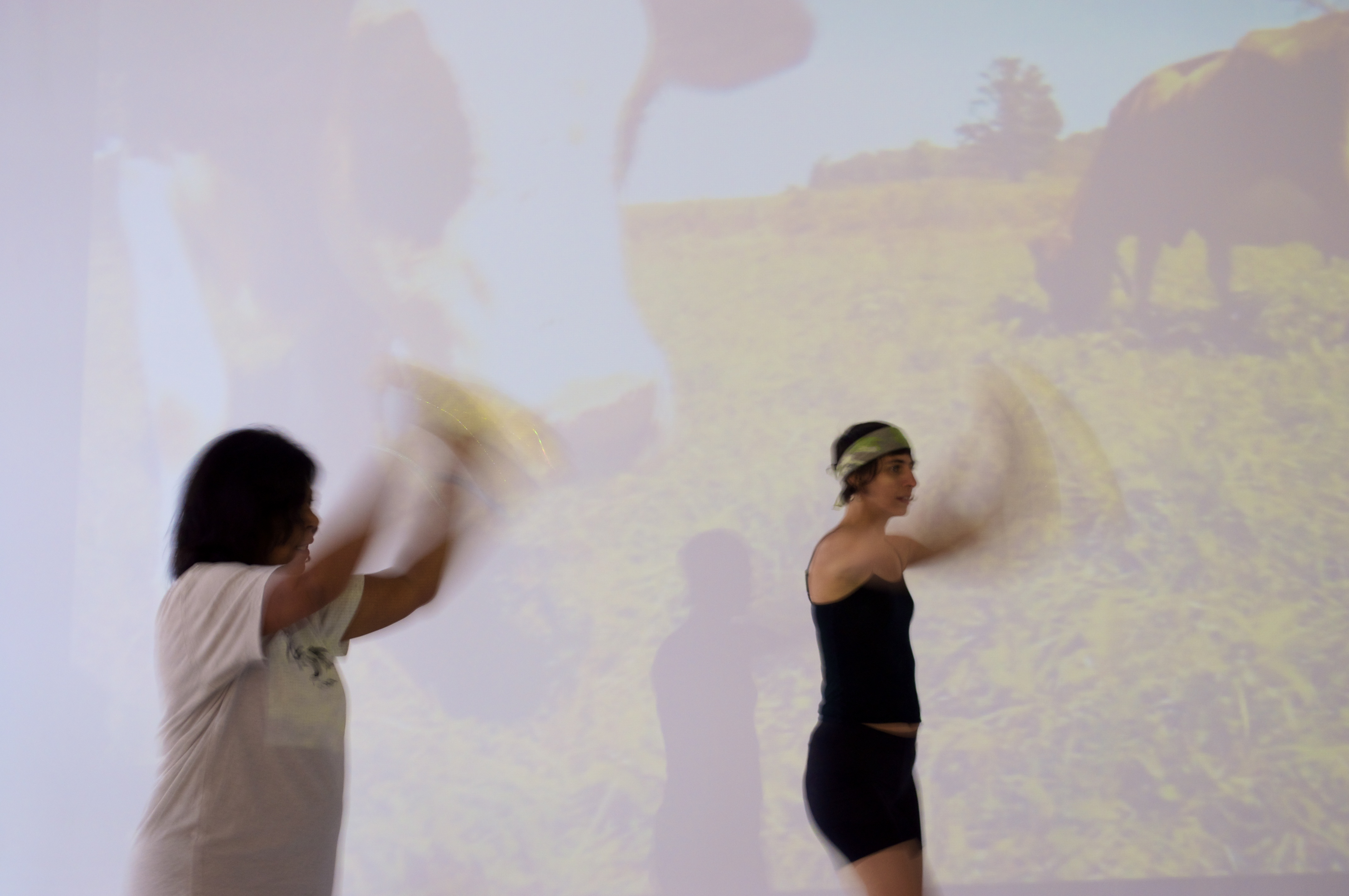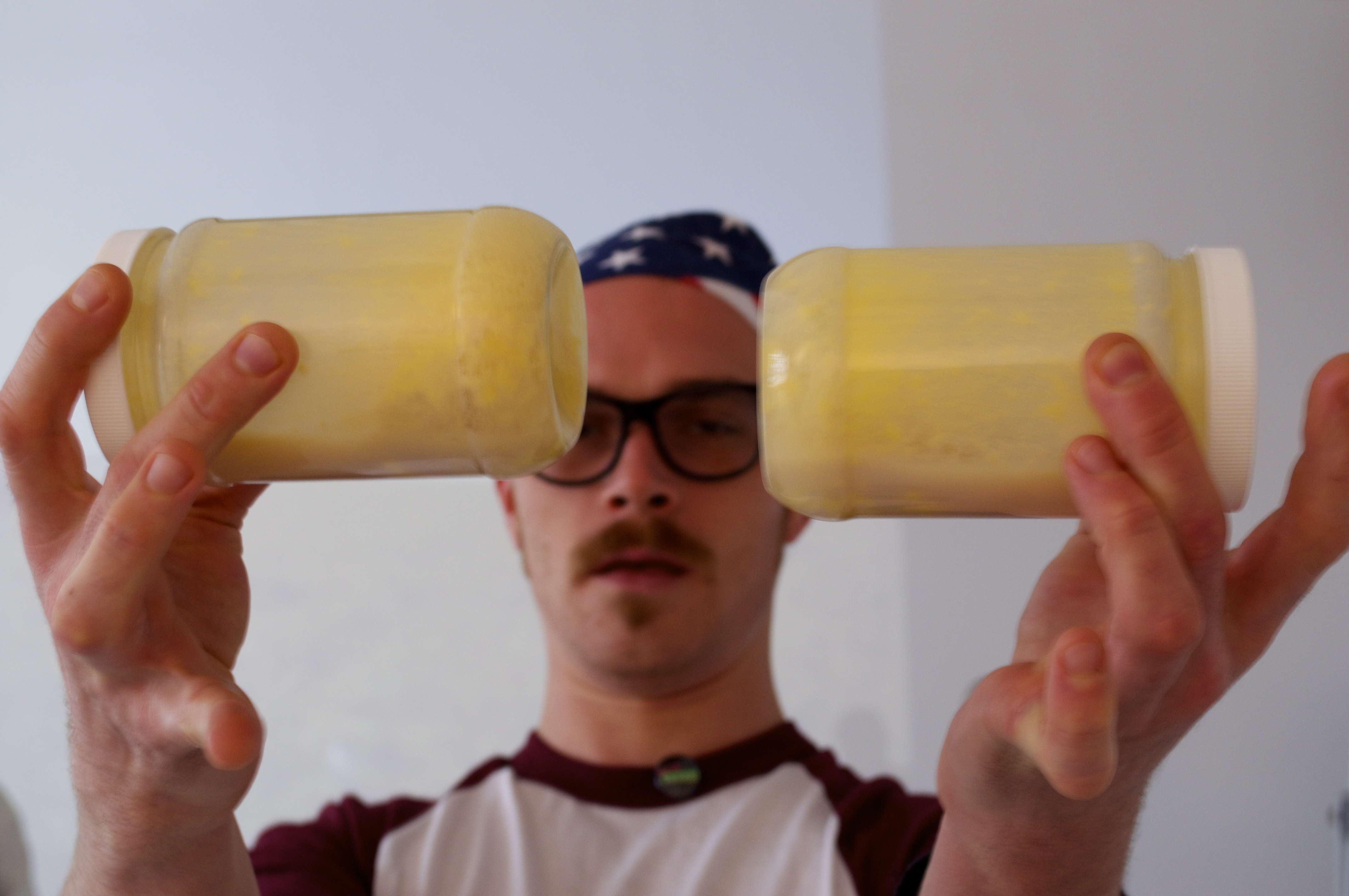 It's 8:30 in the morning and I've just walked into an art gallery dressed for a workout. Others are milling about in shorts and leggings, sweat bands around their heads and wrists. And in each hand, a jar of heavy cream. Welcome to Feel the Churn: the first ever butter-making aerobics class.
It's not exactly an exercise class you can sign up for on your lunch break. Feel the Churn is a traveling art project of sorts, the brainchild of Jimmy Fusil and Michael Patrick Wait who together make up Pop Is Not Soda. The duo started out making music together. Then one day, Jimmy got the idea to make butter. He first tried his hand at it when dating his now-wife, hoping to match — or at least complement — her bread-making skills. After seeing a commercial for Shake Weights (oh man, those commercials), he recalls a eureka moment. He would invite people to churn their own butter, while breaking a sweat.
If you've never made butter before, you might not expect it to be a workout. But take a small jar of cream and shake it vigorously for maybe 20 minutes, separating the butterfat from buttermilk, and you'll feel the, ahem, churn. Fusil and Wait take the workout part to the next level with some good old-fashioned aerobics moves performed to a buttery soundtrack.
The music gets arms and jars of cream pumping. Songs like "Shake Your Booty" by KC & The Sunshine Band and "Mashed Potato Popcorn" by James Brown get folks in the mood for some serious butter churning. Together, my fellow aerobic churners and I step it out, work the arms, double time it, and generally shake what our mamas gave us. Or, in this case, shake what White Cow Dairy in East Otto, NY gave us: some of the thickest, grassiest heavy creams you'll ever see. As we churn and sweat, images of the dairy's cows grazing are projected on the wall behind us. These are the very cows whose cream we're shaking. The thick, custard-like substance was in these beautiful beasts just days ago.
Fusil and Wait like to use local cream, so in Los Angeles, where Feel the Churn started, they source it from Strauss Family Creamery in Marshall, CA. In Philadelphia, the cream comes from Pennsylvania-based Balford Farms, and — who knows? — they may pop up in an art gallery near you. At the end of each class, churners are taught how to drain the rest of the buttermilk from the butter and shape it into logs using an antique butter press. You also get to taste some fresh butter on a slice of bread and take home what you made. Perhaps the most brilliant part of the project is that each class is designed to burn 150-200 calories: the exact amount a slice of buttered bread represents. So, you come out even, calorically speaking. But all the butter richer.
The next morning I spread the butter I made on homemade buttermilk pancakes and am loathe to add syrup for fear of drowning out the buttery taste. It's tangy and grassy and earthy, almost cheesy in flavor. I wouldn't go as far as to say you could taste my blood, sweat and tears in it. But maybe just a hint of disco.
Read more about butter on Food Republic: