Dinner At Betony: A Special Occasion, Down To The Foie Gras Bonbons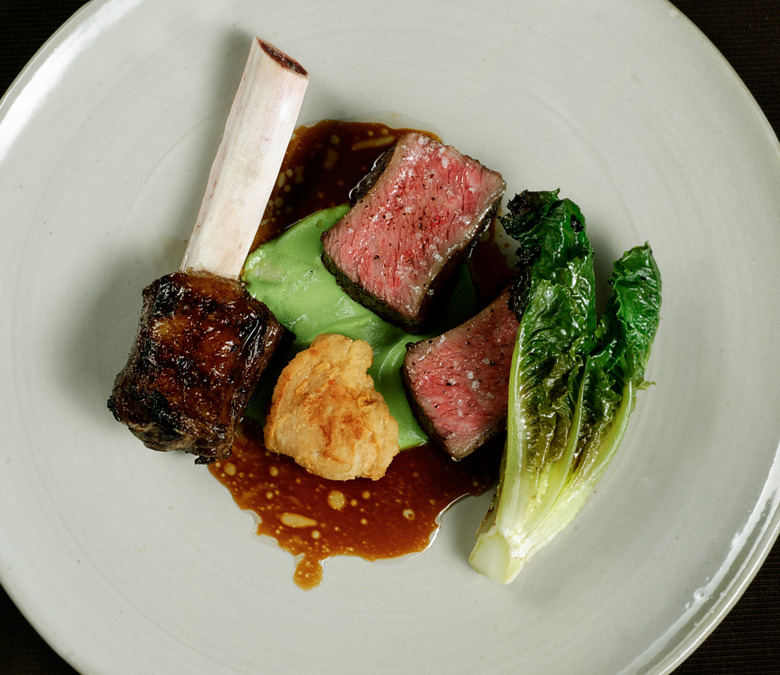 Photo: Burcu Atalay Tankut
Ever since receiving a three-star review from Pete Wells in The New York Times, Betony has established itself as one of the city's new crown jewels. Eager to find out if the restaurant could live up to its early acclaim, I secured a reservation – yes, exactly one full month in advance – and made the trip to Midtown. Here's what I found.
Players
Chef Bryce Shuman worked under Daniel Humm as Eleven Madison Park's executive sous-chef, while manager and beverage director Eamon Rockey (he of the house-brewed fermented root beer) formerly served as a captain at EMP.
Setting
Much of Betony's décor is left over from its predecessor, the fast-burning Russian spot Brasserie Pushkin. The result is slightly disjointed, albeit intriguing: the restaurant's location on West 57th Street is daring, a welcome addition to a neighborhood somewhat devoid of three-star action. The space itself might not exude refinement, à la Daniel or Jean-Georges, but there is still very much an air of elegance, though in a slightly mysterious sense. A gigantic bar with several seats lends color to a dimly lit first floor, and a staircase leads to a surprisingly spacious second level. It's not conventional city luxury, but it works well. The noise level, even on a busy Saturday night, rarely rises above moderate.
Food and Drink
Betony's menu is split into three sections: snacks, appetizers and entrées. Snacks are a mere four bites, which works nicely for a group. The foie gras bonbons stand out here, appearing in the form of a chocolate truffle and combining a fatty morsel of goose liver with crushed cashews and a touch of black pepper. Mushroom cavatelli with poached egg — a recent addition to the appetizers section — is drizzled with a ginger consommé and provides a nice bridge between the mini snacks and hearty entrées, while those looking for a further foie fix can opt for a beautifully plated hot presentation. It is in the larger selections that Betony shines brightest — the roasted chicken with chanterelle mushrooms and black radish puts itself in the conversation for the best such dish in the city from the very first bite, a perfect contrast of tenderness to blend with a golden crispy exterior. Grilled romaine gives off a slight smokiness to accompany short rib stewed for two days in melted fat. The beef is as decadent — and flavorful — as it seems on paper. Soft poached lobster has a delicate buttery flavor and is finished off with a silky smooth lobster bisque. Best of all, pricing manages to remain fair for a restaurant of such high caliber.
Cocktails and wine appear engaged in fierce rivalry with one another, with no correct answer as to which to order. An extensive wine list puts an emphasis on foreign bottles, while a "choose your own spirit" milk punch highlights an equally impressive cocktail list (try it with mezcal). Classics such as the Ward Eight and Pisco Sour hold their own with drinks poured at the finest bars in Manhattan. Finally, no write-up of Betony would be complete without a mention of the impeccable service. The team is made up of professionals, excelling at everything from wine suggestions to food descriptions to all the little things that separate a truly excellent meal from one that is simply great.
The Final Word
New York City's newest dining superstar has arrived. Betony lives up to — even exceeds — its hype in every possible category. Call early, call often and reserve a table for dinner today. You won't regret it.
41 West 57th Street, 10019 
212-465-2400
Small plates ($11-19), large plates ($27-36)
---
More NYC Field Reports on Food Republic: