A Latin-Jewish Pop-Up Restaurant Is Coming To NYC This Weekend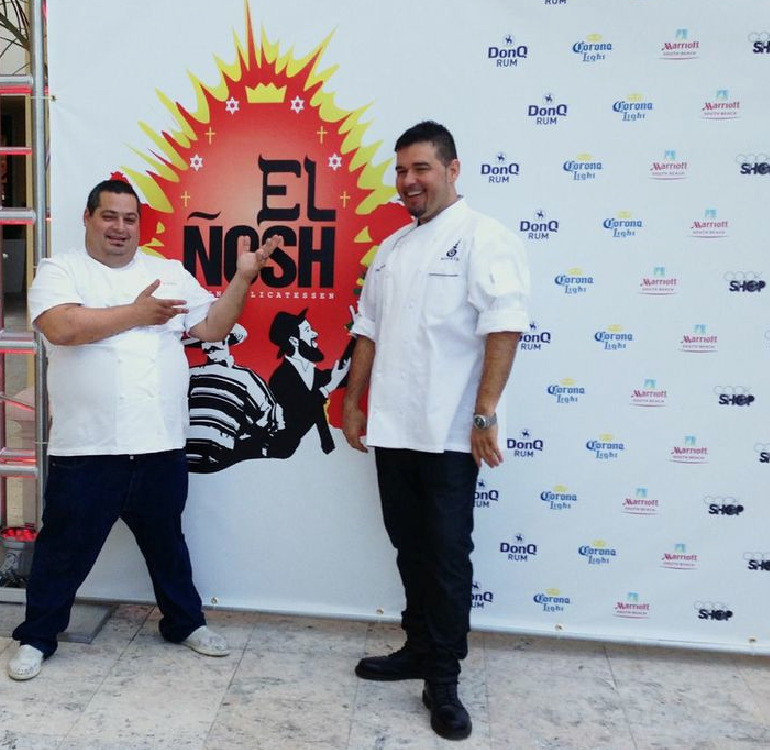 Who knew that Jewish food could be so diverse? We recently told you about our meal at Shalom Japan, the Jewish-Japanese hybrid restaurant in Brooklyn. Today, we have news that an acclaimed duo of chefs is bringing a pop-up featuring a fusion of Latin and Jewish food to New York City's Meatpacking District this weekend.
On the heels of two successful runs in Miami and San Juan, Puerto Rico, chefs Eric Greenspan (of The Foundry on Melrose) and Roberto Treviño (of Iron Chef fame and owner of five San Juan restaurants) are operating El Ñosh from Thursday, October 17 to Sunday, October 20. The four-day pop-up will challenge conventional definitions of both cuisines with innovative plates evolved from shared familial roots – dishes include pastrami and dill pickle croquetas, matzah ball "Albondiga" soup, smoked salmon and cream cheese quesadillas, beef brisket with horseradish "pozole" and guava and cream cheese blintzes.
The pop-up will host a launch celebration on Thursday night at 8 p.m. before serving dinner from 6-11 p.m. Friday through Saturday. Sunday brunch will take place from noon to 6 p.m. A limited number of reservations for all seatings – and more information – are available through El Ñosh's website.
El Ñosh
53-61 Gansevoort Building, 10014
818-693-1142
More New York City news on Food Republic: