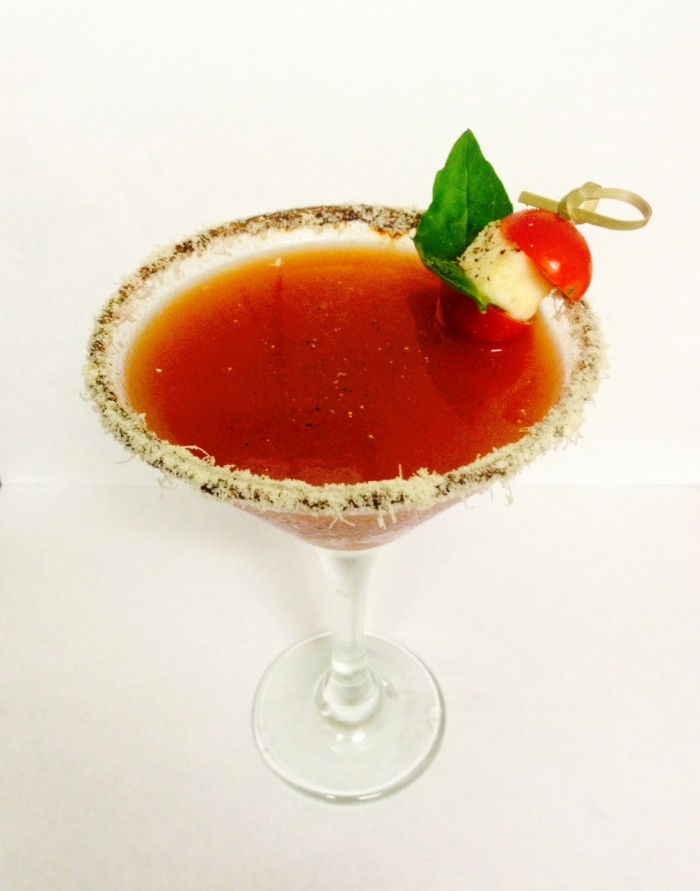 When the New York Wine and Food Festival rolls into town next week, thousands of hungry attendees will sample copious burgers at the Burger Bash, down tacos and tequila, sample an astonishing array of meatballs. And then, on Sunday, October 20, the real troopers will head to La Sagra Sunday Slices, where hosts Anne Burrell and Adam Richman will join founder Michele Iuliano in offering pies from many of NYC's most notable pizzerias.
Which pizzerias? How about Co., Motorino, Keste, Nicoletta and Rubirosa, to name just a few. These and many other pizza hot spots will serve up slices in a walk-around tasting set-up. Drinks will be served as well, and we hit up one of the participants, Enzo Cangemi of Ovest Pizzoteca and Bar, to get his recipe for what he calls La Margherita cocktail.
The drink is meant to evoke the flavor profile of Cangemi's beloved pizza, calling on tomato, basil, even mozzarella. Try it at home, and if you want to sample a serious variety of slices, pick up tickets to next Sunday's event here.
La Margherita Cocktail
Ingredients:
5 chopped cherry tomatoes
pinch of salt
pinch of black pepper
1/2 oz. lemon juice
dash of worcestershire sauce
Dash of Tabasco
3 basil leaves
3 dashes celery bitters
1 1/2 oz. vodka
1/2 oz. tomato juice
handful fresh chopped mozzarella
balsamic vinaigrette reduction, pepper and finely grated parmigiano reggiano for rim
Directions:
Muddle ingredients in a shaker
Add 1 1/2 oz. vodka and 1/2 oz. tomato juice
Add 1/2 oz. tomato juice
Shake and strain into a martini glass
Use balsamic vinaigrette reduction, pepper and parmigiano reggiano to cover rim
Garnish with fresh chopped mozzarella, basil, cherry tomato and black pepper