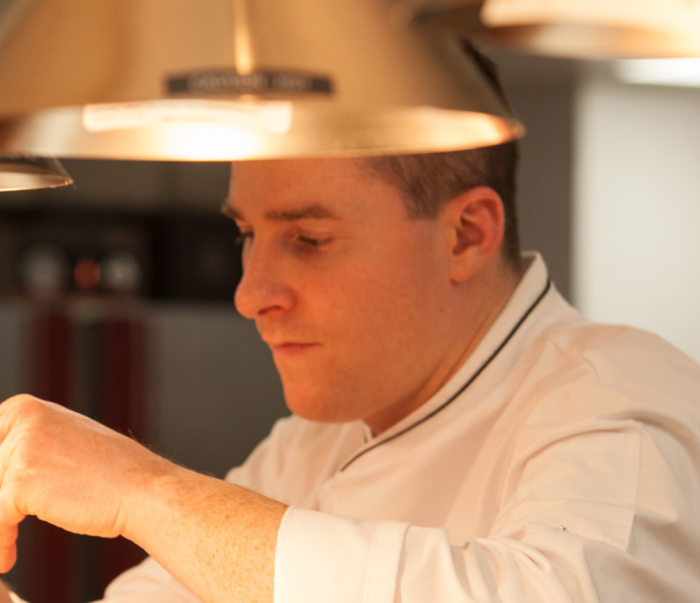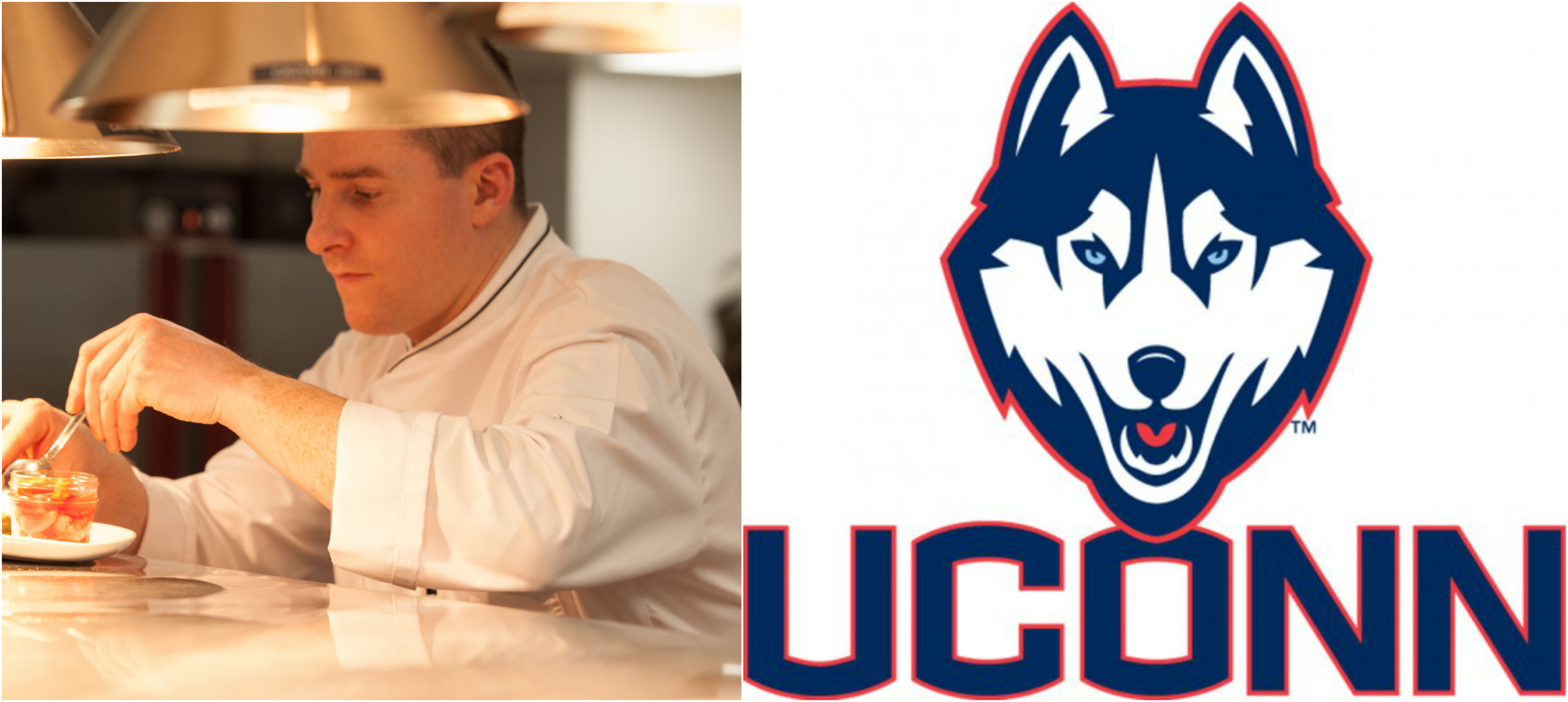 Having spent his entire childhood and professional career in the New England area, Chris Molyneux was the ideal choice to take over as Executive Chef at Parallel Post in Trumbull, Connecticut, one of James Beard-nominated Dean James Max's six restaurants. The chef first aspired to be a marine biologist at the University of Connecticut – it's no coincidence that his restaurant's menu is seafood-focused – before graduating from Johnson & Wales. It was during his days as a self-proclaimed "frat boy" at UConn, however, that Chris first spent hours toiling in the kitchen…as the football team's personal caterer. We caught up with him to talk booze-marinated steak and Huskies football.
Did you tailgate the games?
We'd be on campus at our fraternity and head over together to the stadium – tailgating wasn't as big as it is now. What was big, though, was the Yale Bowl. We'd all go down there whenever UConn would play Yale and bring a bunch of grills.
What were you cooking?
We'd do the Jack Daniel's steak [recipe below], chili, and chicken skewers and kebabs, which are great go-to tailgating foods. We'd bring beer and microbrews, as well.
Did you realize that cooking was your true calling while at UConn?
I was cooking before I went to UConn and I actually worked in the kitchen of the Huskies bar in the area. I was also a personal caterer for both the basketball and football teams.
What would the football team eat?
Oh man, they would just crush pounds and pounds of steak, chicken and pastas. We'd do all the pre-games, so if they had a game the next day, they'd eat with us and not in the dorm.
Any predictions for this year's football team? Didn't they just fire their coach?
They just let him go and a lot of us aren't very happy about that. They had a good year last year and now they didn't even let him finish the season. They played really well a couple weeks ago against Michigan and almost pulled it off — I think that they're going to be a lot better soon than people give them credit for.
---
Chris gives us his favorite places to eat and drink on game day in Storrs:
Huskies
"Everybody goes here before the game. It has a great Happy Hour and is a sports bar during the day that turns into a dance club at night. They have good food and beer and the best part is that it's right on campus." 28 King Hill Road, Storrs, CT 06268 860-429-2333
Ted's Restaurant and Bar
"It's pretty much right next door. Downstairs, they have grinders, which you can grab on your way to the stadium. Upstairs they serve pizzas and something called 'hotlets,' which is basically chicken dressed in flour that isn't breaded all the way and is served with hot sauce." 16 King Hill Road, Storrs, CT 06268, 860-429-9545, tedsbar.com
---
Jack Daniel's Ribeye Steak Recipe
Chris' fraternity's favorite liquor to drink, serve and experiment in the kitchen with was Jack Daniel's. It's no surprise, then, that he created this recipe during his college days and continues to make it today. The whiskey lends a perfect amount of flavor and moisture to the marinade.
Ingredients:
4 ounces Jack Daniel's Whiskey
3 cloves fresh garlic
2 sprigs thyme
1 ounce olive oil
salt and pepper to taste
1 ziplock bag or marinate tray
Directions:
Place the steak on a plate. Crush on clove of garlic with side of a knife. Pull the thyme off the sprigs and rough chop to release flavor. Rub garlic on both sides of the steak.

Place the steak in the bag/on tray, add the additional garlic cloves, whiskey and chopped thyme. Marinate for a minimum of 2 hours, add salt and pepper on the steak and grill to desired temperature.
Read more Proud Alum stories on Food Republic: