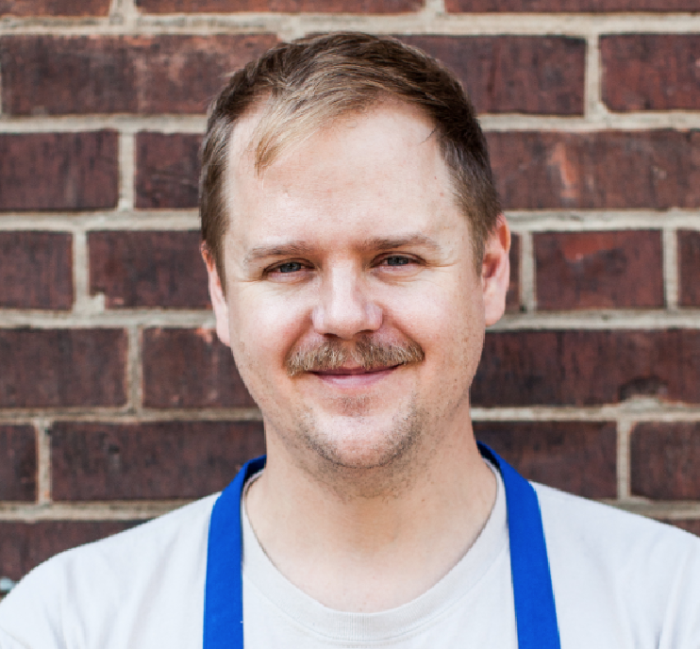 In his first year as the chef/owner of Rolf and Daughters in Nashville, Philip Krajeck has made quite a splash in the local and national food scene. Andrew Knowlton of Bon Appétit named R & D the #3 best new restaurant in America for 2013 and declared that "Krajeck was put on earth to make pasta." We caught up for him for a quick cuppa and a few questions before he headed in to his Germantown neighborhood kitchen to start rolling out the squid ink canestri.
You're a multiple James Beard nominee who had the head gig at Fish Out of Water, perhaps the best restaurant on the Florida gulf coast, located in the bucolic Watermark resort complex. What the hell made you think to leave and come to Nashville?
I was in Florida for eight years, and it was great down there. I have a history in the area, having lived in Ft. Walton Beach, but it is so hyperseasonal down there. I couldn't accomplish all my goals – to open a restaurant where people would appreciate what we were doing. Because it's a vacation community, you have to make your nut in six months and struggle through the soft seasons.
I went to college in Huntsville, AL about an hour south of Nashville, so I'd been coming up here for years to see shows and hang out and party. When I decided about six years ago to open up my own place, I started coming up to visit more frequently, and it was amazing to see how much had changed in town. The standard of living is really affordable, it's easy to travel out of here, there's great agriculture going on and a really good culture to open a restaurant and raise a family.
Rolf and Daughters is a total grass-roots effort, and I've pulled in every favor and every resource from everybody I've ever met.
You describe the cuisine at Rolf and Daughters as "modern peasant food." What are some dishes that best exemplify your cooking style?
There are two major things that we're trying to accomplish. First, we strive to use everything and not create waste. We work with a lot of whole animals like hogs, making sausage, porchetta and a pork ragout over garganelli verde that I will never be able to take off the menu. We usually don't describe specific cuts of meat on the menu, so the Yorkshire pork with corn, shishito peppers and lime onion might come with tenderloin at 7 p.m. and switch to shoulder steaks before closing. That really allows us to keep our prices more affordable.
Secondly, we really want to share what we're doing in the moment. When we had a month of amazing blueberries, we sold the heck out of Blueberry Salad, but it went away just as quickly. When a farmer brought me the best purslane I've ever had, it had to go on the menu immediately.
The last time I saw you, you were buying corn out of the back of a pickup truck at the Nashville Farmers' Market. How has the middle Tennessee farming community affected your cooking and which local products have you been most excited to use?
Tennessee has amazing proteins, because the grass is so lush it produces delicious animals. Restaurants like Husk are helping to develop the relationships between farmers and chefs, and I'm really looking forward to the seasons looping around after our first year so I can play with the ingredients I discovered last year. Now I can request specific things from the farmers like varietals of Italian tomatoes that haven't traditionally been grown around these parts and dandelions that I use in multiple dishes. I've gone through 300 pounds of La Ratte potatoes in three weeks and have more coming. They are the most potato-y tasting I've ever found.
So what do you plan to do to top this first year?
This year exceeded all of our expectations and I'm really humbled by the response from press like Bon Appétit, but even more so from our customers. We've got tons of regulars from the neighborhood, and we consider ourselves to be a utilitarian democratic restaurant. You can come in for a beer and a pasta and get out for $20 or you can come blow it out.
I want to start holding some chef dinners with out of towners this year, and we're experimenting with recipes for some large format stuff like Pig Trotters for 4 that we plan to offer periodically.
Which chefs do you hang out with the most, and where do you like to go after shift?
All the guys at The Catbird Seat have been great. They brought us a staff meal of fried chicken, turnip greens and mac & cheese last week that was ridiculous! Morgan McGlone and Sean Brock at Husk have been super supportive of us and I really respect how passionate they are about cooking and ingredients. Of course, Tandy Wilson is just down the street at City House, and we love his food.
I don't go out a whole bunch since I want to get home to my family. If I do, it's probably to some place like The Gold Rush, a Vanderbilt-area bar where I can get some wings, a bean roll and a beer. I do like the baloney sandwich at Robert's Western Wear. That's where a bunch of chefs end up after work. I also like Bella Nashville, a tiny wood oven pizza place in the Nashville Farmers' Market. I could eat pizza every day.
What's your favorite post-shift drink?
Usually an ice-cold cheap American beer. Coors Banquet seems to be the flavor du jour. I grew up in Belgium, so I love a good beer.
My editor asked this one: Nashville is still a bit of a culinary backwater — with a few token spots. do you think this is fair?
Nashville is in the process of really growing food-wise. We've got good classic Southern food and some amazing high end restaurants. It'll be interesting to see what the folks working in the kitchens of these places will do when they open their own restaurants. We've just got so many options; that's the exciting part!
Who are your famous customers?
Nashville is special in that celebrities feel very comfortable to come in and out without being harassed. That's a big reason that so many of them have moved here lately. It's kind of normal to see somebody famous just about anywhere around town, and it's not a big deal. We treat everybody the same. And if they want to tweet about where they're eating, that's their business.
Read more about Nashville on Food Republic: