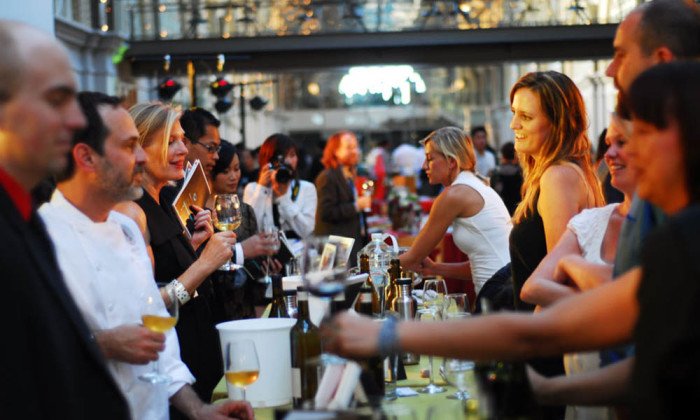 This week, we've got events for every type of palate. Satisfy your inner Italian at Eataly's Identita, learn from Scandinavia's finest chefs while indulging in delicious Nordic cuisine, or if you're a street food fan, check out San Francisco's Street Eats festival for the Bay Area's best on-the-go grub. And if you're the artsy type, make sure to check out a visual feast of food-inspired art at Chelsea's Affordable Art Fair, and a conceptual art exhibit (with a catered dinner to boot) at 70X7 The Meal in Philadelphia's Independence Hall Park. If all that isn't enough to satisfy your cravings, it may be that all you need is a good beer. Don't worry—this weekend, Brooklyn Brewery is holding the next chapter of their MASH festival in Chicago.
The Brooklyn Brewery MASH: Chicago
Chicago, IL
Through October 6
From March-December of 2013, New York's own Brooklyn Brewery will be touring U.S. cities, hosting interactive events in food, drink, music, comedy and literature with ticket proceeds benefitting Slow Food USA. The next stop on the tour? Chi-town. Broolyn Brewery will feature various brews at different venues around the city, such as Headquarters Beercade where you can sip small batch, not-for-public varieties while dodging Pac-man ghosts. On Friday, learn some history while you imbibe at "Slow Supper," an 1893-inspired feast catered By Found Chef Nicole Penderson. Note: Dressing in period attire is "encouraged but not required." And on Saturday, street food chefs will compete in an intense cook-off to see who comes out on top as the best vendor at the "Vendy Awards" held at Kendall College.
North: Nordic Food Festival
New York, NY
Through October 7
This weeklong event, hosted by Honest Cooking Magazine, will bring the pioneers of Nordic cooking together to offer master classes in Scandinavian cuisine. Over the course of the 30-40 minute sessions, the chefs will share their backgrounds, influences and cooking styles. October 4-5 events feature tasting menus by Finnish star chef Sasu Laukkonen from Helskini's Chef & Sommelier and New York's Carl Kristian Frederiksen of Aamanns Copenhagen. You can expect to experience all the inventiveness and flavor-whimsy that only Nordic cuisine can deliver: e.g. dill cheese with elderberry and rye puffs, liqourice with cherry and lavender. …meatballs.
Appealing and Appetizing Art
New York, NY
Through October 6
There's nothing like getting your sampling on at a food festival, but sometimes it's nice to give your stomach a break and indulge your eyes instead. This weekend, The Tunnel in New York's West Chelsea neighborhood hosts the Affordable Art Fair, featuring an exhibit of food-centric art. Some of this art looks so realistic; you may be tempted to reach through the frame. But let's be adults here. You can always head over to Chelsea Market to grab a bite once you've worked up an appetite.
Identita New York
New York, NY
Oct. 4-6
Mario Batali's Manhattan-based Italian food empire, Eataly, and international chef forum Identita Golose, partner to host a culinary weekend featuring all-star American and Italian chefs. Representing the American luminaries of Italian cuisine: Daniel Boulud, Jeremy Bearman, Matthew Lightner, Sara Jenkins and Batali himself. And from across the pond: Italians Davide Scabine, Carlo Cracco, Moreno Cedroni and Massimo Bottura of this year's third-best restaurant Osteria Francescana. After an afternoon of seminars and cooking demos, Friday and Saturday feature six-course dinners under the stars at Eataly's Birreria.
Street Eats
San Francisco, CA
Oct. 5
Online hub for cultural connection, OneVietnam, will host their biennial charity gala, and it sounds delicious: a night of street food from 15 of the Bay Area's best star chefs. The event offers guests much more than an on-the-run roadside taco. The evening's highlights include a semi-formal, walk-around gourmet tasting event; 15 street food tasting stations; bars featuring cocktails by Erik Adkins of Hard Water, beers by Stella Artois and a wine menu curated by Chaylee Priete of The Slanted Door. There's an auction with proceeds benefitting OneVietnam and an Instagram photo booth. These are some sights and tastes you're going to want to remember.
Greenwich Wine & Food Festival
Greenwich, CT
Oct. 5
Held on the banks of the Long Island Sound, the third annual Greenwich Wine & Food Festival will feature celebrity chefs, sommeliers, cooking demos and cook-offs and food, wine and spirit tastings. The event, sponsored by Serendipity, will kick off with a wine and hors d'oeuvres party Thursday night and a Grand Tasting Gala Friday night. On Saturday, stroll around the Culinary Village and stop in on a seminar about biodynamic Spanish wines from Gretchen Thomas or a dim sum cooking demo from Dale Talde. Nothing tops off a day of food and drink like a good jam band, which works out well since Dispatch is taking the stage Saturday evening.
70×7 The Meal
Philadelphia, PA
Oct. 5-6
Part educational initiative, part performance art, this event will seat 900 around a communal table in Philadelphia's historic Independence Mall Park. The table itself is an aesthetic spectacle, studded with enameled plates and a specialty-printed table runner from Paris-based artists Lucy and Jorge Orta. The performative art will transpire through spontaneous conversation —conversation surrounding the meaningfulness of a heirloom produce-focused meal and the notion of community. And the meal is certainly something worth talking about. Celebrity Chef Marc Vetri will serve a menu of fennel and parmesan gratin, squash caponata, baugna cauda and haricots vert with purple potatoes. All heirloom ingredients will be provided by three local Pennsylvania farms.