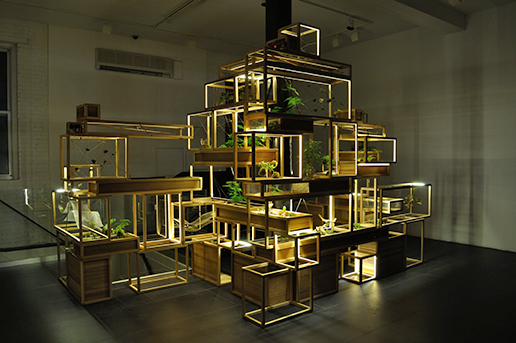 If you're in the NYC area, head over to NYU's Gallatin School for a night of plants, drinks and design. Opening today and running through Oct. 9th, Growery: Rooftop Farming Exhibition and Symposium, explores the potential for rooftop farming in NYC and considerations for designing such spaces.
Tonight (opening night), a panel of NYC professionals will reflect on the challenges and possibilities for the rooftop growing movement. Scheduled guests include Paul Mankiewicz, Ph.D, of the Gaia Institute, who will be discussing the lightweight soil he has developed specifically for rooftop use, and landscape architect Kate Bakewell (of Biocities and Brook Farm Group), who will be presenting her findings on the green roof at NYU's Center for Spiritual Life. The event will also highlight recent graduates' efforts to "engage more rooftops as spaces that are socially, agriculturally and environmentally productive." Enjoy a glass of wine, produce from the Brooklyn Grange and pizza from Roberta's.
The event is free and open to the public.
Time: October 2, 5-9:00pm
Gallatin School of Individualized Studies
1 Washington Place
New York, NY 10003
(212) 998-7370
For more info check out the events page.