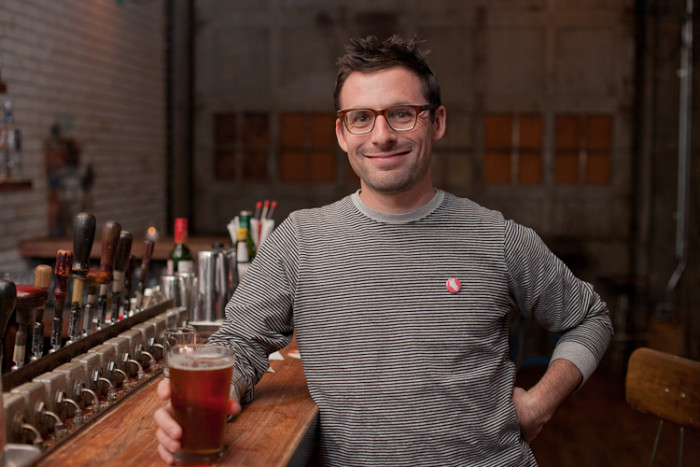 As craft beer becomes more ingrained in American culture, it's increasingly hard to keep track of all the styles and brews. Navigating the beer aisle, even at your local supermarket, becomes such a task that people tend to stick to an old favorite rather than taking a chance on something new. Thankfully, Brooklyn-based writer and occasional Food Republic contributor Joshua Bernstein's new book, The Complete Beer Course, gives you all the tools you need to find your way into the wonderful, sudsy world of beer.
Bernstein may not sport the stereotypical lumberjack appearance of a "beer guy"; he's a pretty dapper dude. And when it comes to the academics of beer, he's got the suit to match. His first book, Brewed Awakening, told the story of brewers and the resurgence of beer in America. In The Complete Beer Course, things are split into easily digestible drinking sessions with tons of information about the composition of beer, flavors and even pairings. We caught up with Bernstein to talk about the book, his experience as a NYC homebrew tour guide and the future of the industry.
Why do you think some people are intimidated by beer?
People tend to get so afraid sometimes when they don't like a beer. I think it's the winefication and understanding specifics like tannins and minerality and how things tasting like chalk is not always important. Beer has such distinct flavors that as a newbie you can walk into flavors and say "This tastes like chocolate or coffee and I really like that" or "IPAs taste bitter," so you're not really so lost. Don't be afraid to not like something. There are flavors out there for everybody.
How did this book concept come about?
One of [the publisher's] best-known publications is the Complete Wine Course, which has been out for about 30 years, so they had the idea of doing the same thing with beer.
Was there a specific style you wanted to focus on?
There's so much attention on these really high-alcohol beers like imperial stouts, double-this, double-that. There are more approachable styles. Lager becomes a four-letter word. They don't care about kölsch. No one bothers to make an altbier. So this book could be a great intro text to people who are just starting out in their craft beer journey or for those who were in the craft beer continuum for bigger, better and more flavors. Beer Course is a story of the brewers, but it's also a story of beer styles and evolution and how agrarian, economic and all these different factors helped create all these great styles around the world.
Let's talk beer selection. You really stick to beers you can find, and also limit the amount you highlight to just two per style. Was there a theory behind this?
I find that there's a beer for every special place, time and situation. With that, I wanted to give one beer that was readily available and one that was more regional in nature and then other beers that were across the spectrum of availability. Not everyone has a store like Bierkraft or a Blind Tiger Alehouse nearby and can try all these interesting and rare beers. Often you're shopping at your supermarket or liquor store.
What was the hardest thing about writing the book?
Untangling the half-truths and misconceptions of beer and debunking stories. Taking the words and beer's history and making it come to life on the page. You also don't want to overwhelm the reader with too much knowledge. You could easily write a book about any style of beer but I think the consumer really want to know why a beer tastes the way it does.
In reference to Brewed Awakening you said that beer really helps people start conversations. What conversation do you hope The Complete Beer Course inspires?
I want people to feel confident about beer and to enjoy it and understand why you're enjoying it, so that you can feel good talking to people. You're not wondering why it tastes like this or why it tastes like that, you have a basic understanding. Beer is about community, it's about togetherness. That's what I think the session beer movement is really all about, returning to beer that lets you have a good time. It's really easy to get drunk, but then it's really hard to have a good conversation with people.
Did your experience hosting homebrew tours have any impact on the book?
Yeah! The tours show where people have a lack of knowledge, or where they need a bit more hand-holding and where they have confidence. If you can talk to someone who's already had 10 beers and explain the concept of wild yeast and brettanomyces then you're doing a good job. When I do homebrew tours it's everything from Goldman Sachs employees to lesbian couples. It's just this great cross section and reinforces to so many drinkers that it's not just dudes — craft beer appeals to anybody.
You focus on some very specific breweries in the book. Can you elaborate on why these specific breweries made it in as features?
It's about putting a human face to the beer bottle. For Crooked Stave, I wanted to show what brett [yeast] is really all about. Hair Of The Dog has been aging beers and making burly beers years long before it was even a buzzword (no pun intended). For Firestone Walker, they just make some of the most beautiful pale ales and it started off with a focus, doing pale ale well. So it really fit the narrative to go back and find these stories.
Is there anything in particular that didn't make it into the book that you wished you could have fit in?
When I signed up to do the book, there weren't any examples of canned or bottled gose out there. Since then, Westbrook Brewing has done a canned gose. I think some of these more esoteric styles are starting to become more of a full flow. When I was writing the book, they weren't really out there. Who would have known people would have given a darn about lichtenhainer or the effect of solera process, an age-old wine technique, used to create some really interesting and complex beers?
Other than the homebrew tours, any plans to lead classes to accompany the book?
I have been doing a lot more education classes and beer dinners. I did some consulting for bars and breweries, too. I definitely see it being a big part of what I do over the next few years. I haven't really figured out a class structure yet…my wife and I are having a baby in about a month and a half so I'm just trying to figure out everything now.
More from the beer world on Food Republic: