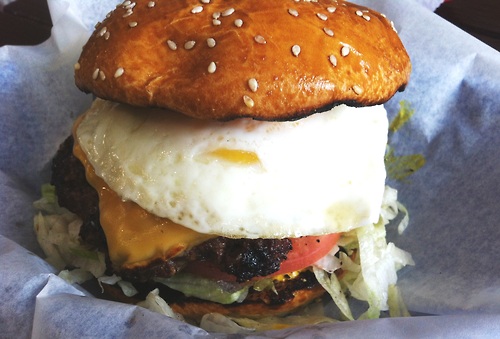 With this being Chicago Burger Week, we decided to reach out to one of the city's top patty professors, Chicago Burger Blog founder Raum Sandoval.
Why did you start the Chicago Burger Blog?
Burgers have always been a favorite of ours. After new burger restaurants began to open around the city, we talked about trying the new burgers right after they came out. We realized that we had a very critical opinion of many of the places we tried. With the food blog scene becoming more popular we decided to come up with a blog of our own.
How does it all work?
We decided to go with a five-point scale, with five being the highest. Putting a single score on a burger is simple and to the point, taking into account all aspects of burger components. We look at the overall taste of the burger and the way it's cooked. We generally never order anything other than medium-rare or medium unless it's a thin patty where we don't have a choice. An overcooked burger is the worst and can knock a score down one or two points from the first bite. We also look at the freshness of the ingredients and how well they work together. We dissect each part of the burger, bun, toppings, cheese and meat to arrive at a final score. When we try a burger, it's always at least two of us, and we will usually have a few friends come along. We each give our own score, have some fun deliberating about burgers, and then come up with a final score. It's serious business.
Describe the burger scene in Chicago. How has it changed in the past few years?
The burger scene in Chicago is diverse. There are a handful of classic and historical burger joints such as Billy Goat and Top Notch Beef Burgers. In the past few years, new burger joints have popped up. There has also been an increase in burger chains around the city over the past couple years like Meatheads and Smashburger. Last, but not least, there are many restaurants that don't specialize in burgers or have that as their only item, but may make an awesome burger.
What's Chicago's burger history? Can you determine when the earliest burger was served, and where?
We're not sure we have the correct answer on this, but if we had to take a guess, the first burgers to be served en masse by a restaurant in Chicago probably came from White Castle, which came to Chicago in 1929. Billy Goat Tavern opened in 1934, and at the corner of Ashland and Division, formerly La Pasadita restaurant, there are signs for an old burger joint. They were only 5 cents.
What do you look for in a burger?
We look for a good bun that holds the burger until the end and good-quality properly cooked meat. The type of cheese and how well the toppings work together. Our favorite is a good classic burger without the frills; however when done right, a creative burger can be amazing too. We have found that places with one or two burger options tend to have really good burgers. Burger joints that specialize in burgers almost always have great high-quality meat, but some of the topping combinations may or may not be what everyone wants, so it's a little bit harder to rate.
What makes Chicago burgers unique? Are there any special ingredients, treatments that you haven't seen elsewhere?
We don't think anything specific makes the Chicago burger unique. We do believe that Chicago uniquely features a wide range of burgers from top to bottom. You can find all types of meat (beef, turkey, kangaroo, goat, salmon, chicken, bison, wild boar) originating from the farms in the Midwest all the way out to Tokyo. Toppings are some of the most creative when you see offerings such as peanut butter, pineapple and piling on other meat such pastrami, beef brisket and pulled pork. Lastly, there's a variety of different sauces and buns. You can definitely find a burger place in Chicago to satisfy your craving.
Chicago burger vs. Chicago dog: What's the deal?
When it comes to Chicago burgers versus hot dogs, there really isn't a comparison. A Chicago hot dog is known universally — an all-beef frank on a poppy seed bun, covered in pickles, mustard, relish and such — and must be made a certain way with specific ingredients. It's mimicked outside of Chicago, but only here is it perfected. No one can define a Chicago burger, but we believe some of the best burgers in America can be found in Chicago. Occasionally you will see a burger topped like a Chicago hot dog.
This post is brought to you by our friends at Amstel Light