A 7-Course Colombian Feast In A Mall Food Court? A Night At Top-Secret Dinner Lab.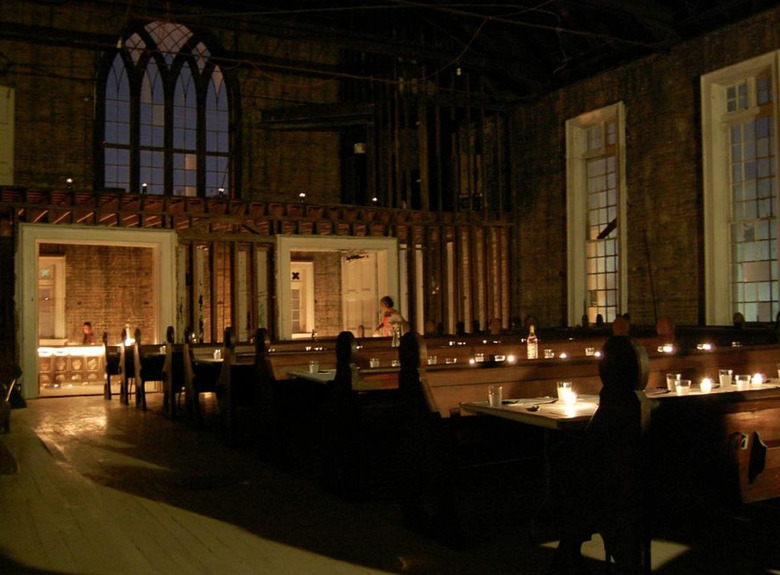 Want to eat a seven-course meal on a helipad? How about in the depths of an unlit subway station? No problem! Dinner Lab is a "membership-based social dining experiment" that hosts its events at unique locations with the goal of promoting undiscovered chefs — namely the number two, three and fours in established and acclaimed restaurants. Think of it as the next generation of pop-ups.
The supper club — of sorts — just launched in New York City (roughly 700 membership slots sold out within hours) and has already been up and running in Austin, Nashville and New Orleans — with operations set to begin in Los Angeles in mid-November. A one-time fee of $175 gets you an annual membership, which includes access to purchase tickets to all dinners and the option of bringing a guest (each event ranges in cost from $50-80 per person, inclusive of an open bar and gratuity).
Courtesy of a friend who pounced on a coveted NYC membership, I was fortunate enough to attend the city's first event last Thursday evening.
Story
The evening's maestro was Mario Rodriguez, a Colombian chef who has spent time cooking at Fatty Crab and Gramercy Tavern in New York and New Orleans's La Petite Grocery. He sought to bring together a menu consisting of family favorites from his childhoods in South America.
Setting
Dinner Lab does not reveal a location until 24 hours before each event. At this time, we were informed via email that our meal would take place at the Pier 17 mall in the South Street Seaport. Normally closed past normal business hours, the mall's expansive food court hosted Dinner Lab's three separate seatings throughout the evening. Four long, communal tables each seated 20 individuals, with an open seating system. The crowd ranged from young to old, from first dates to girls' nights out, with lots of interaction between all. (Alas, in pure cowardly fashion, we recognized a group of three fellow graduates from our alma mater and confined ourselves to a corner of a table with them for the entire night.) A brief cocktail hour preceded the meal.
Food and Drink
"Oh my God, I totally love Colombian food!" was the echoing sentiment as course after course made its way to the tables. Exceptional plates included flank steak arepas and sancocho de pascado (monkfish stew served with coconut rice). Other delicacies included a braised short rib consommé and shrimp ceviche with plantain chips. Dark red-colored chicha corn beer – a popular Peruvian beverage – was paired with the arepas and hands down the star of the evening. I found myself slurring begging a waiter for the recipe after requesting and receiving multiple refills. In keeping with a simple approach, each dish is served on disposable plates. Comment cards are provided to each diner, complete with a numerical rating system and asking if each dish is "restaurant worthy." As can be expected for an inaugural event, there were a few kinks, most notably, the slow progression of the meal. We stumbled out of Pier 17 at around 12:45 a.m.
Final Word
Drop whatever you're doing and join the waiting list for a New York membership! With a unique approach to hosting venues and an emphasis on up-and-coming chefs, Dinner Lab is a refreshingly casual (and less pricey) alternative to similar concepts hosted at City Grit and the James Beard House.
Interested? Check out this video trailer:
Read these New York's restaurant stories on Food Republic: