You Travel, You Eat: Philadelphia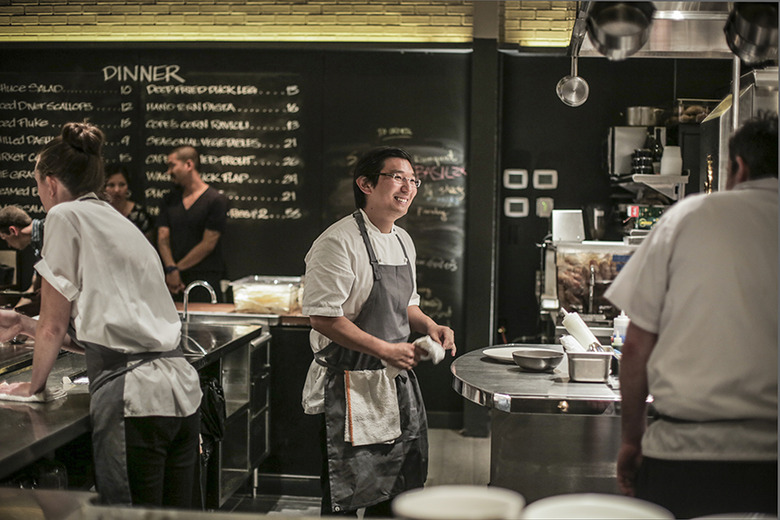 The City of Brotherly Love is no slouch in the kitchen. The confluence of affordable rent, international immigration and a constantly evolving academic population gives Philadelphia a rich array of restaurants, food shops and watering holes. From star-studded debuts by New York City ex-pats to decades-old Italian-American stalwarts, the city is a boon for culinary travelers. Stay hungry, my friends. Other cities in this series: Montreal, New Orleans, Bangkok
RESTAURANTSNoord
Following the launch of his Philly-inspired Home Bistro restaurant in Chicago, Center City native Joncarl Lachman opened this modern Dutch eatery in East Passyunk this past May. The BYOB (!) menu spans Northern Europe, with dishes like beer-steamed, Amsterdam-style mussels, Icelandic haddock with sweet corn, and a near life-altering rabbit leg confit served with lardons, smoked sausage and baby turnips. The minimalistic space feels fittingly Nordic, with white linens, pendant lamps and a chrome-heavy exposed kitchen. 1046 Tasker Street, 267-634-0896, noordphilly.com
Serpico
Momofuku alum Peter Serpico is the hottest thing to hit Philadelphia since some sweatpants-clad boxing hopeful decided to jog around town. Serpico's industrial chic, eponymous outpost near South Philly is packed nightly with a trendy, friendly crowd — and, on one recent occasion, noted gastronome Shawn Carter. All are hungry for inventive dishes like raw diver scallops in buttermilk and green chili vinaigrette, and corn ravioli — which comes in a smoky broth and tastes like the southwestern corn chowder of your dreams. The rabidly popular deep-fried duck leg is a reinterpretation of David Chang's now-legendary pork bun, and comes with an elegant ramekin of house-made pickles. Come early to grab a pre-dinner drink at the sleek front bar, which pours heady cocktails like a citrus-forward Aviation, made with Bluecoat gin and Crème de Violette. 604 South Street, 215-925-3001, serpicoonsouth.com
Fitler Dining Room
The neighborhood-y atmosphere at this new Rittenhouse-adjacent outpost from the Pub & Kitchen crew is so palpable, you half expect to hear patrons yell "Norm!" when a portly regular enters. The corner space has large picture windows, hardwood floors, an open kitchen and warmly lit subway tiles throughout. The staff is solid and generally quite accommodating, but maybe do everyone a favor and reserve in advance, especially on busy weekend evenings. 2201 Spruce Street, 215-732-3331, fitlerdiningroom.com
CHeU Noodle Bar
Helmed by 29-year-old chef Ben Puchowitz, formerly of Matyson in Rittenhouse Square, this brand new, 30-seat chef's counter in Center City virtually hums with creative energy. A stylish crowd, many of whom remember Puchowitz from his Twitter-powered pop-up days, now arrive en masse at his Center City hot spot for inventive Asian fusion fare like barbecue pigtails with turnip kimchi, matzo ball bowls in sesame chili broth, and a surprisingly successful duck pho. The slim space plays with its noodle bar status via a collage of Top Ramen bricks installed by Shawn Darragh, the co-owner and a childhood friend of Puchowitz. Reservations are not accepted and decibel levels are high, so consider hitting CHeU for lunch, now served Monday and Wednesday – Saturday. 255 S. 10th Street, 267-639-4136, cheunoodlebar.com
Osteria
Marc Vetri, the Meryl Streep of Philadelphia restaurants, does not want for accolades. His Alla Spina restaurant regularly wins praise from the likes of Bon Appétit and Mario Batali, his eponymous fine dining outpost was nominated for a James Beard Award earlier this year, and the buzz on his just-launched pizzeria in Fairmount is already off the charts. Yet Osteria, which opened in 2007, remains one of the most consistently lauded joints in town. Stop in for the stellar wood-grilled octopus antipasta, chanterelle-studded taglioni and halibut with gratineed figs and pistachio cream. You'll soon understand what all the fuss is about. 640 N. Broad Street, 215-763-0920, osteriaphilly.com
Also See:
Vetri 312 Spruce Street Philadelphia, PA 19107
Zahav 237 St James Place Philadelphia, PA 19106
Amada 217 Chestnut Street Philadelphia, PA 19106
Barbuzzo 110 S 13th Street Philadelphia, PA 19107
Fond 1537 S 11th Street Philadelphia, PA 19147
BARSRanstead Room
A sexy spot from prolific Philly restaurateur Stephen Starr, the Ranstead Room has a mid-Century boudoir vibe, with red banquettes, snakeskin-covered barstools and framed oil paintings of vintage pin-up girls in various stages of undress on the walls. (When directing a patron to the bathroom, the bartender helpfully refers to one particularly buxom muse, saying, "Take a left at the brunette.") New York cocktail czar Sasha Petraske collaborated on the drinks list, which includes a French 85 made with Champagne, fresh lemon and bourbon. As befits a Petraske joint, the Ranstead Room is somewhat difficult to find: the bar has an unmarked entrance beneath a red light, behind El Rey restaurant. Godspeed, cocktailers. 2013 Ranstead Street, 215-563-3330, elreyrestaurant.com
Zavino
This 35-seat wine bar in Market East pours 20-odd wines by the glass, as well as large-format, draft and bottled beers. Prices are remarkably reasonable: the most expensive wine bottle on the list tops out at $40, and glasses are $10 and below. The kitchen is helmed by Vincent Campaniello, who cooks up 12-inch pizzas, including the Margherita, made with 9th Street scion Claudio's fresh mozzarella, as well as more inventive pies such as the Stache, which is topped with pistachio pesto, baby arugula and lemon vinaigrette. 112 S. 13th St, 215-732-2400, zavino.com
Emmanuelle
In a city where the downtown bar scene is heavy on oak paneling and pressed chinos, this Northern Liberties cocktail bar is a welcome alternative. Interiors have something of a "creepy chic" aesthetic: lush greenery blooms within claw-footed vintage bathtubs, and there is an oversized portrait of Farrah Fawcett reimagined as a skeleton prominently displayed above the bar. The drinks list, created by local bar-stars Phoebe Esmon and Christian Gaal, highlights ingredients like Esmon's house-made falernum in originals like the imaginatively named Hot Sicilian Wido, a heady, spiced combination of rum and Averna amaro. 1052 Hancock Ave, 267-639-2470, drinkemmanuelle.com
Bob & Barbara's
A dive bar to end all dive bars, Bob and Barbara's has an analog jukebox heavy on the Steely Dan, torn vinyl seat-covers along its large, U-shaped bar, and a nightly drinks "special," which consists of a can of PBR and shot of well whiskey for $3. Swoon. It's a democratic place, where students, academics discussing sociological pedagogy and sixtysomething alcoholics alike get pissed while watching the Eagles on angled flatscreens. Bob and Barbara's recently launched live music nights every Tuesday at around 10:00 p.m. Bring your quarters, because the "special" goes up to $3.50 while the entertainment is in progress. 1509 South Street, 215-545-4511, bobandbarbaras.com
COFFEEArtisan Boulanger Patissier
When this 20-year-old South Philly bakery and café announced it would be closing its doors earlier this year, the news rocked the city to its caffeinated core. Fortunately, the Cambodian-French institution reopened in a larger space just a few blocks away this August. Owners Andre Chin and Amanda Eap have added fresh salads and even sushi to their lineup, but most locals remain committed to ABP's perfectly flaky croissants and buttery apple tarts. All are accompanied by Counter Culture drip, Thai tea or rich Vietnamese coffee. 1218 Mifflin Street, 215-271-4688
Elixr Coffee Roasters
An outpost of cool in buttoned-up Rittenhouse Square, Elixr has all of the trappings of a Portlandia punch-line (i.e., sleek Synesso Hydra espresso maker, tables made from sustainably sourced wood, Of Montreal on the stereo), but none of the posturing. At Elixr, the staff is warm and welcoming, the wifi free and fast, and the eco-friendly furnishings surprisingly comfortable. Best of all, Elixr's rotating cast of four weekly brews go beyond fair trade. Their direct trade model guarantees farmers earn at least 20% more than current fair trade rates. 207 S. Syndenham Street, 239-404-1730, elixrcoffee.com
Chapterhouse Café and Gallery
Located in a rambling townhouse in Bella Vista, Chapterhouse has a distinctly "college town" feel. The space spans four, airy rooms, and is filled with lazily spinning ceiling fans and lingering graduate students on laptops. The tiny front counter serves fair trade coffees, made-to-order smoothies and tea sodas, plus organic pastries and a considerable selection of gluten-free desserts. True to its name, Chapterhouse also regularly hosts exhibitions and readings by local artists. 620 S. 9th Street, 215-238-2626, chapterhousecafe.wordpress.com
Joe Coffee
The latest New York import is Joe, a percolation powerhouse with seven locations across Manhattan. The family-owned business retains its downtown spirit at its latest spot in Philadelphia's Rittenhouse Square, right down to the intricate latte art on expertly brewed espressos, and whimsical slogans on the outdoor chalkboard. Interiors are roomy and well lit, and seating includes several picnic tables overlooking the square. 1845 Walnut Street, 215-278-2454, joenewyork.com
Ultimo
Cult favorite Ultimo has two coffee shops in the city, but the original, Newbold locale has the leg up because it shares space with Brew, a small-scale brewery selling takeaway bottles on the premises. Ultimo baristas have an impressive breadth of knowledge about the single-origin, Counter Culture brews on offer, and they somehow manage to passionately extoll the virtues of their Chemex and Beehouse machinery without the condescension of most coffee snobs. 1900 S. 15th Street, 215-339-5177, ultimocoffee.com
EDIBLE SHOPPINGFante's Kitchen Shop
This century-old warehouse in Bella Vista can speak to virtually every kitchen need. Need a new sauté pan? Fante's has 15 varieties, all at varying weights and price points. Empty cannoli shells getting you down? Pick up a set of six stainless steel cream horns for under $5. The well-informed staff is happy to help with any question (how many aspic cutters are too many?), but savvy enough to let casual shoppers browse. After all, they're bound to find something they don't already have at home. 1006 S. 9th Street, 215-922-5557, fantes.com
Greensgrow Farms
Urban farming project Greensgrow encompasses a nursery (open March – June), farmers' market (twice weekly from spring to Thanksgiving) and impressive CSA operation less than five miles from Rittenhouse Square. The formerly abandoned lot in Philly's industrial Kensington neighborhood also has a composting center, beehives and a three-quarter-acre hydroponic farm. Stop by to support local farmers at the farm stand, which sells everything from honey to apples to homemade tofu every Thursday and Saturday. 2501 E. Cumberland Street, 215-427-2702, greensgrow.org
Hung Vuong Supermarket
If the mark of any international city is its inhabitants' ability to travel the world via shopping cart, Hung Vuong catapults Philly firmly onto the global stage. An enormous, pan-Asian supermarket in the formerly all-Italian-American Bella Vista neighborhood, the grocery goliath stocks everything from fresh squid to dried galangal to tom yum-flavored peanuts from Thailand's popular Koe-Kae brand. Despite potential language barriers, the staff is quick to answer customer queries, and keeps checkout lines moving along at a brisk, big-city pace.
1122 Washington Ave, 215-271-2505Claudio's Specialty Foods
There is no shortage of Italian-American markets on the 9th Street corridor, but Claudio's selection of salumi, cheeses and imported olive and truffle oils is bound to impress. Pick up top-quality dried goods like Umbrian lentils and flaked sea salt with black truffles, or engage the charismatic crew behind the cheese counter for their witty takes on curds and whey. The DOP tallegio and house-smoked provolone are so good, you'll laugh until you cry. 925 Carpenter Street, 215-413-0314, claudiofood.com
COOKING SCHOOLSCook
Part culinary school, part chef-led drink-up, these lively classes bring local restaurant talent and the dining public together for intimate cooking demonstrations on subject matter like Parisian bistro cooking, modern Italian cuisine and reinterpreting classic cocktails. After class, instructors and students alike linger for wine and conversation and more wine, giving the entire evening a convivial, dinner party-like atmosphere. 253 S. 20th Street, 215-735-2665, audreyclairecook.com
The Restaurant School at Walnut Hill College
At this centrally located professional school for budding chefs and restaurateurs, mere civilians can enlist in culinary coursework like vegetarian cooking, French pastry and more. Classes range from one-day workshops to four- to six-week sessions, and are taught by the same faculty that lead professional courses. 1809 Walnut Street, 215-222-4200, walnuthillcollege.edu
Tria Fermentation School
What's better than a locally owned wine bar with two branches across the city, and a new taproom on the way? One that teaches you how to better enjoy its wares. Tria's 90-minute wine, beer and cheese classes are led by wine writers, cookbook authors and local sommeliers, and typically run from $45 – $65. Classes fill up early, so check the website in advance for schedules. Medical Arts Building, 1601 Walnut Street, 215-972-7076, triacafe.com
Read more Philadelphia stories on Food Republic: