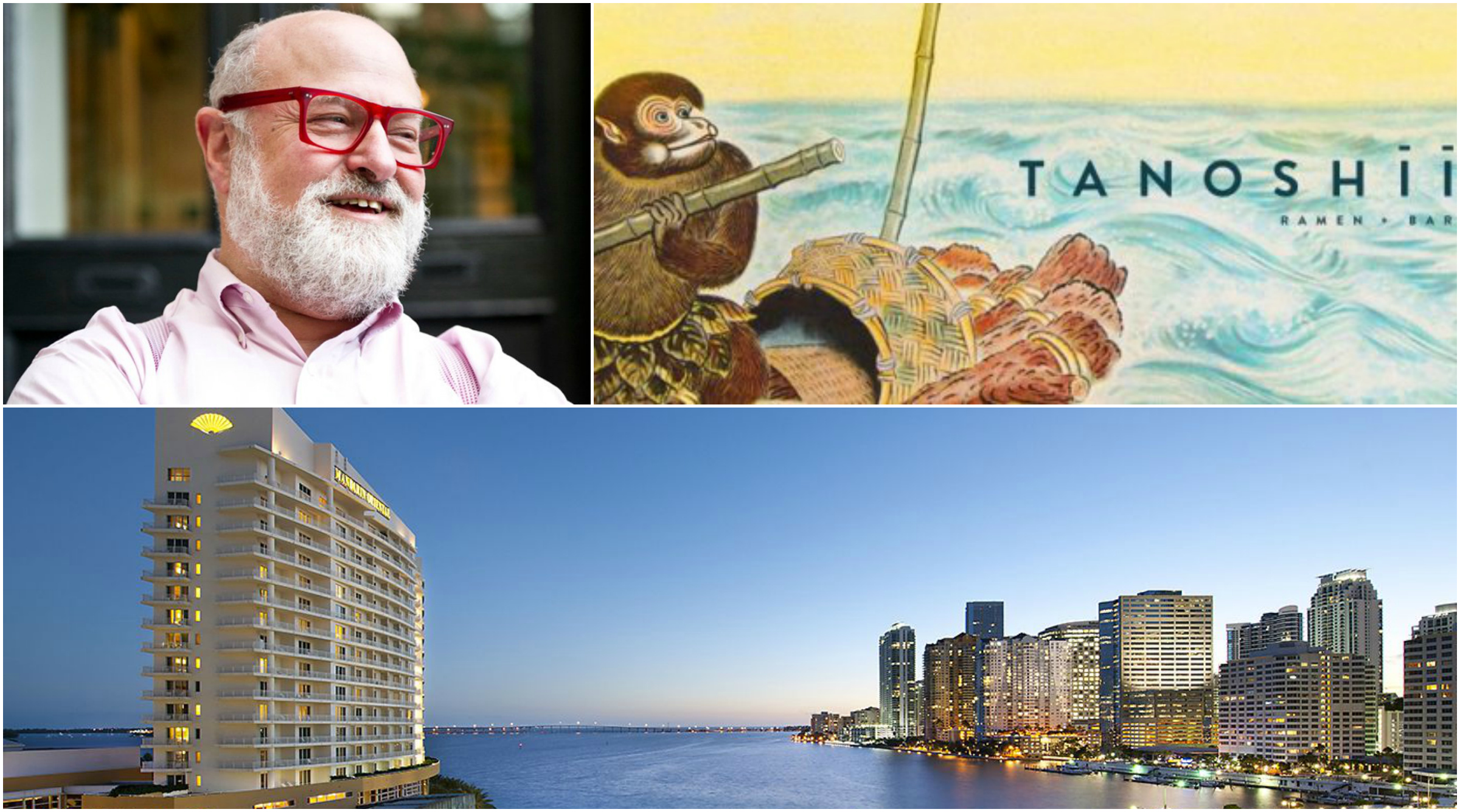 Autumn is an exciting time in the restaurant industry. A number of establishments across the country will open their doors for the first time, many of them having been in the works for several months, and in some cases, years. Acclaimed restaurateurs are collaborating on creative projects and renowned chefs are moving to novel locations, eager to embark on new culinary journeys (see: ramen coming to the South). We've rounded up the 20 restaurant openings we're most looking forward to in some of our nation's largest cities this fall and winter. You'll want to start calling to book a table right about…now. Trust us.
NEW YORK
Decoy
The downstairs dining area at RedFarm – currently operating until the end of the month as RedFarm Steak – will be the home of Decoy, a full-fledged mini-restaurant and bar specializing in many forms of Peking duck. It is scheduled to open in October. A late night bar menu of Asian snacks will include Peking duck burgers, lobster tartare and wontons with spicy sesame sauce, while the restaurant's main star will be a set menu that revolves around cooked-to-order Peking duck, alongside vegetarian and non-duck menu items. A 22-seat communal table will be the primary seating area. RedFarm is also debuting an Upper West Side location, set to open in the middle of September. 529 ½ Hudson Street, 212-691-9700
All'onda

Chef Chris Jaeckle of Ai Fiori and Morimoto will open his hotly anticipated Venetian-style restaurant in mid-October in Greenwich Village. Bar snacks such as crudo, handmade pasta, risotto and chichetti will complement a menu of signature dishes including vitello e tonno, roasted strip steak and crispy suckling pig. Many ingredients used for the 80-seat space will be sourced from the nearby Union Square Greenmarket. Industry veteran Chris Cannon – a recipient of five New York Times 3-star reviews and two James Beard Awards – is collaborating on the project. 22 East 13th Street
Brooklyn Fare Manhattan

Right now you're asked to drop three large for a spot at the 12-seat table that Bouley vet Cesar Ramirez sets in the back of a Brooklyn grocery store. (It's more of a counter, with the chef and an assistant cooking in the center). The Chef's Table at Brooklyn Fare has become one of the hardest reservations in all of New York City, and the borough's only three Michelin star restaurant. With the long-awaited opening of a Manhattan location, the stakes are ready to be raised — with 65 seats and a 10-seat chef's counter that will likely become the city's hottest table on day minus-six. 431 West 37th Street
Quality Clam

The team behind Market Table and The Little Owl will bring fresh seafood to the West Village in mid-October with the opening of Quality Clam. Joey Campanaro and his partner Mike Price are aiming for the new venue to have a "neighborhood staple" feel, with moderately priced appetizers and entrées. Though a menu has not yet been released, a preview dinner in Miami earlier this summer featured crispy clams, clam chowder arancini, sweet pea risotto and snapper crudo. 420 Hudson Street
La Botaneria

Roberto Santibañez – the man behind well-known Mexican hotspots Rosa Mexicano and Fonda (and our top-notch chicken enchiladas recipe) is headed to Park Slope once again with a new project, titled La Botaneria. While the chef has been slow to reveal information, he has described the venture as a "fun small concept bar/restaurant," and it will be occupy in the snug confines once held by Beer Table. While La Botaneria has already been armed with Twitter and Instagram feeds, a spokesman said that details regarding the menu and exact opening date will be available in the coming weeks. 427 Seventh Avenue, Brooklyn
LOS ANGELES
NIGHT + MARKET Song

Chef Kris Yenbamroong is opening a second, stand-alone NIGHT + MARKET in Silverlake, building on the success of his no-holds-barred Sunset Strip original. He's shooting for Thanksgiving for his Thai spin-off [Song means "two" in Thai]. Yenbamroong describes his approach to design as an "organic process" and promises a "liberal use of linoleum." For food, expect a similar complement of beer and wine-friendly dishes, including larb, fried chicken, sausage, possibly some "party wings" and most definitely pork. Unlike West Hollywood, which Yenbamroong sees as a destination, he envisions Silverlake as a neighborhood spot. "I just want people to enjoy the food and feel comfortable at the restaurant and for it all to be 'normal,' in the best sense of the word," he says. 1521 Griffith Park Blvd., Silverlake, nightmarketla.com
Orsa & Winston

Josef Centeno, of Baco Mercat and Bar Amá, continues his domination of downtown's Old Bank District by annexing the former home of Rocket Pizza Lounge and naming it after his two dogs. Orsa & Winston's menu will change daily and offer two main dining options: omakase or family-style prix-fixe. Both will combine Italian and Japanese sensibilities. A close friend helped Centeno design the "contemporary and simple" space, which contains an open kitchen and seats less than 30 people, including counter seats. "This is the restaurant that I tried to do pre-Bäco six years ago," he says. "Bäco Mercat and Bar Amá are of course restaurants that I am passionate about and I put my all into them, but this is also an opportunity to get back to the kind of cooking for which I was trained. For me it's coming full circle." 122 W. 4th St., Downtown
Playa Provisions
Top Chef finalist Brooke Williamson and chef-husband Nick Roberts are building on their Playa del Rey success by replacing Tower 42. The duo's once again tapped DEX Design Studio, who molded The Tripel and Hudson House, to create a "refined rustic aesthetic" look for the space's multiple concepts. Playa Provisions encompasses four concepts in one, with a main dining room devoted to seafood, and the other three facets currently kept under wraps, though Roberts did hint at a "one stop shop for the neighborhood." They're aiming for a November debut. 119 Culver Blvd., Playa del Rey
République

It's not like Walter Manzke, the driving force behind the rise of Church & State, has been keeping silent since his early 2010 departure from the Arts District bistro. He, wife Margarita, and some family members launched two branches of a booming bakery café called Wildflour. Manzke also opened an East L.A. meets Tijuana taqueria called Petty Cash in Mid-City, which has proven popular. This fall, the Manzkes and restaurateur Bill Chait are replacing famed Campanile with a multi-faceted restaurant that will serve three meals daily, plus baked goods and coffee. The vibe will lean more casual when the sun's up, and more moody and refined at night. Despite the name, the well-traveled couple's culinary offerings won't be limited to France. 624 S. La Brea Ave., Los Angeles
CHICAGO
A10

Matthias Merges (Yusho, Billy Sunday) is focusing a good deal attention on Hyde Park, the culturally vibrant neighborhood that, unfortunately, is a restaurant and nightlife desert. Named for the motorway that runs from northern Italy into southern France, A10 is based on culinary experiences Merges and chef John Vermiglio have had over the years in that part of Europe. Expect a wood-fired oven, breads, handmade pastas, charcuterie and an emphasis on canned, potted and pickled products. Like his other establishments, the price point will make it accessible to most. Opens mid-October. 1301 East 53rd St.
Analogue
Henry Prendergast (Violet Hour) and Robert F. Haynes III, also of the Violet Hour (and the man responsible for Letherbee's R. Franklin's Original Recipe Malört), recently announced that they will open Analogue in October. Far from the preciousness of their former employer, Analogue takes inspiration from the "punk rock, queer, dark, dirty, discos and dive bars of '70s and '80s Chicago." The three-pronged bar program will feature a changing menu of current bartender obsessions, shots based on classic cocktails and purls — strong bitter mixtures served over ice with a few ounces of beer poured over. Prendergast claims these will "knock you on your ass." Opening in October. 2523 North Milwaukee Avenue
RPM Steak

The younger sister to the 18-month-old RPM Italian, RPM steak will open this winter. It promises to offer amazing cocktails and aperitifs by esteemed mixologist Paul McGee (Three Dots and a Dash, Paris Club) in a stylish and modern environment. The menu, by Doug Psaltis (Bub City, Paris Club, Hub 51), will focus on top-of-the-line aged meats, as well as an extensive raw bar with an ever-changing selection of oysters and tartares. 60 West Kinzie Street, leye.com
Tippling Hall

The Tippling Brothers and chef Ryan Poli (Tavernita, Little Market Brasserie) will be opening this sprawling classic beer hall in October or November. It will feature a turn-of-the-century inspired bar, communal tables and benches, and a constantly changing menu of global comfort food. Bucking the trend toward exclusive speakeasies and gastropubs, Tippling Hall aims to be stripped down, welcoming and grand. 646 North Franklin Street, tipplinghall.com
MIAMI
Lure Fish Bar

News that the original location in NYC's Soho will stay put following a threatened rent hike — the dilemma even spawned a hashtag, #savelurefishbar — was welcome news to Manhattan diners, and now Miami has reason to get excited as well. Josh Capon will bring his first-rate seafood, A-List crowd and award-winning burger to the Loews Miami Beach Hotel this November. 1601 Collins Ave., Miami Beach
RN74

Michael Mina was an early adapter to Miami, leaving the comfort of the West Coast to take a chance with Bourbon Steak at Turnberry Isle back in 2007. He somehow survived the economic crisis while serving pricey steaks, ornate seafood platters and duck fat fries, and now he seems to be in full-on expansion mode. Next up from the intelligent chef/restaurateur is RN74, going into the former Arkadia space in the Fontainebleau. Hopefully, it's a continuation of RN74's work in Seattle and San Francisco, where Mina pairs with wine maestro Rajat Parr and chef Adam Sobel to highlight French wine and American and French cuisine. 4141 Collins Ave., Miami Beach
Bocce Bar
Don't let the "bar" in the name fool you: Bocce Bar is the latest spot from Sushi Samba's Samba Brands Management, and is slated to be an Italian restaurant helmed by executive chef Timon Balloo. Balloo knows the area well; since moving from the Design District and the lamented Domo Japonais, he's kept diners happy at Sugarcane Raw Bar and Grill, which the chef will continue to oversee in its nearby space. 3252 NE 1st Ave., Miami
La Mar By Gaston Acurio at Mandarin Oriental
The Peruvian master chef and restaurateur has met with mixed results in his U.S. outreach, succeeding in San Francisco and swinging and missing in New York City. This iteration of his La Mar concept makes sense though; he's taking over a sharp-looking space in the beautiful Mandarin Oriental hotel on Brickell Key, along with indoor/outdoor dining rooms with phenomenal views. La Mar's ceviche and tapas should go over well in this fish-obsessed town, provided Acurio's anointed team keeps standards high. 500 Brickell Key Dr., Miami
THE SOUTH
Nashville anxiously awaits the opening of The Kitchen at 404, the latest project from Matt Bolus, a Music City transplant who once served as Mike Lata's fish butcher at FIG in Charleston, and who has more recently earned a vaunted reputation as a very creative chef at Nashville restaurants Watermark and Flyte World Dining & Wine. His intimate project will seat about 40 patrons in a converted shipping container attached to a new boutique hotel being constructed next to Nashville's venerable bluegrass music destination, The Station Inn. Bolus promises "pure food, honestly grown, harvested and prepared, presented to our guests in hopes of inspiring relationships between people, food and farmers." The Kitchen at 404 should be ready to showcase the bounty of the local fields some time in the October/November time frame.
Ramen has suddenly caught on in the South, with a hot new noodlery on the docket in Dallas. Tanoshii Ramen is slated to open sometime in September in the city's Deep Ellum neighborhood. Run by husband and wife chef couple Joey and Chi Le, they are also planning a menu of Vietnamese and Japanese noodle and soup dishes, as well as banh xeo and pork belly buns. Charlotte's Baku aims to introduce North Carolinians to Japanese robata open-flame charcoal grilling, all of which will feature locally produced ingredients. This being the cradle of locavorism after all, a "farm to chopstick" philosophy isn't that surprising.