New York Burger Week: A History Of The New York Burger From The 1800s To Present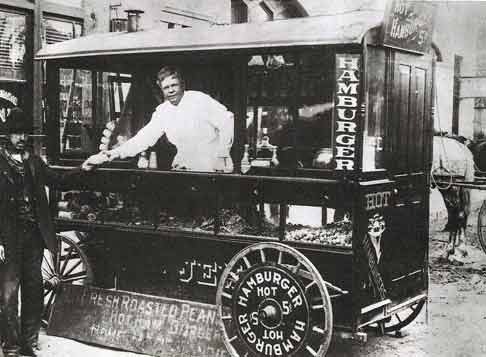 Photo: burgerguyz
It's no surprise that the "city that never sleeps" has a storied history in just about every category imaginable. Burgers can be found anywhere from neighborhood joints to classy establishments — to three-hour waits in local parks — in the city today, and the food item can be traced all the way back to the city's ports in the mid-1800s. Here is a look at some key burger milestones from The Empire State.
Mid 19th Century
Seeking to attract visiting German sailors, the "Hamburg steak," which can be considered a precursor to the hamburger, begins to appear on menus of restaurants in the port of New York. The dish consists of beef minced by hand, often smoked and served with onions and breadcrumbs.
1873
The oldest known mention of a Hamburg steak appears on a menu at a popular New York steakhouse. It is offered for 11 cents, considered high for the time (roughly double the price of a normal fillet of beef steak).
1885
Frank and Charles Menches are believed to have sold a ground beef sandwich at the Erie County Fair in Hamburg, New York after they ran out of sausage.
1900
The Ottomanelli family settles in New York and starts a meat business. Their butcher shop, Ottomanelli Brothers, debuts in 1917 and remains open on the city's Upper East Side today.
1904
A New York Tribune article about the year's St. Louis World's Fair mentions a new sandwich called a hamburger that is "the innovation of a food vendor on the pike." The vendor is not identified by name.
1974
A New York Times article states that the McDonald's restaurant chain credits vendor Fletcher Davis of Athens, Texas with inventing the hamburger in the late 1880s and bringing it to the 1904 World's Fair. He is widely considered to be the unnamed vendor from the earlier Tribune article.
2003
Raising Victor Vargas, a film about contemporary Dominican tenement dwellers on New York's Lower East Side, is released and becomes an influential cult hit that also launched the career of actress America Ferrera. The climactic scene involves the young hero inviting his new girlfriend over to his family's apartment for a hamburger dinner.
2009
One of the city's most popular burger chains becomes a staple of the New York Mets' new ballpark, Citi Field. Seeking to escape the misery that is Mets baseball, fans immediately – and continue to – line up for multiple innings at a time.
2011
In the final season of Man v. Food, show host Adam Richman coaches city locals on beating the food challenges that he normally undertakes. An episode filmed in Rochester, New York covers NASCAR driver Joey Logano attempting to finish a "5-pound Atomic Bomb Challenge" that features a double cheeseburger garnished with a variety of heavy toppings. Joey fails to complete the challenge – which has yet to be defeated in over 200 attempts – in the allotted time.
2013
Marking the latest trend in a summer filled with an alarmingly high number of "food crazes," the ramen burger is introduced at Brooklyn weekend market Smorgasburg. Wait times routinely reach several hours for those hoping to nosh on the beef patty wedged between two layers of crunchy ramen noodles.
Earlier in New York Burger Week:
---
This post is brought to you by our friends at Amstel Light