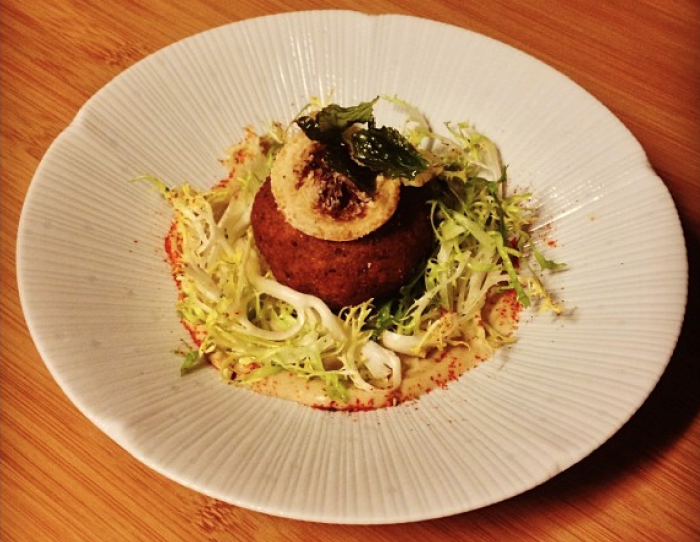 Telling friends that you are going to a restaurant called "Shalom Japan" garners a handful of reactions. Some will think that you've lost your mind, others will simply laugh and a select few will press you for answers, interested in finding out more. It was this sheer curiosity that led me to reserve a table at the diminutive spot that opened a couple of months ago. Here's what I uncovered.
Story
As you might imagine with such a name, the restaurant's conception was an interesting one. Partners Sawako Okochi and Aaron Israel have years of experience in some of the city's most popular establishments, with the former working at Annisa and Good Fork and the latter having spent time at Torrisi and Mile End. Partially funded via Kickstarter, the idea behind Shalom Japan was to create "authentically inauthentic Jewish and Japanese food." Voilà!
Setting
Simple and low-key. Located on the corner of a quiet block in South Williamsburg, Shalom Japan occupies an unassuming space with minimal outdoor signage. Approximately 10 small, square tables share a padded bench, while 10 chairs surround a U-shaped bar on the other side of the room. Be sure to visit the bathroom, which is decorated with comical vintage posters and has a really cool Japanese-style toilet.
Food and Drink
The day's culinary offerings – a portion of the menu changes daily – are handwritten on a chalkboard next to the bar, listed in order of portion size. The staff recommends around three dishes per person, a task that our group of four fully embraced, ordering "one of everything except for the salad." Challah made from sake yeast and aburaage pouches that are stuffed generously with pickles and ooze with raclette cheese are small plate standouts. While the buzzed-about matzo ball ramen dish wasn't offered that night on account of the warm weather, our two bowls were devoured in mere seconds: one consisting of rice topped with lox, salmon caviar, avocado and daikon radish and the other chilled udon with beef, beets and horseradish. Rotating cooked fish entrées also shine and usually feature a variety of local veggies. An impressive beer selection includes several bottles from Japan, and a ginger-flavored Old Fashioned and smoky rye drink called "Nathan Birnbaum" highlight an extensive cocktail list.
The Final Word
Shalom Japan is a little golden nugget in an up-and-coming neighborhood; an eyebrow-raising concept that actually delivers and is anything but a gimmick. And how many times in your life will you hear "Are you still nibbling on your Jew Egg or are you finished?"
Shalom Japan
310 S. 4th Street, Brooklyn, 718-388-4012
Small plates ($8-$13), large plates ($16-$23)
More NYC restaurant news on Food Republic: