Big Weekend: Music City Eats 2013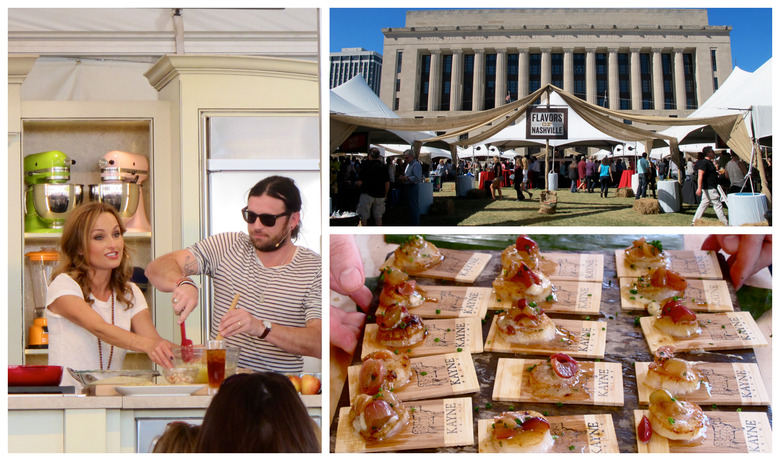 Celebrating food, music and a bourgeoning Nashville culinary scene, the first-ever Jonathan Waxman and Kings of Leon–produced Music City Eats Festival touched down in the Public Square of Nashville. A two-day pass granted access to cooking demos by Waxman, Tim Love, Giada De Laurentiis and Trisha Yearwood alongside panels discussing things like the virtues of bourbon and the best techniques for smoking large sides of meat. There was also a Tom Petty tribute concert, which we're not hating on at all. And throughout the weekend one strong theme definitely emerged — while Music City eats, Music City sure as hell drinks. Below, some of the unfiltered highlights.
1. Most Entertaining for Music Fans: Giada De Laurentiis You Had Me At Lobster demo
Facing facts: Some folks bought tickets to this festival to rub elbows with the Kings of Leon. So in a powerhouse celeb move Giada brought up singer-songwriter Jessie Baylin — whose father is a restaurant owner in New Jersey —and her KoL husband Nathan Followill, noticeably still hurting from his previous night's PBR and fried bologna sandwich bender at legendary honky tonk Robert's. First up was a cocktail of Amare, hard apple cider and Żubrówka Bison Grass Vodka. Note to locals: you can definitely purchase a version of it at the Frugal McDoogal. In a hair of the dog move, Followill sucks the cocktail down.
Giada then demos making arancini, today stuffed with lobster, though adding: "the Italians would kill me for saying this, but you could stuff it with anything." She also tells us that some version of this dish will be on the menu of her upcoming restaurant in Vegas. Added tips: For a better crust she uses panko instead of breadcrumbs and for fryers she says sprinkle some breadcrumbs in the oil. If they float to the top, you're ready to go. Check.
2. Best Tents: Flavors of Nashville (Also: The only tents)
Staying [relatively] sober all weekend, that went out the window pretty much right after entering the festival where very manageable "Flavors of Nashville" tasting tent was the center of gravity. Alongside Willett bourbon, Jackalope beer, the many flavors of the Old Tennessee Moonshine was Pat Martin's hickory-smoked brisket and pork sliders, The Catbird Seat's inventively maple-laced take on bacon and eggs (served adorably in egg shells) and Kayne Prime's seared scallops with pickle relish and whipped lardo.
Earlier in the week I'd asked Kings of Leon's Caleb Followill what Nashville spot newbies had to hit and he directed me to City House, a favorite of his for their "redneck take on Italian," chef Tandy Wilson fusing influences from his Southern and Italian grandmas. At the City House booth we were served an insane celery mint slaw and chicken sausage soaked in...beer. I think it was Miller High Life. And there it is.
3. Booziest Event(s) With Booze: Harvest Night and Petty Fest
Saturday night was capped off with back to back events: an intimate outdoor tasting with guest chefs John Besh, John Currence, Edward Lee, Donald Link, Tim Love, Aaron Sanchez, Nancy Silverton, Jon Shook and Vinny Dotolo, Michael Symon, Jonathan Waxman and Trisha Yearwood, right before the first-ever Petty Fest in Nashville — a concert of Tom Petty covers hosted by the Kings of Leon. I showed up near the end of the tasting when many of the booths had run out of food, but I got to try Silverton's cheese-stuffed squash blossoms and Besh's butter crab over burrata with caviar, which were both sublime.
MVP of the event was Texas grillmaster Tim Love, who, in between insisting on signing women's arms whether they asked or not (nobody minded), he served succulent lamb chops flying off the grill. Co-MVP honors goes to Trisha Yearwood, who in the morning taught a food demo, in the evening served her chocolate cupcakes with coconut frosting and at night brought tears to eyes with her cover of Tom Petty's "Stop Draggin' My Heart Around."
4. Booziest Event Without Booze: How to Eat Your Bourbon
Many southerners (and a few Yanks) know how to drink bourbon like experts, but cooking it still confounds us. Or maybe it's just that we'd rather drink it. Louisville-based Edward Lee, author of Smoke & Pickles: Recipes and Stories from a New Southern Kitchen, gives us tips for cooking with the spirit: When choosing a bourbon, don't worry about the brand as much as the age. He typically uses an 8-year. For savory recipes you'll want something between 6 to 8 years (Woodford Reserve is a good brand for that). A 10-year is too old, and anything over 12 years is only to be used if you're impressing a future spouse. Or a food critic.
5. Most Nostalgic Panel: Food Lore of the Old South
In this talk, Food & Wine EIC Dana Cowin sat down with Louisiana chef Donald Link and City House's Tandy Wilson to wax nostalgic about the state of Southern food. The verdict? The tradition is dying because nobody is cooking at home anymore. Link summed it up: "It's silly that we're cooking what our granddads cooked and charging people for it," while Wilson insisted that people still screw up beans. Don't you just follow the instructions on the bag? Yes, but to make them proper and Southern, "you cook them til they're done. Then you cook them 30 more minutes."
6. Meatiest Panel: How Do You Q?
Amid a soundtrack of booms coming from the Tennessee Titans game across the way (I'm told the boom means the team scored and not that something had gone horribly, horribly wrong), the cult of personality of Aarón Sanchez (Chopped and Heat Seekers), Pat Martin of the local Martin's BBQ Joint and Carey Bringle (the "Pet Leg Porker") discussed all things 'cue in a panel moderated by Tim Love.
If there's one thing that the local panelists want you to know about BBQ in Tennessee it's that it's a product, not a technique. Some takeaways: Sanchez, speaking to barbacoa, stressed letting meat sit after cooking and uses acidic marinades to cut the fat, rather than rubs. Bringle said local smokers use hickory because it's native to Tennessee, but for brisket mesquite or apple works fine. Martin professes an allegiance to hickory and everyone had a laugh over the word pignut. Takeaway tips: For the home smoker working on a smaller scale and choosing between chips, chunks and pellets they recommend chunks, unsoaked, and you want to looking for wavy heat.
And then Tim Love blew everyone's mind when he said that at Woodshed Smokehouse in Texas, they actually smoke water, for ice for their cocktails, prompting a "Bulllllshit!" from Pat Martin. "That's so above my paygrade." Ours, too. But it sounds awesome.
Read more music and food crossovers on Food Republic: