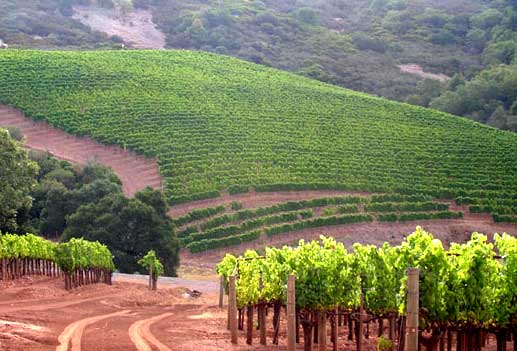 In Around The World In 80 Wine Varietals, contributor Chantal Martineau unearths how a particular grape drinks differently around the globe.
For some, it is the king of the white grapes — indeed, many of the world's finest white wines are made from it. For others, it's the quintessence of banality. As the most widely planted white variety on earth, there is no shortage of bad – or simply indistinct – chardonnay. To avoid it, some wine lovers have branded themselves "ABC drinkers": Anything But Chardonnay. But considering the sheer breadth of styles, it's foolish to dismiss it outright.
Like riesling, chardonnay varies tremendously from region to region, from terroir to terroir. However, the different styles of chard are even more attributable to how the winemaker chooses to make and age the wine. Chardonnay is deemed the most malleable of the varieties. Chards come oaked or un-oaked, creamy or bright, fruity or toasty. But before looking at all the different styles, some background on the grape itself:
Experts believe chardonnay was first grown in France's Burgundy region. It's said to be a cross between Pinot Noir, also a Burgundian grape, and an ancient white grape called Gouais Blanc. Burgundy is still the variety's spiritual home, where chalk and limestone soils produce some of the most lauded chardonnays in the world. However, here, it's not referred to as chardonnay. The wine is known simply as white Burgundy or, more specifically, by its cru. The premier cru vineyards of Puligny-Montrachet and Meursault are the most famous. Winemakers in Burgundy favor an oaked style, the barrel imparting toasty vanilla notes. These wines also stand up to aging, becoming more complex and elegant, as well as richer in color, over time.
In northern Burgundy, Chablis has made Chardonnay its specialty. Here, winemakers tend to forgo malolactic fermentation, which transforms bright, apple-y chard into creamy, buttery chard. They also tend to age their wine in used or neutral oak barrels as opposed to new ones, which results in less of a toasty vanilla character. Chablis' Kimmeridgean soil (a mixture of limestone, clay and fossilized oyster shells) and its cool climate produce high acidity, mineral wines – great aperitif wines, as opposed to Burgundy's weightier main course wines.
France may be chardonnay's home, but California is its capital. With more than 95,000 acres of the grape planted, according to The Wine Institute, it has more chard growing than France, and the grape is the most widely planted in the state. For all the griping about chardonnay, Americans love it. It's the most popular wine in the country. Chards from California's cooler areas, like the Sonoma Coast, are often made in the Chablis style, crisp and unoaked, showing bright citrus and green apple flavors. Those from warmer areas, like Napa Valley, show riper and more tropical fruit flavors; they often undergo malolactic fermentation for a creamy texture and are aged in oak barrels.
Chardonnay is also widely planted and produced in Chile, Argentina, Australia and even in Italy and Spain, where it's used for several sparkling wines, including Spanish cava. Of course, when it comes to bubbles, chard is best known as one of the three grapes that go into champagne. An all-chard bubbly is known as a blanc de blancs.
Here are five chardonnays to drink now:
Frog's Leap Chardonnay 2011, Napa
Styles of chard in California vary greatly. This organic chard from Napa is made in a style more often associated with Sonoma. It boasts a steely minerality and tart citrus flavors with a hint of the floral. Astor Wines, $29.
Jean-Paul & Benoit Droin 2011 Chablis
The youngest generation of this ancient winemaking family produces a typical Chablis, full of green and yellow fruit flavors, and edged with a pleasant brine. Aged in used oak, it has a silky texture, while remaining bright. K&L Wines, $19.
Marjan Simcic Opoka Chardonnay 2008, Slovenia
As soon as it's poured, you know this naturally fermented chard is a different animal from its peers. Deep golden in color with an oily weight to it, it's full of ripe and honeyed fruit flavors, with a salty oyster shell finish. Italian Wine Merchants, $60.
Oakridge 864 Single Block Selection Chardonnay 2011, Australia
Australian chard has long been associated with the oaky, fat styles of the New World. But Aussies have also led the way in "unwooded" chardonnay. This wine falls somewhere pleasantly in between with soft stone fruit aromas, and hints of toast and spice. K&L Wines, $50.
Jacques Lassaigne NV Vignes de Montgueux Blanc de Blancs Champagne
The Aube is a region to know for anyone interested in beautiful and unique grower champagne. This chardonnay-based bubbly is dry and mineral, with a palate-cleansing acidity and a hint of the herbaceous. Chambers Street Wines, $48.
More white wine stories on Food Republic: