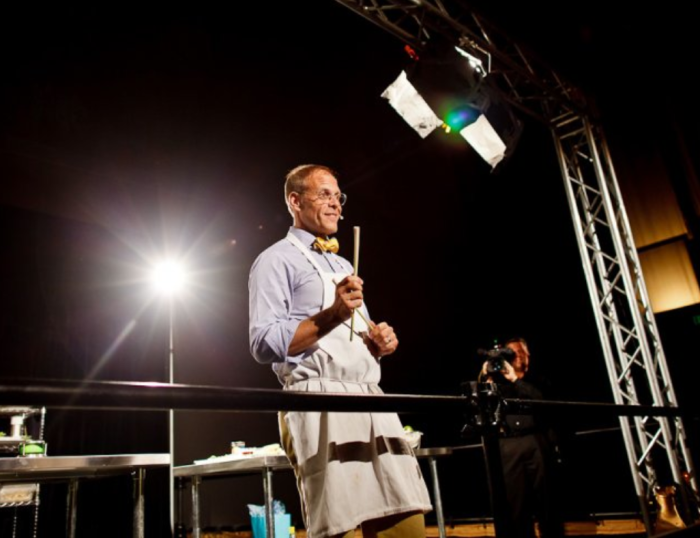 Renowned chef, author and television personality Alton Brown today announced details for his first national tour. Each show – there will be over 40 stops across the United States – will feature stand-up comedy, multimedia lecture, "extreme" food experimentation and live music from the man himself. There is even a Blue Man Group-type interactive component: select audience members will be invited on stage to serve as "assistants" while attendees in the first few rows will receive ponchos. We're thinking Gallagher meets Eric Ripert with this one.
The Alton Brown Live! The Edible Inevitable Tour will kick off on October 18 in Palm Desert, CA. The series will continue with around five stops per week – save for a break from mid-November until the end of January – through March 2, 2014. Brown described the upcoming events as "a must-see extravaganza for the whole family. I've been cultivating material for this show for about a decade…However, I'm a bit nervous about the singing parts." Is it just us or does that last part make you want to attend just that much more?
For more information and tickets, visit the tour's website.
Here is a complete list of the upcoming stops:
| | | |
| --- | --- | --- |
| 10/18/13 | Palm Desert, CA | McCallum Theatre |
| 10/19/13 | Cerritos, CA | Cerritos Center for the Performing Arts |
| 10/20/13 | Mesa, AZ | Mesa Arts Center |
| 10/22/13 | San Diego, CA | Balboa Theatre |
| 10/23/13 | Santa Barbara, CA | The Granada Theatre |
| 10/24/13 | San Jose, CA | San Jose Center for the Performing Arts |
| 10/25/13 | Santa Rosa, CA | Wells Fargo Center for the Arts |
| 10/26/13 | San Luis Obispo, CA | Performing Arts Center |
| 10/27/13 | Chico, CA | Laxson Auditorium |
| 10/29/13 | Albuquerque, NM | Popejoy Hall |
| 11/1/13 | East Lansing, MI | Wharton Center |
| 11/2/13 | Detroit, MI | Fox Theatre |
| 11/3/13 | Midland, MI | Midland Center for the Arts |
| 11/5/13 | Akron, OH | E.J. Thomas Hall |
| 11/6/13 | Louisville, KY | The Kentucky Center |
| 11/7/13 | Nashville, TN | TPAC: Jackson Hall |
| 11/8/13 | Columbus, OH | Palace Theatre |
| 11/9/13 | Roanoke, VA | Roanoke Civic Center |
| 11/10/13 | Virginia Beach, VA | Sandler Center for the Performing Arts |
| 1/29/14 | Austin, TX | Austin City Limits Live |
| 1/31/14 | Kansas City, MO | The Midland by AMC |
| 2/1/14 | St. Louis, MO | The Fabulous Fox Theatre |
| 2/3/14 | Denver, CO | Ellie Caukins Opera House |
| 2/4/14 | Colorado Springs, CO | Pikes Peak Center for the Performing Arts |
| 2/5/14 | Greeley, CO | Union Colony Civic Center |
| 2/7/14 | Minneapolis, MN | State Theater |
| 2/8/14 | Chicago, IL | Oriental Theatre |
| 2/9/14 | New Philadelphia, OH | Performing Arts Center at Kent State Tuscarawas |
| 2/10/14 | Dayton, OH | Schuster Center |
| 2/12/12 | Wilmington, DE | The Grand Opera House |
| 2/13/14 | Schenectady, NY | Proctor's Theatre |
| 2/14/14 | Hartford, CT | The Bushnell Center for the Performing Arts |
| 2/15/14 | Worcester, MA | The Hanover Theatre for the Performing Arts |
| 2/16/14 | Syracuse, NY | OnCenter Theatre |
| 2/18/14 | New Brunswick, NJ | State Theatre |
| 2/19/14 | York, PA | The Pullo Center |
| 2/21/14 | Providence, RI | Providence Performing Arts Center |
| 2/22/14 | Baltimore, MD | Lyric Opera House |
| 2/23/14 | Pittsburgh, PA | Benedum Center |
| 2/24/14 | Charlotte, NC | NC Blumenthal PAC: Belk Theatre |
| 2/25/14 | North Charleston, SC | North Charleston Performing Arts Center |
| 2/27/14 | Durham, NC | Durham Performing Arts Center |
| 2/28/14 | Atlanta, GA | Fox Theatre |
| 3/1/14 | Tampa, FL | Carol Morsani Hall |
| 3/2/14 | Sarasota, FL | Van Wezel Performing Arts Hall |
More Alton Brown stories on Food Republic: