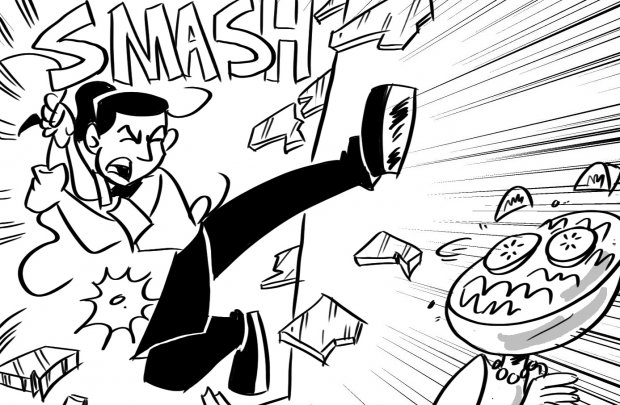 It's as real as the mini-Everest of galleys that has formed at our office: A lot of really interesting people in the food world write really boring cookbooks. Amanda Cohen, chef-owner of New York City restaurant Dirt Candy, is not one of these people.
Since 2008, she's been the loudest and most-talented supporter of a vegetable-based (restaurant) diet, preparing exceptionally flavorful dishes like smoked cauliflower with waffles and kimchi donuts. Dirt Candy is a vegetarian restaurant, sure. But it's more of a vegetable restaurant, avoiding meat-proxy cookery like veggie burgers and wheat balls.
"We do not care what you eat the day or meal before, or the day or meal after — we just want you to come enjoy the vegetables for this one moment," says Cohen in her maple syrup–thick Canadian accent. "And not necessarily think of it as a vegetarian meal, but rather as a really good meal."
And about the book. Last summer she published something as fresh as her spin on red velvet cake (red peppers are involved). Part graphic novel, part recipe book, part business case study, Dirt Candy: A Cookbook: Flavor-Forward Food from the Upstart New York City Vegetarian Restaurant tells the story of the restaurant's first year through the illustrations of the talented Ryan Dunlavey. There are laughs and tears and plenty of bowls of grits topped with tempura–poached eggs.
Cohen will make an appearance at San Francisco's Omnivore Books this Sunday, where she will be signing cookbooks, talking about the history of vegetarian food, dishing the dirt on running a restaurant and serving her portobello mousse. Do not sleep on this mousse, people. This marks Cohen's first West Coast book appearance. San Francisco: Do not sleep on Amanda Cohen.
Omnivore Books is located at 3885a Cesar Chavez Street San Francisco, CA 94131. Visit their website for a busy roster of fall events.