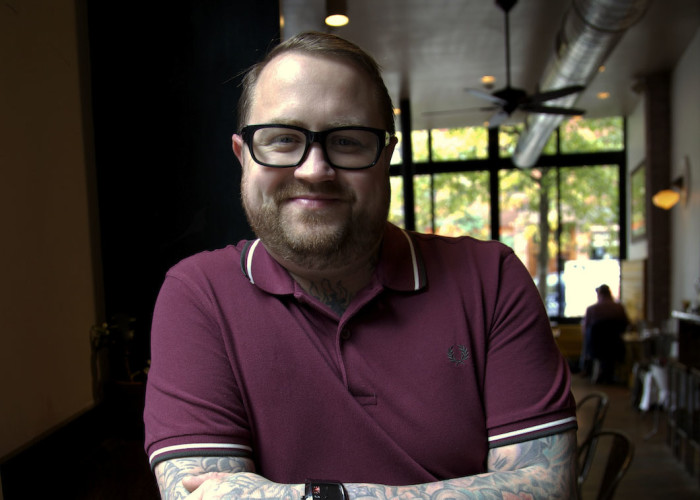 As one of Boston's hottest young chefs, Jamie Bissonnette is known for cooking food that's a little more complex than a juicy burger, but that doesn't stop him from appreciating the beautiful simplicity of one. There's even a burger on the menu at the buzzy restaurant Toro, which he started with his chef-restaurateur partner Ken Oringer in 2009, which he says the two tested endlessly to try to find the right mix—and the right burger for Boston. Here, Bissonnette, who is also partners with Oringer in the Italian-leaning Coppa, talks about the genesis of Toro's "Hamburguesa con Queso," as well as his favorite burgers in Boston, some BBQ tips and more.
Tell us about the burger that's on your menu in Boston.
We do a smash and scrape–style burger. It's ground hanger, skirt steak and beef cheek trim. We do it on a plancha on a really hot griddle. We throw on caramelized onions and sliced American cheese. It cooks to medium or medium-well, but because it's so fatty, it stays really moist. I put it on a really soft bun and we top it with a secret sauce: a traditional mix of mayo, mustard, ketchup, fish sauce, Sriracha, Tabasco, miso, mustard seeds. You can get it "messy style," which is our version of Animal Style, with Toro corn "schmeg" doppled on top with pickled red onion, iceberg lettuce and a housemade bread and butter pickle. It's good.
How long did it take you to come up with that?
Ken and I tested four or five different burgers, every Monday to Friday for around a week and a half. We finally settled on this one. We would eat burgers and then each eat a whole bunch of celery to try and cleanse.
Were you trying to create something on your own terms or something that would be different from everything else in Boston?
The new burger trend in Boston hadn't really started yet and we were talking about a really good lunch burger. We had both been in New York at Shake Shack and talked about that style of burger — the smash and scrape. That texture where you are eating it and just can't stop chewing. We said, "Let's do one!" Our lunches are pretty busy and we felt that a burger would be fun. We had mini burgers at night and people would always ask for them during the day. At lunch, people want their own sandwich. We played around with it and put one on.
Would you typically find a burger on a Spanish menu like that?
No. We did it because we wanted to do it.
What were some of the trends you were starting to see in Boston back then?
At that time, there weren't a lot of independent burger companies. Five Guys, Seven Napkin and Tasty Burger hadn't opened up yet. As those restaurants started, burgers started becoming one of the bigger things in Boston. New York has the cronut; Boston has so many different people doing interesting burgers.
What about the style of smash and scrape? How is that done exactly?
There are a couple different ways. There's one way to make a fatty, moist one: you can drop and then smush it. For ours, you patty it up, you put it on, then take the bacon press and slam it. It creates more surface area and you get more of the addition of the sugars and the proteins. And then, I flip it, so it's kind of like a traditional smash with a little meatball – throw it on, smash it, slide it over, flip it, cheese it. You keep repeating that smashing and scraping and sliding down.
What about cooking a burger in general at a barbecue? What are some good tricks?
One thing I like is cooking with really flavorful bacon. Grinding that and mixing it in with the meat. I like getting raw, small-cut red onion and garlic and almost seasoning a burger like sausage but not enough that it tastes like a sausage patty. I love grinding my own meat for barbecues with a little bit of butter.
What kind of butter?
Usually just regular table butter that you can get anywhere. Well, not like Land O' Lakes, but a nice, well-made, fatty butter. Lately, I've found that grinding goat butter — or equal parts goat butter and cheese — is interesting.
If Boston had another contender for main sandwich besides the burger, it'd probably be the lobster roll, right?
Yeah. Lobster rolls, clam rolls.
Is that something that's always more prototypical Boston, compared to burgers?
I don't think burgers can be claimed by a city. Maybe New Haven because of Louis' Lunch, one of the original steam burger places. Boston's sandwich is always going to be identified sandwich-wise by the lobster roll.
Do you like lobster rolls?
I love them.
How do you make yours?
I'm a Connecticut guy, so I like my lobster rolls on buttered, New England–style hot dog rolls, flat, toasted on the sides and opened up. The lobster is usually sautéed with a little bit of mayo, some vegetables and celery, fennel, with hot butter on top. That's my favorite way. But I can also get down with a cold, fatty, chopped-up lobster salad where it's finely chopped with lots of mayo.
Say it's a nice day in Boston. Where is a nice place to sit outside and eat a burger?
Tasty Burger. Right by Fenway Park. The burgers are great. You can sit outside or grab something from the kiosk window to go and sit at a communal picnic table.
What about for a side for your burger? Does it have to be fries?
I do love fried potatoes. They have a thing called chips with the works and it's like nachos. It's just tortilla chips — sort of like Americanized nachos. I love onion rings, too, and tater tots.
What are some of the toppings that are peculiar to Boston burgers? Are there any?
There is a lot of blue cheese in Boston, even though I guess that's not unique to the city. There are a lot of onions. One of the more unique burgers in Boston is at Neptune Oyster, but it's a thicker, more gourmet burger. It's topped with onions, tartar sauce and fried oysters. I love that one. The oysters work great.
What was the last burger you ate?
The last burger I ate actually was at Boston Bites Back — the charity event we had at Fenway Park to support the bombing victims. There were a bunch of burgers there, but the best burger I had was Shake Shack.

Earlier in Boston Burger Week: Lobster Burgers With Tarragon-Mayo Recipe

---
This post is brought to you by our friends at Amstel Light