Could This Be The Most Remote Bar In Thailand? Maybe In The World?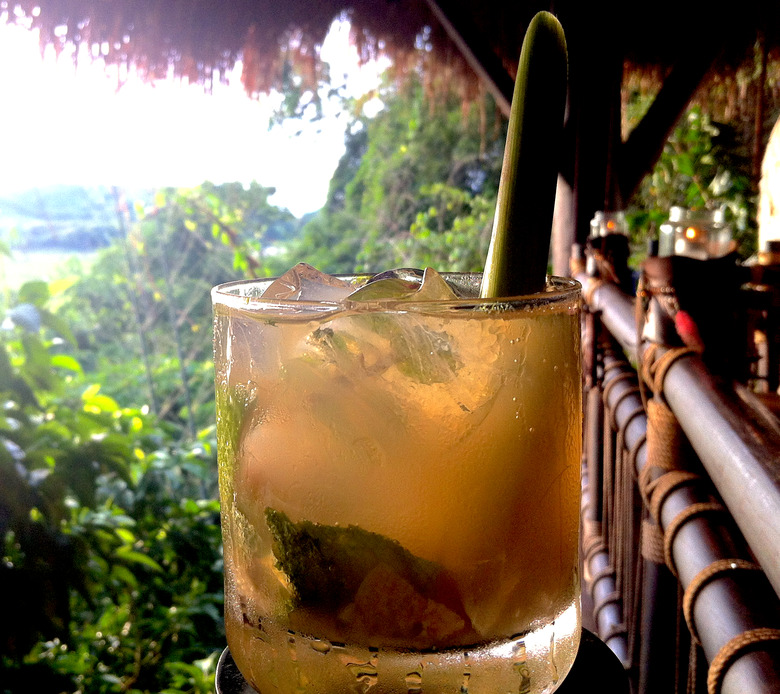 The Burma Bar at the Four Seasons Tented Camp on the northern tip of Thailand is impossible to find, and that's the way they like it. If you're not from around here – and here is the Golden Triangle, where Thailand intersects with Burma and Laos – you'll have to fly into Chiang Rai and take a car until just before you reach the border of Burma. At that point, you'll cut through a small village on an uneven dirt road and wind up at a dock where you board a longtail boat on the Ruak River. On one side of the river is Thailand, the other Burma. After zooming along the river for a few minutes, you wind up at your destination: the all-inclusive Four Seasons Golden Triangle, home to The Burma Bar.
There's no possible way not to smile when you walk in. This is what private feels like. The building is an open-air thatched hut with teak furniture and a massive stone fireplace. As a tribute to the four adopted elephants on the property, there are pachyderm statues all over the place. Even the stools by the chess table are painted to look like elephant feet. Once you realize you don't have to elbow your way to the bar or fight with bros to snag a high-top, you can settle into one of the couches and breathe in the jungle air. This is your bar now — at least for tonight.
They didn't invent the sundowner here, but they may have perfected it. For the uninitiated, a sundowner is a cocktail enjoyed while day gives way to night. Here in the Golden Triangle, that could mean a spin on a mojito that kicks out rum for local Thai whisky made from Mekong River sticky rice or their signature lemongrass martini where the vodka is infused with local lemongrass and the rim lights up your tongue with salt and Thai chili powder. While the bar itself may be completely off-the-map, the beverage program is on-par with the best hotel bars you've ever been to. A huge selection of top-shelf liquors line teak shelves and since it's all-inclusive, you can order a few fingers of Don Julio or Johnnie Blue without feeling your wallet lose any weight.
Sipping on something familiar may sound good, but the exceptionally friendly bartenders will guide you towards something local. That Mekong whisky is a great choice, as is one of the local rums or the funky-looking bottle of something that's like tequila – although this one's for the truly brave. The bottle's got an entire snake inside and there's another with a full scorpion. That shriveled worm in your special tequila bottle? That's for little girls, pal. Speaking of tequila, The Burma Bar sees an unusually high number of Mexican visitors, so you can get a world-class Paloma or a quality michelada as easily as you can in TJ. This place may be hidden from the rest of the world, but with guests coming in from all points on the map, it's about as global a bar as you're going to find anywhere.
If you ever do find your way here, feel free to drink up and forget where you are – at The Burma Bar, they prefer it that way. After all, you can't get lost if you never knew where you started.
Read more Thailand stories on Food Republic: