Saucy By Nature: Just Good Friends Making BBQ Sauce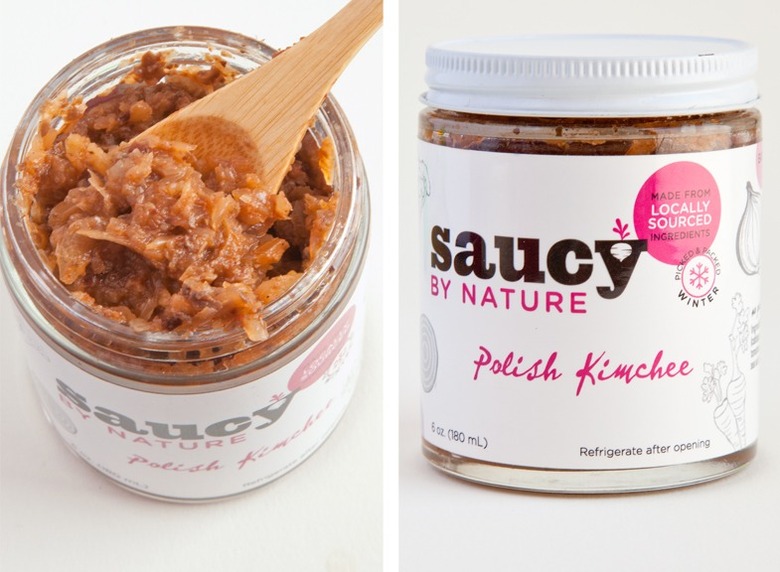 Welcome to What's Your Story?, our feature about innovative entrepreneurs in the food industry. What goes into the launch of a new food brand, how is the product made, who designs the packaging? All these questions, answered...
For longtime friends Monika Luczak and Przemek Adolf, food has always been the center of conversation. After years of traveling together and sampling exotic sauces and spices, Luczak, formally a corporate attorney, and Adolf, a marketing specialist, decided to combine forces and channel their love for food into Saucy By Nature. Their line of speciality condiments takes inspiration from their Polish backgrounds. After years of recipe development, Saucy By Nature released a line that includes Polish kimchi — "perfect for hotdogs" — spicy pumpkin-ginger spread and cilantro-lime sauce in addition to more traditional items, like a newly developed barbecue sauce that's possibly the best to come out of Brooklyn. We sat down with the co-founders to discuss what it takes to launch an artisanal food company.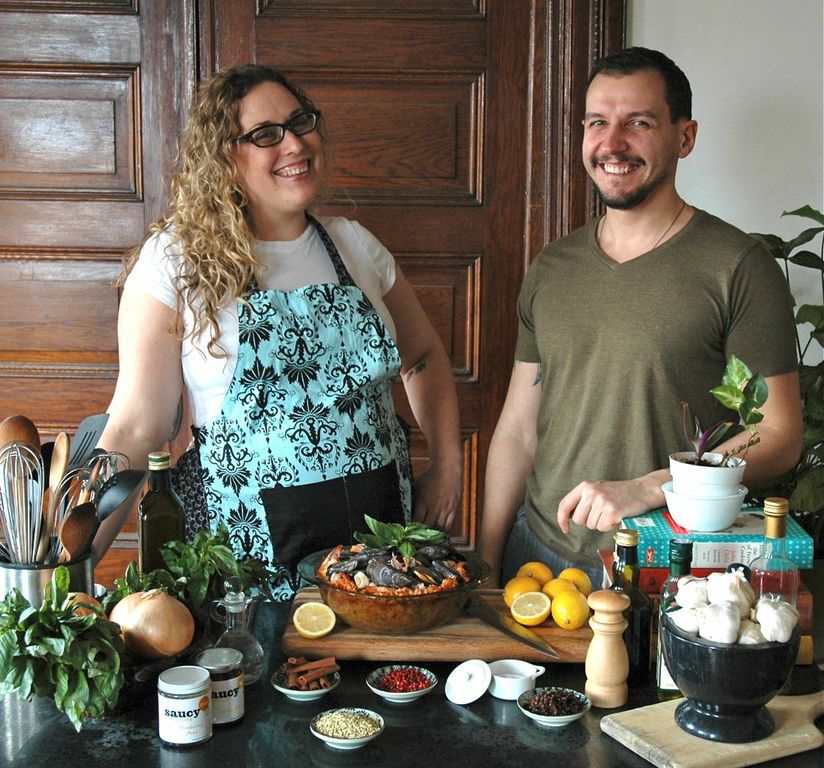 Monika Luczak and Przemek Adolf in the kitchen.[/caption]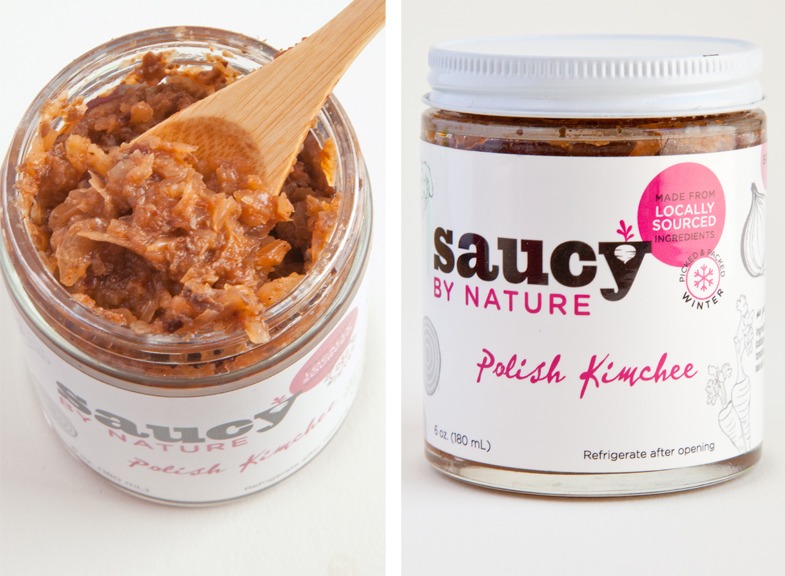 Polish kimchi[/caption]

The newest addition from Saucy By Nature, Coffee BBQ Sauce[/caption]
Why did you decide to start making and selling your own artisanal products?
Adolf: Monica and I have been friends for 11 years now. We met in New York and traveled around the world together over the years, then I moved to Europe. After a while I decided to move back to New York because there were a lot of interesting things happening around food — the farm-to-table culture, fine ingredients. I came back with the goal of building a fine foods brand. Monica and I started talking about a potential project. We have always both been totally obsessed with food, where it came from, the integrity of the ingredients and how dishes are prepared. From there things took off, and Saucy By Nature was born.
Did either of you have experience in the food industry?
Adolf: I always worked with food in some capacity; it was always my side career. I worked mostly in marketing, but was always involved with food, whether it be catering or working at a restaurant.
Luczak: Before Saucy By Nature, I was a corporate attorney. I just had a food obsession, but was not involved in the industry on a professional level. Now, we've quit our other jobs. Saucy takes up all our time!
Why sauce?
Adolf: We started by thinking of our friends — professionals living in New York — who are busy, probably do not have time to cook and are always on the go. We wanted to put a product out there that would be easily accessible and simply make food more delicious to help people eat better. So we created a condiment, or sauce that can be added onto a variety of different foods to give them a little kick. Our ingredients are all-natural, with the best possible ingredients from local farms. We use things like fair trade coffee (coffee is added to our sauce) and other all-natural products.
What has been your proudest saucy moment?
Adolf: We are really proud to launch our coffee barbecue sauce, a new product. We have taken everything we learned over the past two years in business in flavoring, design, and recipe testing and created Saucy By Nature Coffee BBQ Sauce. It's natural, non-GMO and uses locally sourced ingredients. We wanted to create a design for the bottle that was geared towards men, that encourages men to cook.
Luczak: Whenever anyone tries the sauce, they love it and come up with different ways of using it. That was always our goal. We wanted a product that would appeal to different tastes.
What is in the BBQ sauce?
Adolf: Fair trade coffee, local tomatoes, molasses, apple cider vinegar, onion, garlic, olive oil and a complex spice blend. There is nothing artificial. It's all ingredients that you would use at home when preparing a meal. All the ingredients are great things that you would not usually find in a jar or bottle. It really is a homemade flavor. We've been working on the BBQ sauce for a year and a half.
What is your best seller?
Adolf: Probably the cilantro-lime. It's a raw product similar to a chimichurri. It's great on seafood, steak or chicken, so very versatile. In the US, cilantro is used in very small quantities, and we wanted to change that. If you go to Latin America or Southeast Asia, cilantro is so abundant, and we wanted to bring that flavor home.
What advice would you give a food-centric small business?
Adolf: Anybody launching a food product should contact Fare Trade NYC. Monica and I started Fare Trade NYC, a program which helps small food business get started and see their product on store shelves in three months. We took everything that we learned from launching our business and set up an incubator program for people looking to launch a food product. The initiative takes ideas and brings them to life, so we are really excited about that.
What is behind the name, Saucy By Nature?
Luczak: The name came about while we were eating our favorite comfort meal, which is a European pilsner and schnitzel. We started talking about names: we wanted a little tongue-in-cheek. We are children of the '90s, so we came up with Saucy By Nature.
Whats next for your brand?
Luczak: We are launching a few different sauces which are currently in the works. Stay tuned!
Where are your products available?
Adolf: Saucy by Nature is available nationally at West Elm, Dean & Deluca in NYC and gourmet and speciality stores listed on our website. We also sell online.
[Read about more food and drink entrepreneurs in What's Your Story?]