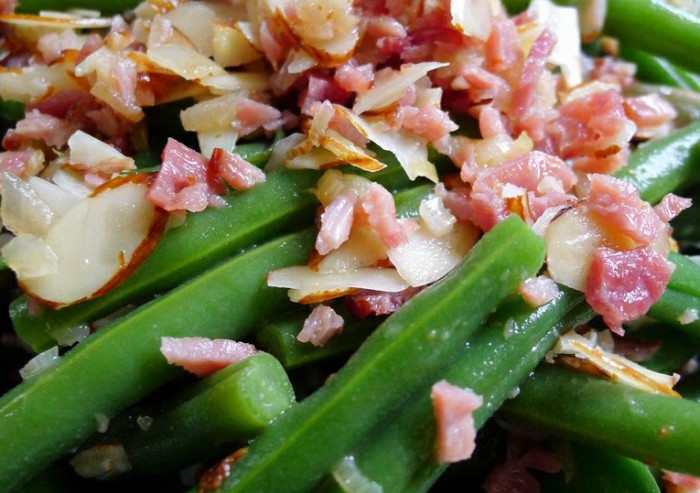 I was out to dinner with a friend who reps Stella 34 Trattoria, this ridiculously perfect Italian restaurant I had zero idea was perched on top of Macy's. Who comes out to say hi but the chef, Jarett Appell, who taught us four things we never knew about Neapolitan pizza, with his awesome tattoos and encyclopedic knowledge of Italian cuisine. I was excited, because this guy is 1000% a master of his craft. He immediately started sending out small plates of stuff he whipped up from what was in the kitchen, nothing from the menu at all.
"Summer tomato, crab and watermelon with a soppressata vinaigrette," he announced, placing two small bowls in front of us. Yup, Chef brought the plates out himself. We giggled and blushed, obviously. Soppressata vinaigrette is a sexy beast. So naturally, I had to take the concept to as many levels as possible and construct meat vinaigrettes. I'm not talking about sprinkling bacon bits on a salad with dressing from a bottle here. I'm talking about these ideas:
Chorizo vinaigrette
Brown crumbled spicy chorizo in a hot pan until fully cooked, then drain and whisk with extra-virgin olive oil, freshly squeezed lime juice, freshly ground black pepper, a dash of adobo sauce from a can of chipotles, super-finely chopped cilantro, scallions and garlic. Nice on a shrimp or steak salad.
Italian combo vinaigrette
Playing off the soppressata idea, recreate an Italian sub in a salad dressing by finely chopping all the good stuff inside (various meats, pepperoncini, roasted red peppers) then pour over mixed greens, red onions, tomatoes and shredded provolone to save about 400 relatively empty calories in the hero roll department. The sandwich bread, not the thing you call your stomach when you eat too much sandwich bread.
Pastrami vinaigrette
Your vegetables will never be the same. Combine very finely chopped pastrami with extra-virgin olive oil, coarsely ground black pepper whole-grain mustard, chopped chives and shallots and a little bit of horseradish sauce, then toss with basically any preparation of basically any vegetable. Green bean salad with pastrami vinaigrette. Roasted Brussels sprouts with pastrami vinaigrette. Mixed grilled vegetables with pastrami vinaigrette. Just do it. Do it and then everyone will love you.
In conclusion, meat-on-vegetable love.
More genius things to do to your lunch on Food Republic: