Help Somali Chef Ahmed Jama Rebuild His Restaurant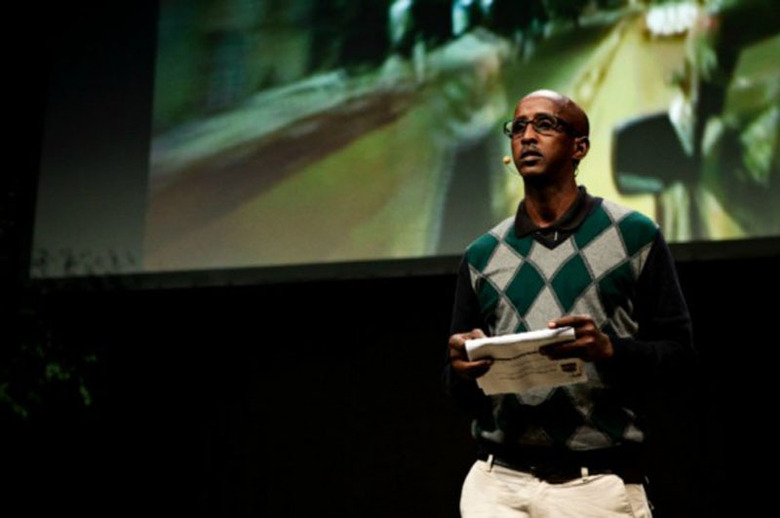 One of the most inspiring stories coming out of the recent MAD Symposium in Denmark — the theme was "Guts" in all its meanings — was that of Ahmed Jama, a Somali chef whose restaurant is in strife-torn Mogadishu. After sharing his harrowing tale of building his restaurant The Village and having it blown up twice by terrorists, then rebuilding it, it was hit again this past weekend, killing 15 people, according to the BBC.
Jama, who wasn't present at the time of the attack, is vowing to rebuild yet again, and his friends at MAD are trying to help. They've set up a crowdfunding effort to raise money to help Jama bring the Village back to life after the latest attack. You can donate here.
Below is the video MAD's website just posted of his presentation, which our correspondent Jody Eddy wrote about last week:
Somali chef Ahmed Jama told his story through a translator of making the decision to return to the war zone of Mogadishu from the safety of London after working for years to escape the conflict in his homeland. In spite of two suicide bombers ripping apart his restaurant since it opened (the second killing six of his employees), the chef, a stoic symbol of relentless courage, stood in front of the transfixed crowd and said, "My family and children thought I was crazy when I decided to open my restaurant for a third time but I had to do it. My restaurant is a meeting place for people. It is a place for people to share ideas, to discuss how to improve our lives. I want it to help change the attitude of my country. To show them hope and perseverance and to build and understanding between people."
Watch the video from MAD's site here: