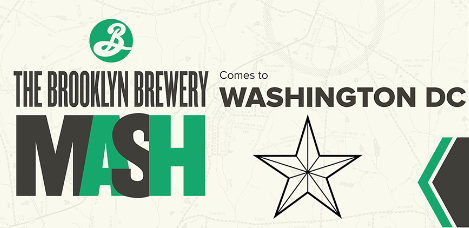 We've already told you about the Brooklyn Brewery Mash, an 11-city festival showcasing food, film, music, books and, yes, beer. The celebrations first kicked off on March 6 in Austin, Texas during South by Southwest and has made stops in New Orleans, Nashville, Baltimore and the Twin Cities. The festival will next travel to Washington, DC, beginning on Tuesday, September 17. Below is a rundown of events scheduled to take place in our nation's capital. Be sure to check out the Mash's official website for more details and ticket information.
Mash HQ
Sept 17 – Sept 21, 5-7 p.m.; ChurchKey; 1337 14th St – Free
Brooklyn beer specials, new and special offerings, giveaways and general info available on The Mash.
Chaos Cooking
Sept 17, 8 p.m. – Free
A stalwart citizen opens their kitchen for a dinner party where all the guests are cooks. Each attendee brings the ingredients and everyone cooks together. Dishes are passed around, and there's plenty of Brooklyn beer to enjoy. For location details, go to ChaosCooking.com.
Local 2 Ways
Sept 18, 7 p.m.; matchbox; 1901 14th St NW – $50
Multi-course beer dinner celebrating local cuisine, interpreted 2 ways: by Chefs Shannan Troncoso of matchbox and Brooklyn Brewery House Chef Andrew Gerson. Call matchbox at 202-328-0369 for reservations.
NY Night Train Soul Clap & Dance-Off with DJ Mr. Jonathan Toubin

Sept 19, 10 p.m.; Black Cat Back Room; 1811 14th Street NW – $10
Compete for a trip to New York for the Dance-Off championship at Brooklyn Bowl and $100 cash prize after getting warmed up with the exquisite 1960s soul 45s of world famous Brooklyn DJ Jonathan Toubin. Must be 21 years of age to win.
Slow Supper @ Studio 52
Sept 20, 8 p.m.; Studio 52; 52 O Street NW – $60

Guests will enjoy a feast of a beer dinner prepared by Brooklyn House Chef Andrew Gerson. Special guests to be announced. Projection installations from Brooklyn's NBNY. All proceeds benefit Slow Food DC.
Books & Beer: The American Way of Eating with Tracie McMillan
Sept 21, 6 p.m.; Glen's Garden Market; 2001 S Street NW – $10
Togather and Brooklyn Brewery present a conversation and Q&A uncovering the truths of America's food system with author Tracie McMillan. Your ticket includes complimentary Brooklyn beer and a percentage of ticket sales will benefit Slow Food DC.
Found vs. Found: Found Footage Festival vs. Found Magazine
Sept 21, 8 p.m.; Warehouse Theater; 645 New York Avenue – $12

The two titans of the found universe, Found Footage Festival and FOUND Magazine, will go toe-to-toe in a battle royale of found stuff. Both camps will be sharing their favorite finds to determine once and for all whether found notes or found videos will reign supreme.
Snail of Approval Awards

Sept 22, 2 p.m.; Jackson 20 Restaurant & Tavern, 480 King Street, Alexandria, VA – $48 Slow Food Members | $55 Non Members

Slow Food DC awards the food-related providers that are making significant contributions to the transformation of Washington DC's food system to one that is good, clean and fair. Your ticket includes Brooklyn beer, cocktails & a menu of locally sourced food prepared by Chef Brian McPherson of Jackson 20.
Read these stories about Washington, DC on Food Republic: