Here's What Happened On The Second And Final Day At MAD Symposium 2013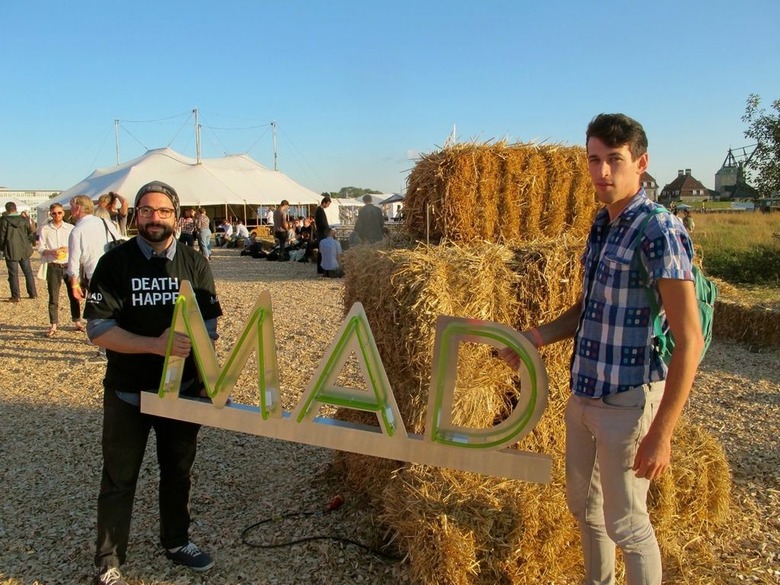 Coffee is a requirement at MAD. It's the thing the throngs of symposium attendees stream to after disembarking the Copenhagen canal boat transporting them to another day in the cherry red circus tent. It's not just the fuel to sustain them through another day of intense and provocative conversation, it's a well curated collection of beans from around the world roasted by some of the world's best coffee houses, including London's Workshop Coffee Co., Oslo's Solberg & Hansen and Copenhagen's Coffee Collective. With nerves properly fired on morning cups of espresso and cappuccino, it was time for another day at MAD.
First up was bestselling Danish author Knud Romer, who went from failed writer to successful advertising executive to alcoholic who nearly toppled off the edge until a homeless man named Xeno saved him from the brink, inspiring him to write his first successful novel, get married and start a family. It wasn't a story related to food, save for the bottle of wine sitting on the tree trunk podium in front of him, but it was a story of guts and courage that set a high note for all that was to come.
And then Indian environmental activist Vandana Shiva walked on stage. It was a goosebump moment for many in the audience, whose deep admiration for the stalwart champion of biodiversity, conservation and small farmers' rights around the world brought them to their feet. Wearing a saffron-colored sari and with her trademark long, flowing silver hair, Shiva discussed the moment when she made the decision to advocate against "a world where five companies controlled all life on earth." She said, "The 'green revolution' promoted by the likes of Bill Gates said it would provide us with miracle seeds; instead, it has destroyed us. Corporations who promote GMO seeds have militarized approaches. They use every tool to destroy biodiversity." She explained that "in Africa, there is a recolonization happening at the hands of companies like Monsanto but that there is hope. The poorest person in the poorest heart of a nation can become an activist, can spin freedom." She said that the meaning of seed in nearly every language means "to renew" and in this context, GMO seeds are not seeds at all, since they are manufactured to deconstruct at the end of every growing season (in order to prevent seed saving and create a system of dependence). It's a system that has resulted, she said, "in the deaths of over 250,000 farmers in India." "We can nourish ourselves back to life," she went on. "Let's remind the world what real food is. Let's take it back. Only indigenous agriculture can save our food system. Let's make a commitment to make no place for GMOs, toxic chemicals or unjust laws that have subjected us all to agricultural slavery."
Shiva was a tough act to follow, but Manresa chef David Kinch and Cynthia Sandberg, the farmer of Love Apple Farms in California who grows food exclusively for Manresa, didn't disappoint. They led a discussion about their experience working together in such a fruitful and enriching partnership. After the duo threw out dozens of bags containing Love Apple Farm seeds to the audience, food historian Michael Twitty took the stage. He tackled the daunting topic of the disenfranchisement of black people in the U.S. South. He discussed the role Western African slaves had in shaping the foodways of southern America and how we "need to have a fellowship with the past in order to light our future." He said that chefs "need to respect and revise traditions and acknowledge the debt they owe to the past in order to correct injustice and more forward."
One of the most beloved living chefs then took the stage. But British chef Fergus Henderson wasn't there to present. He said, "I could talk forever about guts. But I'm here to introduce my wife, Margot Henderson. But one last thing I'll say about guts before I leave is that when you're in love, your spleen swells." With that, spleen clearly swelling, he squeezed his wife's hand and walked off into the darkness. Mrs. Henderson was visibly nervous. With shaking hands and an even shakier voice she said, "A long time ago, I met a gorgeous man and four days later it seemed inevitable that we would open a restaurant together." She continued, "I was always interested in why there aren't more women in the kitchen. Out there it's like a 'blokedom.'" She discussed the different approaches men and women have when it comes to preparing food: "The male approach dominates and sees food as a problem to be solved whereas women see it as something that nurtures and enriches." She concluded, "The one thing we all have in common and should celebrate is that nourishment, eating and the pleasures of being together is what we all want. This symposium is an eating and drinking banquet. It's a feast of love."
With that, David Chang introduced Boston chef Barbara Lynch, who told the story of growing up in the projects as the seventh child of a single mother and the challenges she faced to become one of the nation's most successful chefs. She discussed the failures as well as the successes in her long struggle, ending on a high:" "Is Alain Ducasse here? My dream was always to be Robuchon or Ducasse. But I've finally come to the point when I'm happy to be Barbara Lynch."
One that note, lunch was served. And what a lunch it was. Danny Bowien and his team from Mission Chinese dished up food from their celebrated bi-coastal restaurants. Beer brewed especially for MAD by Copenhagen's Mikkeler brewery was handed out with labels bearing Bowien's face. A total of five beers were brewed specifically for the symposium, including sumac, dandelion and weed.
The sound of bagpipes indicated that it was time to walk back into the tent and begin the afternoon session. The Nordic Food Lab's Ben Reede carried an enormous haggis to the podium as the bagpiper concluded, stepped behind the wobbling mass of guts and recited Robert Burns' Address to a Haggis in a booming Scottish brawl before plunging an enormous knife into it, innards bursting out from their casing.
To the sounds of riotous cheers, Redzepi stepped on stage and said only this to introduce the next speaker: "Guys, we have Alain Ducasse!" With that, the iconic chef took a seat on a felled tree trunk with his translator and Coi's Daniel Patterson, who also did a bit of the translating, sitting beside him. Redzepi said to him, "Alain, I had posters of you in my bedroom. Other guys had naked women. I had you." With that, a question and answer session between the chef and audience began. Perhaps the best moment in the Q&A was when the first person, Noma's sea urchin purveyor who presented at last year's MAD, asked, "Alain Ducasse, do you like sea urchins?" Ducasse didn't miss a beat and replied, "Yes. And the divers too."
Food writer Jonathan Gold discussed authenticity, beginning his presentation by saying: "Following Alain Ducasse is like being a shitty garage band following Led Zeppelin." Chef Roy Choi then took the stage to discuss his philanthropic work in his hometown of Los Angeles, where "the neighborhoods with the worst schools are getting the worst food." The chef, who gained famed with his Korean food truck Kogi, has campaigned to feed people in the most destitute neighborhoods of LA. He said, "If we pool our resources we can eliminate food deserts. In poverty-stricken regions of India and Asia we feed our children healthy food. In America, we feed them toxic waste."
Redzepi teared up when introducing the second to last speaker of the day. He called Christian Puglisi, chef of Copenhagen's Manfreds and Relae, "provocative, unafraid and unpretentious" and Puglisi delivered a speech that was exactly that. He discussed the evolution of his restaurants that are noted for offering refined food in relaxed, unrefined spaces. He said, "Transparency is key. All the focus is on the food and wine at our restaurants." He said, "Fine dining is facing extinction because our values are changing." Adding that, "If the ideas are clear enough and the food is good enough, the veneer is going to be good enough no matter what it looks like."
David Chang introduced the final speaker of the day, saying that it's nearly impossible to put into words the kind of chef and man that he is and perhaps the best way to describe him is as Dos Equis "The Most Interesting Man in the World." The world's most interesting man did not say a word for most of his presentation but stood solemnly to the side of the stage as Redzepi's voice narrated a film featuring animal butchery and death. He peppered segments of fabrication and flowing red blood with sentiments like: "Man has lost touch with the elements that a recipe requires. What would your cooking be like if you took away your connection to your producers? Many times pleasure masks cruelty. Behind every dish there's death." With that, Alex Atala walked to center stage holding the now notorious chicken.
Redzepi dove into the day's final chapter by introducing the entire MAD team. An enormous picture of Atala giving the finger flashed above the group as it was announced that the Brazilian chef would co-curate next year's MAD symposium. Redzepi said, "I learned many things about what it takes to have guts during this year's symposium. I learned that a 10 year old [referring the school girl Martha Payne, who presented the day before] has more guts than all of us." With that, a photograph of Redzepi's children flashed above him. He explained that years ago he did something that was against his own rules. A photograph of a beautiful woman in profile emerged on screen. "Years ago, I kissed a waitress who became my wife. And that took the most guts of all." And with that, the third annual MAD Symposium was brought to a close.