Summer Pasta Salads, Without The Labor, For Labor Day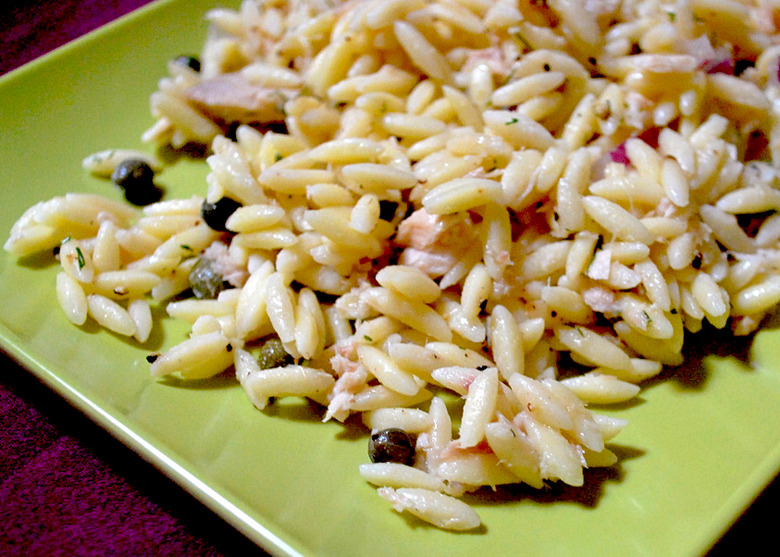 I did a taping of NPR's How To Do Everything yesterday where I exalted the glory of the old CD spindle bagel tote hack. I meant every word: that thing is cool, despite my friends' insistence on Facebook that it is not cool. It is.
So with that in mind, here's how to provide endless bowls of pasta salad for whatever your Labor Day cookout obligations may be. Either way, that bowl is going down. There's never leftover pasta salad. And there's no better dish to add a cheap, lazy hack in a way that stays true to your food enthusiast roots. You're not supposed to labor on Labor Day, dammit.
Go to a respectable deli counter and procure some respectable deli salads. These include but are not limited antipasto that doesn't seem to have been sitting there forever: Greek, Italian tuna (chopped veggies instead of mayo), artichoke, hearts of palm, three-bean, beet and cucumber. You'll want about a pound altogether for a box of pasta, which makes about 8 servings as a side. I usually do orzo to switch it up.
Chop any combination of those ingredients and toss them with the still-warm pasta and high-quality extra-virgin olive oil, then chill in the serving bowl for at least an hour before serving. That's really the whole hack. It saves you so much time, effort and dough. Feel free to add some extra minced red onion or chopped mint or basil, maybe a splash of red wine vinegar or fresh-squeezed lemon juice, then it's ready for the party. And it took as much time as picking up stuff at the market and chopping it while the pasta was boiling. There's no other cooking or procuring, because cooking and procuring are both work and you have drinks to drink and sun to hang out in. Hence, the hack. You are welcome.
More summery lunches on Food Republic: