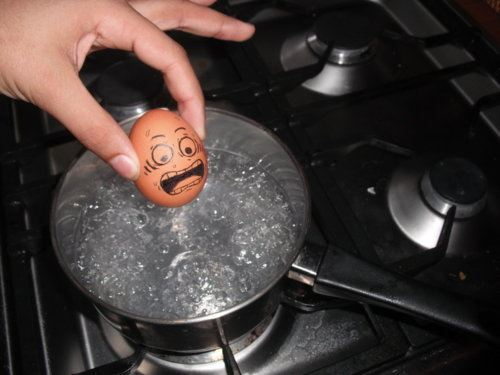 So you've boiled them perfectly and you're ready to get deviling, egg-salading or whatever you plan to do with your perfect hard-boiled eggs. Now if you could just get at them without mangling them, ripping off pieces, embedding angular bits of shell in their tender flesh and making an aesthetically pleasing dish damn near impossible. Here are a couple of pointers:
Use old eggs
Not, like old eggs. But the closer they are to their "expiration" date, the easier they'll be to peel — older albumen (the white stuff) doesn't adhere to the inner shell as much.
Shock value
When the eggs are done cooking, briefly "shock" them in a bowl full of ice water. The white should contract away from the shell enough to make peeling easier.
Water is your friend
Once you've made the initial crack, peel the egg under running water to help wash away any tiny shell fragments that could work their way into the white. Running water between the white and the shell will also help separate them.
Avoid skin contact
If you can find the thin translucent membrane or "skin" between the shell and the white, pull on that rather than the shell for a gentler shell removal technique that's less likely to damage the white.
More Whatchamacallit on Food Republic: