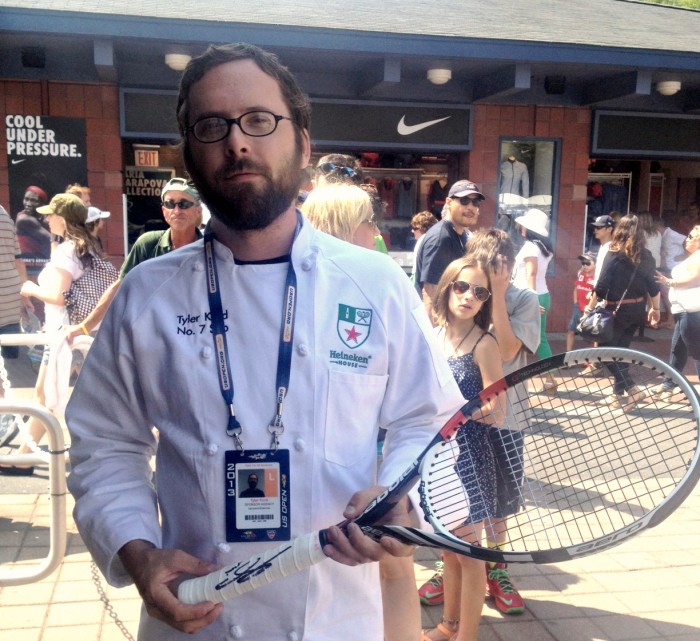 Tyler Kord has invited us to the Heineken House at the U.S. Open to drink pints of Dutch beer, play a little cornhole and try a couple of the sandwiches he's made especially for the Open. Twist our arm. Kord is an accomplished chef who worked at Jean-Georges Vongerichten's Perry Street before opening Fort Greene, Brooklyn favorite No.7 and a trio of No. 7 Sub Shops in Greenpoint, The Ace Hotel and The Plaza Hotel, all in New York City. Apparently, sub sandwich fans come from all sorts of backgrounds.
As we've noted in our preview, New York's annual major tennis tournament is not only about the action on the court. With over 700,000 spectators expected to attend over the two weeks in Flushing — food plays a major role. Which is why Kord brought his A-game when developing the sandwiches. The Dagwood features turkey, ham, bacon, pickled beets (yolo!), barbecued potato chips, Swiss cheese and a sauce that marries Chinese mustard, horseradish, dill and sweet chili sauce. A real kitchen sink sonofabitch.
On the lighter side, Kord riffs on his shop's famous broccoli sub with a vegetarian Cubano made with scalded broccoli (calling it steamed would do the crispness injustice), roasted sweet onions, Swiss cheese and Chinese mustard. Skip the lines at the boring crepe stand and head to the House for one of these. Kord filled us in on the details.
So, Tyler, you are indeed a professional tennis player?
Emotionally.
So you are a 7.0 player?
I don't know what that means, but it sounds awesome.
How did you get hooked up with Heineken?
I think they wanted to do some weird sandwiches here at the Open and Googled "New York City sandwiches" and found me. So they reached out to me and it sounded really fun and I like Heineken, so we went for it.
How much time are you spending here over the next two weeks?
I was here all day yesterday, and all day today, and will be spending quite a bit of time. Hopefully at the finals too. Any I going to the finals? [Edit note: Kord asks a Heineken rep, who assures him that as a Heineken brand ambassador he will be going to the finals.]
How much broccoli are you going to use during the Open?
Probably 30 or 40 cases. It's going to be a lot. To put it in perspective, we do about 2 or 3 cases a week at the Ace Hotel location of No. 7 Sub. The broccoli is what we get the most press for, but weirdly it's the zucchini [parm sub] that sells the most.
Why do you offer so many vegetarian options? And we're not hating on that at all.
Because it's super fun. And if we don't start eating more vegetarian sandwiches, we're going to have to explain to our grandkids what meat tastes like because it's going to go away. I'm super proud of the fact that the zucchini is our best selling sandwich, which means that many non-vegetarians are eating it. Also, as a chef, it's a better challenge in life. Anybody can make roast beef sandwiches, but broccoli? I knew that there would not be a rival broccoli sandwich at the Open. That is fun.
Have you seen much tennis while here?
I saw Serena play yesterday and that was pretty badass.