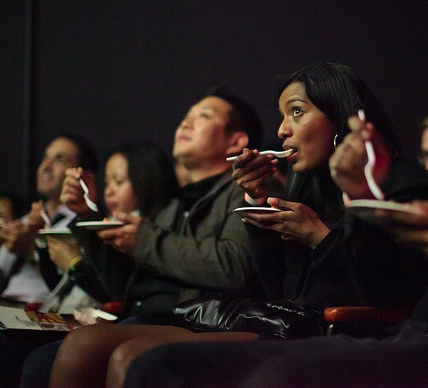 Gone are the days when filmgoers are left empty-bellied and salivating at the conclusion of a food-focused documentary. At least this is the hope of the Chicago Food Film Festival, which allows guests a multi-sensory experience. As in, there will be tastings of the food after a film's screening. This year's festival, November 21-23, will screen over 25+ films, including 22 premieres.
Travel Channel host and documentary filmmaker George Motz, along with co-creator Harry Hawk, established the festival in Brooklyn in 2007 as a venue to showcase documentaries, features and short films involving food. This year's NYC edition is taking place October 23-27. Since then, the Festival has expanded to Chicago and Charleston. Produced in association with the James Beard Foundation, the events in Chicago will benefit local organization The Good Food Project.
The nominees are vying for awards in six categories: Best Feature, Best Short, Best Super-Short, Best Food Porn, Audience Choice Award and Food Filmmaker of the Year. Check out the full list of the selections below.
1. Ashley English
Dir. Kelly Le Castre, 4:16 min, Chicago Premiere
North Carolina D.I.Y. queen Ashley English makes the good life look easy.

2. Beer Braised Ox Cheek
Dir. Matt Checkowski, 1:00 min, Chicago Premiere
One of Chef Martin Berg's culinary dreams, just backwards.

3. Best Fish Tacos in Ensenada
Dir. Gabriel Taraboulsy, 4:17 min, Chicago Premiere
Joseph Cordova reminisces about his very first fish taco experience, and shares the impetus for opening his now-famous Los Angeles stand, Best Fish Taco in Ensenada.

4. Cakewalk in Budapest
Dir. Zvonimir Rumboldt, World Premiere
In Budapest in the late 19th century, an accomplished young chef, master confectioner and gourmet shop owner Jozsef Dobos created the first multi-layer cake, the Dobos Torte – defying the culinary limitations of the time.

5. Eat | Love
Dir. Kelly Le Castre, 6:57 min, Chicago Premiere
Nature has already perfected the cherry tomato, the fresh sourdough, the glop of honey. But instead of examining food as an object, eating designer Marije Vogelzang examines the experience of how we prepare and share it.

6. Edward Wohl: At Home in the Shop
Dir. David Eisenberg, 10 min, Chicago Premiere
A profile of Edward Wohl, a woodworker in rural Wisconsin who makes a line of unique cutting boards from bird's eye maple, which are found in stores and art galleries around the world.

7. Fac et Spera (Hope and Do)
Dirs. Florent & Remy Gaillard, 22:29 min, Chicago Premiere
Filmmakers Florent & Remy Gaillard give you access to the estate vineyards, the winery and to the universe of Maison M Chapoutier, France's most admired winery. The film also profiles Michel Chapoutier, the head of this wine family, who has a unique philosophy on life and the business of wine.

8. The Fermentation of Respect
Dir. Aromi Creativi, 3:31 min, Chicago Premiere
Chef Cristina Bowerman is one of the few women with a Michelin star in Italy. The concept of respect is fundamental to her cuisine, especially the respect for her own identity.
9. Flatten
Dirs. Kay van Vree & Hugo de Kok, 1:14 min, Chicago Premiere
An experimental film where curious filmmakers explore the forms and shapes foods make when you flatten them.

10. Fondue
Dir. Charles Grantham, 2:27 min, Chicago Premiere
Food Porn Star Larry Cauldwell returns in a film full of succulent food, sexiness and Larry! His virility permeates the silver screen and seduces viewers with both his aura and the intrinsic romance…of fondue.

11. Mixed Berries, Three Ways
Dir. Matt Checkowski, 1:00 min, Chicago Premiere
Another one of Chef Martin Berg's culinary dreams, just backwards.

12. Head On: Shrimping in The Lowcountry
Dir. George Motz, Chicago Premiere
There is nothing like wild-caught South Carolina shrimp. Learn why from the Lowcountry shrimpers and chefs that make their livelihood from this tasty local shellfish.
13. Lets Get Silly
Dir. Ian Glaum 1:00 min, Chicago Premiere
Don't mess with popcorn unless you want a beatin'.

14. Letting Salt Just Be Salt: Amagansett Sea Salt Co.
Dir. Liza de Guia, 7:05 min, Chicago Premiere
Steven and Natalie Judelson are sea-salt fanatics and the husband & wife team behind Amagansett Sea Salt Co. on Long Island, NY. They are New York State's only sea salt makers and one of only four artisan salt makers on the entire Eastern Seaboard.

15. Machines II
Dir. Jennifer Kendzior, 3:50 min, Chicago Premiere
A collage of rhythms from the smooth hills to the mesmerizing mechanics of a tea factory.

16. The Northeast Kingdom
Dir. Clyde Burley, 6:31 min, Chicago Premiere
Brothers Mateo and Andy Kehler derive meaning from their daily existence working hard in a place they both love: Greensboro, Vermont, home of Jasper Hill Farm, which produces some damn good cheese.

17. Ole-Martin Hansen – The Salmon Smoker
Dir. Nikolaj Belzer, 3:51 min, Chicago Premiere
Ole-Martin Hansen guides us around his London salmon smokehouse and the ascetic Norwegian-style cabin he has built above it.

18. Paloma
Dir. Scott Pitts, 1:05 min, Chicago Premiere
A beautifully blurred cocktail creation – fresh squeezed grapefruit, sliced lime, suspended salt and an epic tequila splash. Intoxicating memories of the sultry "Paloma."

19. Shakycow Orange Juice Commercial
Dir. Sean O'Hara, 40 seconds
Featuring actual oranges (and assorted fruit), this quirky stop motion animation shows a world where pregnant oranges are juiced in a hospital setting and juice blends are made from fruit getting funky with one another.

20. Small Green Fields
Dir. Imen McDonnell, 11:55 min, World Premiere
A tasty cinematic journey across the grassy hills and hedgerows of Ireland to reveal a remarkably robust food culture. American food writer Imen McDonnell discovers what she believes to be an Irish food renaissance.
21. That's Mandorlato!
Dir. Aromi Creativi, 4:30 min, Chicago Premiere
Authentic mandorlato comes from Cologna Veneta, a small town close to Verona, Italy. The film shows how a local product is kept alive using technology, but never forgetting tradition.

22. We Are All Just Trying to Tell A Story (Extended Version)
Dir. Pete Erickson, 4:38 min Chicago Premiere
Grant Achatz may not play an instrument but he is one of the greatest "jazz musicians" in the world. His instrument, food. Martin Kastner is a genius – a sculptor / designer whose medium is the table top.

23. You Really Should Eat This: Corned Beef Hash at George's
Dir. David Hammond, 2:00 min, Chicago Premiere
The first in the You Really Should Eat This series, is about the corned beef hash at George's in Oak Park.

24. You Really Should Eat This: Feijoada at Taste of Brasil Cafe
Dir. David Hammond, 3:15 min, Chicago Premiere
This second in the You Really Should Eat This series, is about the feijoada at Taste of Brasil in Oak Park.