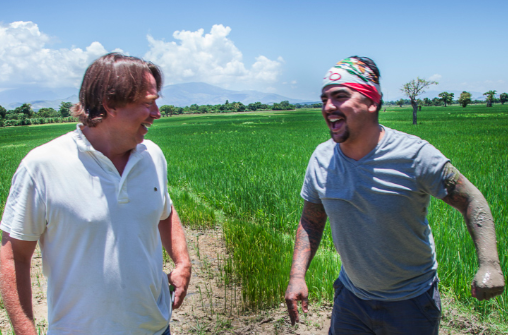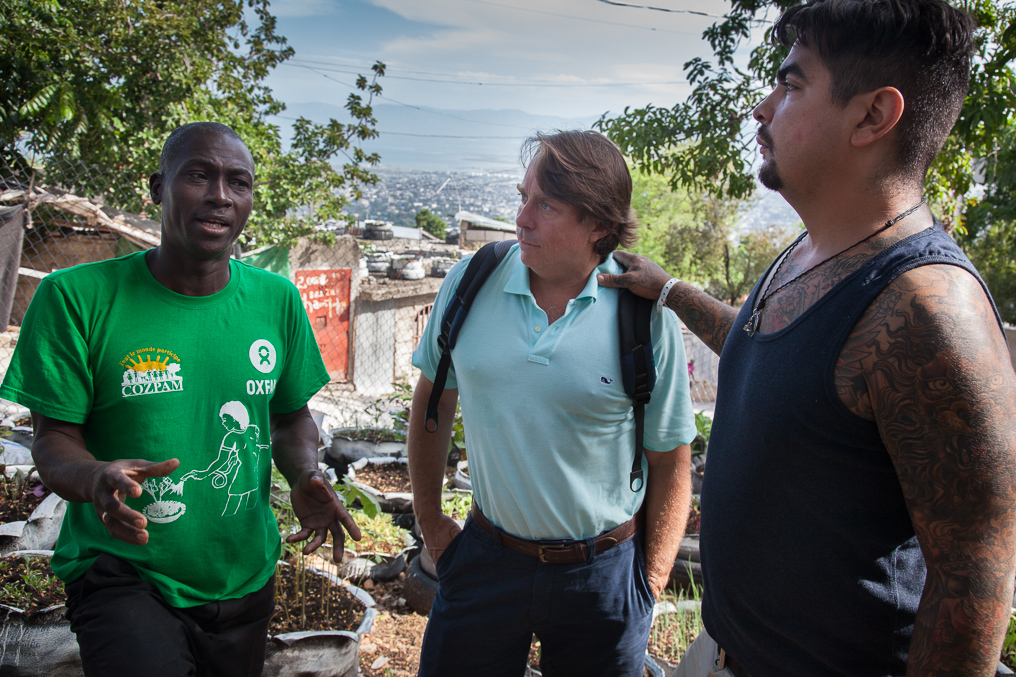 Chefs love to travel — for inspiration, to experience the cuisines of other cultures or just to get away from the heat of their own kitchens. When they return, we hit them with some questions — where'd they stay, what'd they do and WHAT DID THEY EAT?
Chef John Besh of New Orleans' renowned August is everywhere these days. When the James Beard Award–winner isn't featured as a contestant on Top Chef Masters or judging Food Network Challenge, he's busy visiting Mexico while taking over our Instagram feed. Turns out that he and chef Aarón Sánchez (of Chopped fame) are doing quite a lot of traveling together this summer. In addition to heading South of the border for a research and development mission for their forthcoming joint venture, Johnny Sanchez Tacos and Tequila Bar, the duo traveled to Haiti to learn about the country's culture and cuisine and to help rebuild following the devastating 2010 earthquake. We caught up with the two chefs to discuss their philanthropic trip.
Why did you travel to Haiti?
JB: I traveled to Haiti in order to become more familiar with the work that Oxfam is doing there. I wanted to see, on a very personal level, what "toe holds" were taking shape in spite of the tremendous odds that are stacked against them.
AS: I wanted to see how the country was rebuilding after the earthquake and I was also interested to learn more about how the resources were being allocated. They're doing great things over there.
What made you want to visit Haiti?
JB: Through my time in the Marine Corps — and in the wake of Hurricanes Katrina, Rita, Gustave and Ike — I've seen first hand of what effects ravages of war, natural disaster and political unrests has on people. My company sent folks to Haiti just after the earthquake to aid in logistics of life services, so I had wanted to know for myself what progress has been made and furthermore what should I be doing now to help fellow men.
AS: I knew very little about Haitian cuisine, and it was a great opportunity to do some good, while also meeting local chefs and experiencing their foods.
What were you hoping to achieve during your trip?
JB: I wanted to develop a broad understanding of how investing in the most vulnerable is an important step in creating an economy that will be conducive to long term help and growth.
AS: I wanted to gain insight on the culture, food and economy. Oxfam is doing some very cool things and I wanted to see the different programs, for example: developing SRI rice [short for system of rice intensification, a way to grow rice using less water and few chemicals] and the GROW method, in action.
Can you tell us about the ongoing issues in the country and how you were able to help during your time there?
JB: That's a question that books, curriculums and theses are based on. The everyday problems of many Haitians are very complex. Running water, sewage, security and economic validity are luxuries to many in Haiti. Far too few public services are offered to the poor, yet there isn't the tax base to reasonably expect those services from the government until a sufficient economy has formed. Our mission was to explore how we could best focus our energies so as to help the Haitian people overcome these tremendous obstacles. Encouraging U.S. Aid to source local foods for the poor would go a long way in jumpstarting agricultural growth. Micro loans to food producers allow them to acquire the capital needed to meet the needs of a growing agrarian economy, which means fewer people that need to be fed. Our U.S. policies are in many ways inhibiting an already fragile system.
What was the highlight?
JB: The hope in the eyes of the average person. The ladies that I met who pull resources to work their rice farm, milling their rice and transporting it to market has come about only because they, for the first time, have access to credit. They are very proud people who only need opportunity.
What was the lowlight?
JB: The fear and trepidation in those that are still left in the camps where sewage, water, security and dignity are scarce.
AS: Going to one of the refugee camps and seeing the poverty and insecurity of the people.
What was the best meal you ate on the trip?
JB: The trip culminated with a cook-off and celebration of Haitian food and culture. Aarón and I cooked a shrimp Jambalaya using Haitian-grown ingredients and likewise enjoyed so many of the dishes prepared by Haitian culinary school students and their teachers. Of course, the cuisine of Haiti is very similar to the southern Louisiana food of my childhood, so I couldn't help but to be impressed by the correlation of the two cultures.
AS: We had a great meal of SRI rice and beans after visiting the patties. It was great to taste the finished product all of these people are working so hard for.
Did you bring anything back, and if so, what?
JB: I brought back a Haitian flag and many memories. I actually left my shoes and clothes so that they might find a better home there with someone that needs them.
Do you have any other trips planned in the near future?
AS: I'm looking forward to the Latin Food Fest in San Diego in September, and I'm really exciting about going to Buenos Aires in January 2014.
More Just Back From columns on Food Republic: