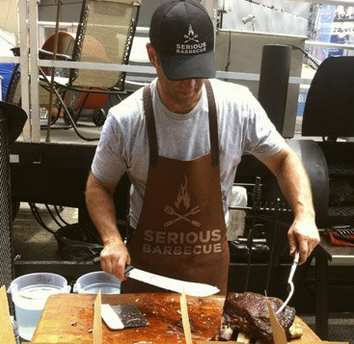 We've searched far and wide to find some of this weekend's most exciting food and drink festivals around the country. One of the year's biggest culinary celebrations takes place in Los Angeles, craft beer is honored on both coasts and events in New York and Nashville honor barbecue as we near one of the biggest grilling weekends of the calendar year. It's time to hit up one of these events while the sun is still blazing.
Los Angeles Food & Wine
August 22-25
Los Angeles, CA
Food & Wine heads West for the latest installment of its festival series. Chefs Fabio Viviani, Ilan Hall, Jet Tila and Ricardo Zarate will be on hand to represent their home city, while Grant Achatz, Scott Conant, Thomas Keller and Masaharu Morimoto are among those making the trip to celebrate the LA culinary scene. All in all, there will be over 100 names leading a variety of dinners, cooking demonstrations and special events.
Music City Festival & BBQ Championship
August 23-24
Nashville, TN
The fifth annual festival celebrates music and barbecue, two specialties of Nashville, aptly nicknamed "Music City." More than 30,000 people are expected to attend the competition, which will feature 100+ cooking teams from around the state. Live music will accompany the event on both Friday evening and Saturday afternoon.
Taste Of Brews
August 24
Long Beach, CA
Long Beach is the place to be this weekend to sample summer craft beers from dozens of local, regional and international breweries and brewpubs. Admission to the four-hour afternoon festival includes unlimited tastings, live music and access to a selection of food trucks at Lighthouse Park.
Adam Perry Lang Serious BBQ
Every Tues., Wed., Thurs. until September 5
Los Angeles, CA
It's quite the summer for fans of LA barbecue, because Adam Perry Lang is hosting a tri-weekly outdoor barbecue party now through September 5. Located on the Jimmy Kimmel Live backlot in a space that Lang describes as a "grilling paradise," the event celebrates the relsease of Lang's Serious Barbecue Book and serves its best recipes to the public and LA-area homeless shelters. The festival also features a "pre-order only" take-out menu and special VIP dinners complete with demos and tastings.
Achilles Heel Monday Night BBQ
Monday nights, 6-10:30
Brooklyn, NY
The Greenpoint waterfront tavern is launching a weekly barbecue night, so you can add some artisan meat sampling to your Monday night routine. The shindig features sausages from Marlow & Daughters — each is served with a pickle from Clinton Hill, mustard and house-made bread.
Upcoming:
Rub-A-Grub
September 1
Brooklyn, NY
Labor Day kicks off with an amped-up food fest hosted by Bed-Stuy restaurant Do Or Dine. A ticket gets you three rounds of food and drink, each paired with a different DJ set from Brooklyn-bred producer, remixer and artist DJ Spinna. Make sure not to bail early — round three will feauture a cocktail and whole roast pig from superstar chef and FR favorite Justin Warner.