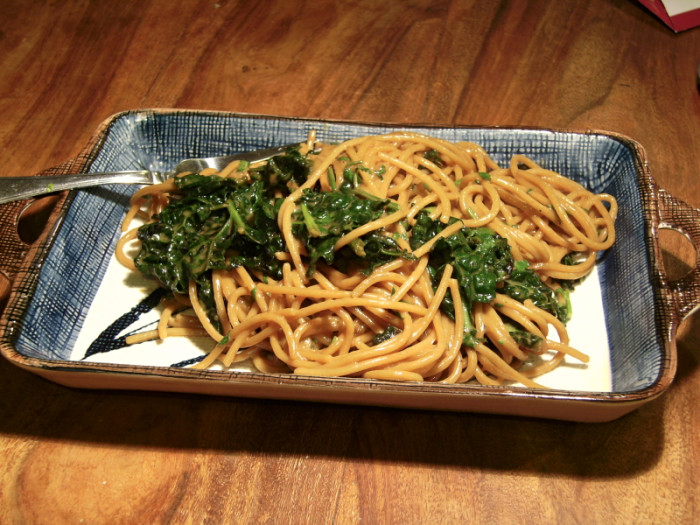 When the biweekly vegetable box appeared on my doorstep, my despair had less to do with the fact that my dogs announced its delivery at 5:15 a.m. and more to do with the majority of its contents. There was kale in there, a lot of kale, and since I had done some shopping without knowledge of the box's bounty, it joined a sizable amount of the stuff already in the refrigerator. Only an Andrew Weil-reading, chia seed-popping yoga instructor could eat this much kale.
I was a northern California ex-pat in Los Angeles for almost seven years. During that time I saw kale salads, bakes, soups, stir-fries and kale baked into chips as the cruciferous vegetable's popularity swept the country — born on a wave of antioxidants and glucosinolates. Kale was a protective talisman its followers believed could ward off or cure any ailment, particularly if ingested in the midst of a cleanse, which I can only describe as a secular version of ritual fasting that involves a lot of blended juices and occasional hallucinations. It got to the point where one could no longer discuss the vegetable amongst the non-believers, who had begun to think of the plant as an invading force and its proponents as cultists with nice skin.
Personally, I like to walk the middle road when it comes to most anything. Particularly with food.
I'll say it: I like kale. It stands up to most cooking methods and holds its own amongst other ingredients, which makes it an ideal counterpart to many vegetarian recipes that need a little oomph. It comes in different colors and textures that suit a wide range of culinary applications. I had an abundance of lacinato kale (also called "dinosaur kale" because of its big leaves and rough texture). I read an article that recommended steaming the stuff for maximum cholesterol-lowering properties. Of course kale lowers cholesterol. It also babysits and cleans up after dinner.
A few minutes in a steamer and the kale's chalky green appearance gave way to a more lustrous hue. I tossed the pliable strips with low-calorie shirataki noodles, a "gelatinous substance" that comes in scary little bags filled with questionable-smelling liquid, but takes up sauce pretty well when stir-fried with a simple Asian sauce. If you are not a fan of shirataki (and there are definitely some who aren't), go with rice noodles or plain 'ol pasta. This recipe serves 2.
Kale Noodles in Asian Cashew Sauce Recipe
Ingredients:
2 cups lacinato kale, sliced into ribbons
1 tablespoon olive oil
1 cup unsalted cashews
1 ½ tablespoons rice vinegar
1 ½ tablespoons soy sauce
1 ½ teaspoons minced ginger
2 teaspoons chili-garlic sauce
2 teaspoons sesame oil
Up to ½ cup hot water
Dash of fish sauce, optional
2 packages shirataki noodles, rinsed
1 tablespoon sesame oil
Cilantro, chopped for garnish
Heat two inches of water in a pan that fits a steamer basket. Rub the basket down with olive oil and add the kale. Steam 5 minutes, remove from basket and set aside.
Add cashews, rice vinegar, soy sauce, ginger, chili garlic sauce, half the sesame oil and fish sauce (if using) to a food processor. Add hot water until you reach the desired consistency — a little looser than barbecue sauce, but not watery. Taste and adjust the seasoning as desired.
Heat a pan, preferably a wok, over medium-high heat with the remaining sesame oil. Add the shirataki noodles, and sauté until they have a bit of color, stirring constantly. Add the kale, and stir.
Add the sauce and stir. If you like crispy bits, turn up the heat. Cook another minute or two more until the sauce adheres well to the noodles.
Serve up and garnish with cilantro and/or additional chopped cashews, as desired.
Because of awesome noodle recipes like that one, I tend to draw the health line at kale smoothies, a very popular use of the vegetable amongst people who seem to not appreciate solid food. I can think of better ways to manage my produce consumption than through liquids, at least those without alcohol in them. I paired a kale-strawberry margarita with my black bean and kale tacos dressed with salsa and guacamole the following night, leftovers of which create a killer breakfast with a fried egg on top.
To be honest, unless you like the taste of grass mingling with your añejo, I would steer clear of the beverage. Although, even that had its perks – the pitcher was drained and I felt no ill effects the next morning. Kale as a hangover buster? You betcha.
More kale-lebration on Food Republic: