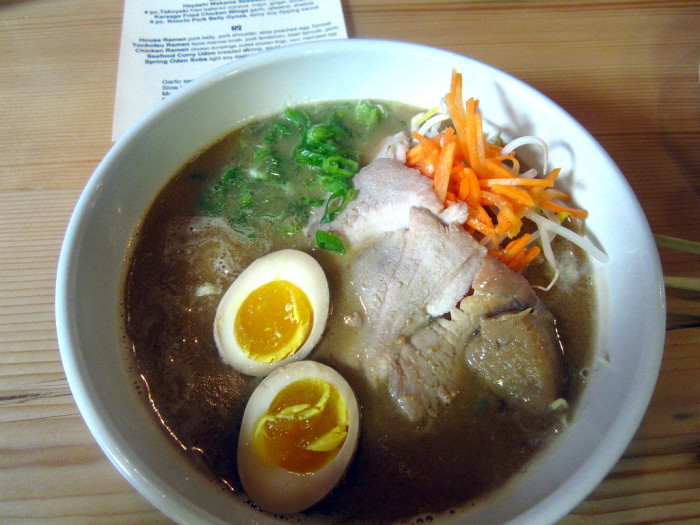 We recently told you about New York City's hybrid food movement (i.e. the age of the Cronut® — which the candidates for the NYC Comptroller were asked about in last night's debate). "Why bite into just one food item when you can enjoy two together?" we asked. At the center of this movement is an incredibly popular ramen burger, which is exactly what it sounds like: A grilled patty topped with sauce, wedged between two buns (rather, discs) made from ramen noodles.
The burger is the genius of a little-known chef named Keizo Shimamoto, who serves his burger at the outdoor food market Smorgasburg in Williamsburg. This weekend, the chef prepared over 300 burgers in preparation for the crash, which began around 8 in the morning and sold out before the typical ramen o' clock.
In a story on Grub Street, Hugh Merwin jumps off on the ramen burger craze to detail the city's elastic ramen landscape. Unlike in Japan, where ramen shops are bound by a hundred-plus years of tradition, the NYC scene has become a bit of a wild west. Sure, there is the fossilized establishment: Totto Ramen, Ippudo and Momofuku Noodle Bar are three that demand patience with one-to-three-hour waits, but reward with bowls that resemble the most coveted tables (well, counter spots at least) in Shibuya.
But as Merwin points out, there are far more ramen restaurants that buck the Japanese paradigm. He cites Yuji Ramen, located on the top floor of an East Village Whole Foods, serving soup with Italian-inspired noodle shapes. In Brooklyn, a year-old shop called Dasara sells ramen with international flare like a Cubana mazemen with roast pork, pork cracklins and cilantro.
And then there is the story of Ivan Orkin, a 50-yeard-old chef born on Long Island who has spent nearly half his life living, and eating ramen, in Japan. His forthcoming book, titled Love, Obsession and Recipes from Tokyo's Most Unlikely Noodle Joint, tells his life story and the secrets to constructing his shio ramen (in eight detailed steps). The book also previews the two ramen shops he plans to open in New York City, one on the Lower East Side and one in the AvroKO-designed Gotham West Market. The latter will focus more on hybridized bowls like one inspired by the great Jewish deli Russ & Daughters. For ramen fans, the move is like LeBron joining the Knicks.
"This is not a slam dunk," says Orkin in a recent interview around the courner from his Clinton Street location, which is slated to open sometime this fall. "Lots of shitty things happen to New York City restaurants." But if recent history continues, shitty things don't often happen to ramen shops.
Much more from Ivan Orkin in a forthcoming FR Interview.
---
Read more about ramen on Food Republic: