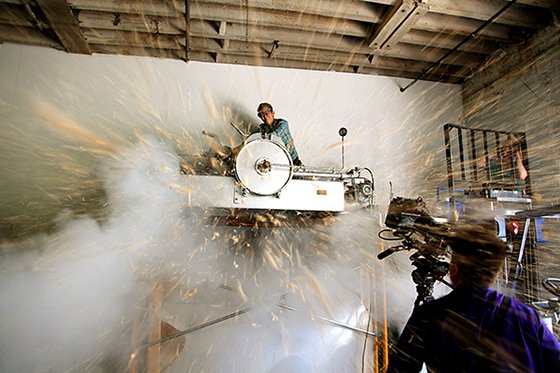 A James Beard Award–winning chef dishing out food alongside quality brews. A chance to hang out with some of the food world's top names. Fall-off-the-bone BBQ and craft spirits at a private late-night event. You're not going to want to miss out on what's going on in Brooklyn this week. Here's the deal (with information on how to buy tickets below):
On Tuesday evening, Food Republic is once again teaming up with our friends at Finger On The Pulse for the sixth season of Brooklyn BBQ Blowout. This edition – held at Good Company Bar in Williamsburg – will feature food from Boston's Jamie Bissonnette inspired by his restaurants Coppa and Toro, beer from Brooklyn Brewery and DJ sets by Dr. Sussman (that's Max Sussman, former Chef de Cuisine at Roberta's) as well as Food Republic's music-obsessed editors.
Also going down on Tuesday is a private showing of the newly opened Museum of Food and Drink's first exhibit: BOOM! The Puffing Gun and the Rise of Breakfast Cereal, which was recently funded on Kickstarter. A few tickets are still available for the event, which will feature dinner by Momofuku Má Pêche and Momofuku Milk Bar, drinks by Booker & Dax and appearances by chefs including Wylie Dufrense, Danny Bowien, Andy Ricker and Anita Lo. The celebrations will be hosted by Ted Allen.
After a lengthy construction process that was delayed by Hurricane Sandy, Red Hook's Hometown BBQ is finally set to open its doors to the public later this month. This Thursday, the restaurant will host a special late-night tasting, open to BBQ enthusiasts (at last check, there were still a limited number of tickets available). Guests will have the chance to sample from an array of barbecue dishes and craft beer and spirits, receive a private tour of the space and chat with pitmaster and owner Billy Durney about techniques.
BBQ Blowout With Chef Jamie Bissonnette
Tuesday, August 13 (7:00 p.m. – 10 p.m.)
10 Hope Street, Brooklyn
$10 per ticket, bbqblowoutaugust.eventbrite.com
Puff Party: A Private Showing Of MOFAD's Puff Gun
Tuesday, August 13 (7:30 p.m. – 10:30 p.m.)
452 Union Street, Brooklyn
$300 per ticket, puffparty.eventbrite.com
Exclusive First Look: Hometown BBQ
Thursday, August 15: (10 p.m. – 12 a.m.)
454 Van Brunt Street, Brooklyn
$125 per ticket, undergroundeats.com
---
See what else is going on in Brooklyn on Food Republic: