Welcome to What's Your Story?, our feature about innovative entrepreneurs in the food industry. What goes into the launch of a new food brand, how is the product made, who designs the packaging? All these questions, answered…
While growing up in Chicago, Carolyn Sherman Gutierrez's father became known around town for his legendary horseradish — people would approach her on the street in attempt to "get on the list" for a jar the coveted spread. Every year around Passover, Larry Sherman — a financier by trade — would make horseradish for friends and family. After thousands of jars, and years of perfecting his recipe, his daughter came to him with the idea of turning the family horseradish recipe into a business. While he didn't buy the idea initially, Carolyn, an advertising executive, was insistant and ISH Premium Horseradish was born. Today, the company produces four different flavors and is available online and at a variety of stores on the East Coast. Here, Sherman Gutierrez reveals what it takes to get an artisanal company off the ground.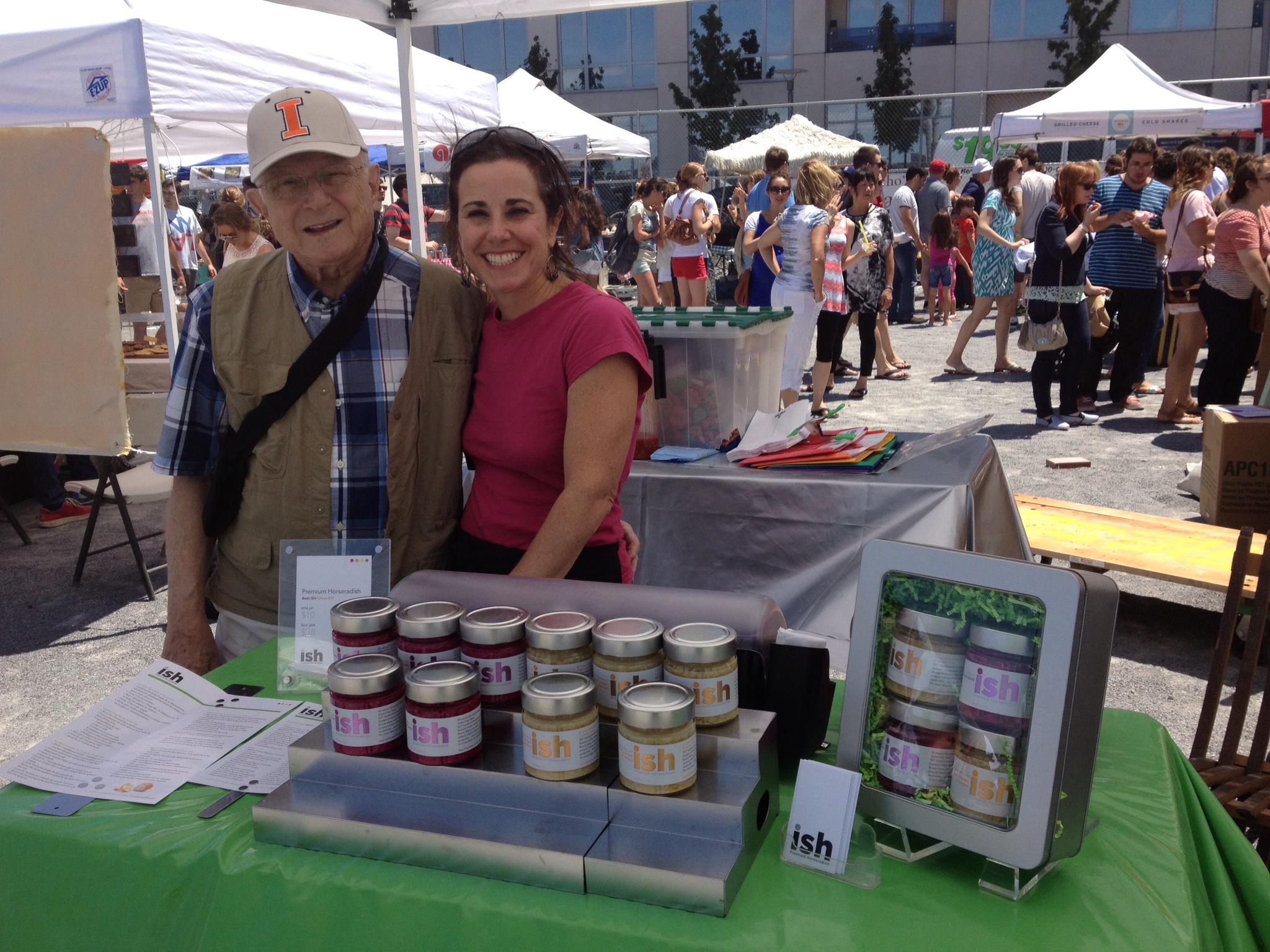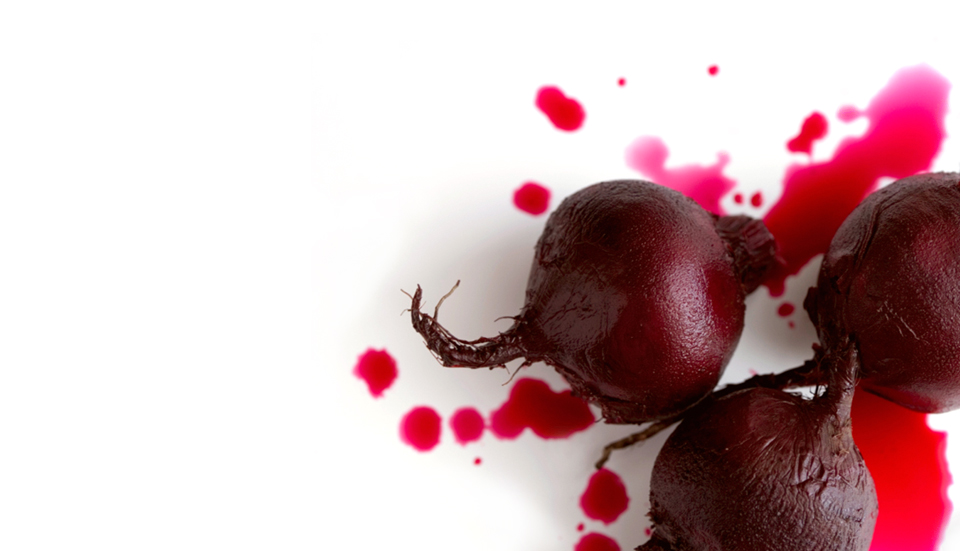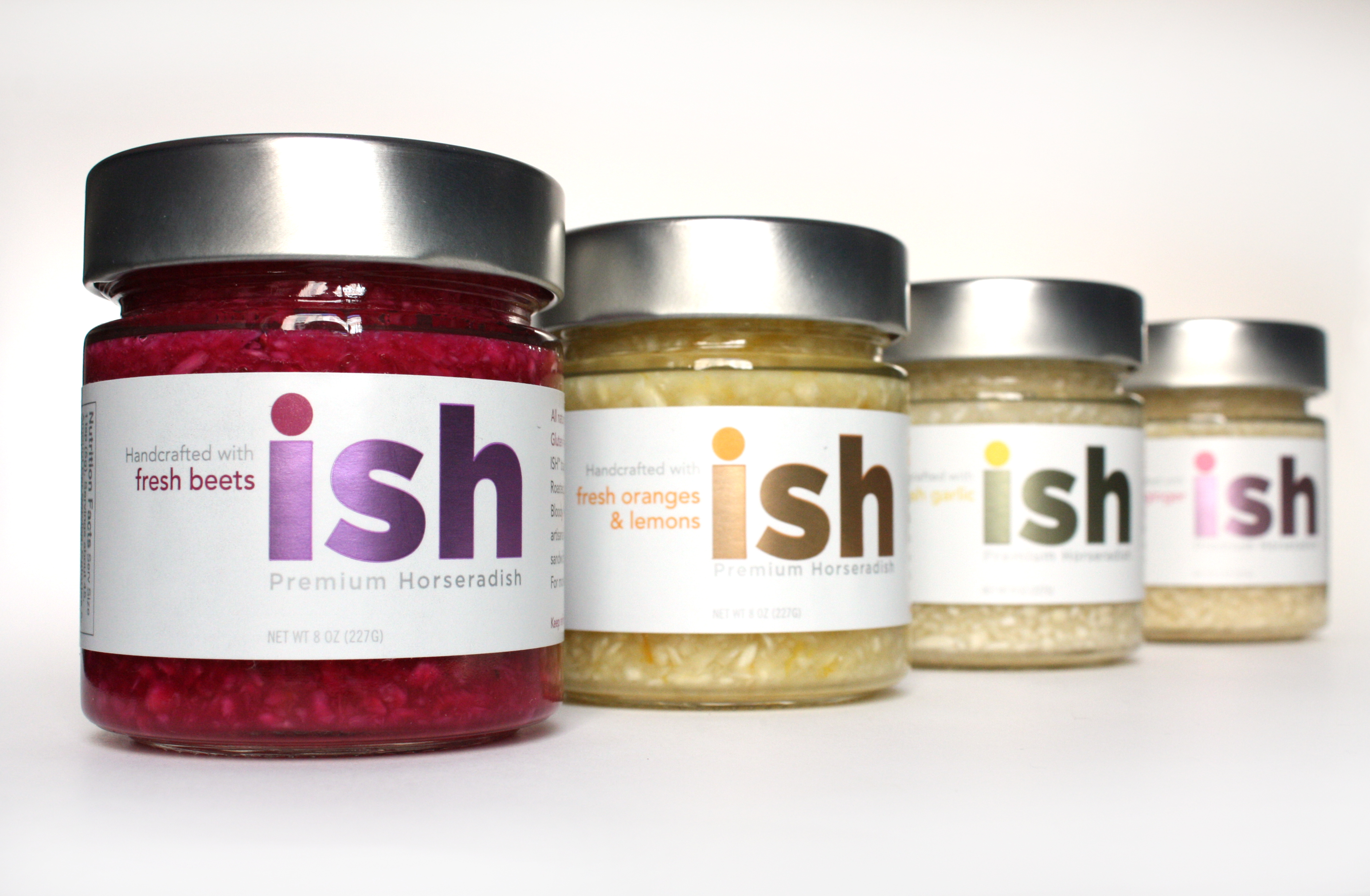 So, how did you convince your dad to give you the recipe?
My dad started making horseradish a long time ago, then a couple of years ago my siblings and I got together with my father and had a family discussion. He had just turned 80 and we were trying to convince him to retire. I said, "Dad, if you feel so compelled to work, then sell your business and become the next Paul Newman!" I told him that the horseradish was so wonderful, he could turn it into a business. He didn't bite! But it gave me this idea, and that's how I started ISH Premium Horseradish.
Why horseradish?
When I was a kid, my dad decided he was going to make his own horeradish for Passover, once a year. He could not find a beet horeradish that he thought was worthy of my grandmother's homemade gefilte fish, so he started tinkering around with recipes.
He would go to a big market in Chicago called the Randolph Street Market, which is a food wholesale market, and would come home with fresh horseradish root and fresh beet root and would make the horseradish from scratch. It took him three or four years to perfect his recipe. Then he would make it for family and friends once a year and share it with everyone. He would gift it to people so they have it for the holidays. It came to a point, several years ago, where he was making more than 200 jars in a given season, just by himself. His friends would collect jars all year long and drop them off at our house.
How did the company grew from that point?
My dad really became an urban legend in the Chicago area. People would be like, 'You're Carolyn Sherman?! How do I get on the horseradish list?' It really is absolutely delicious. I would be at a meeting for work or something, and people would be like, "Oh wow, I've heard about your dad's horseradish." Over the years, people would ask him why he didn't make it more than once a year, and that he should sell it. And he would always say, "Oh, that's not what I do. I do it out of the goodness of my heart."
Fast-forward to our family discussion when I threw that idea out there. I had just left my job in advertising and I was looking to do something different. This idea came to me and I thought making and selling the horseradish would be a wonderful legacy to my father. That's where the whole idea come from. I asked my dad what he thinks and he said go for it! I set up the company and ran with it.
How did you come up with different flavors?
I had spoken to some friends in the food industry, and they said that if you're going to sell this horseradish, you can't go out there with one product. You have to come up with different flavors. I started with my dad's original beet recipe and thought about what other types of flavors people enjoy, what kind of flavors would make sense.
The first flavor I developed was the citrus. To me, that came very naturally. I thought that those flavors would go very well with a wide range of food, whether it's the gefilte fish, or chicken or whatever it may be. I also have ginger and garlic, so it's four flavors total.
What's your best-selling flavor?
It absolutely depends on the day. The beet is always a strong seller because it's the most traditional. The citrus is also popular.
What has been your proudest moment?
I have two really proud moments. The first is when I first brought it to a market in New York and shared it with people. The reaction that I got was absolutely incredible. People were saying it was the best new product they've tasted. Knowing that it was my dad's recipe made me really proud. It's a really wonderful tribute to my father. The other thing is having Mario Batali be one of our biggest fans and customers.
So your dad is not actually involved with the company?
No, he's not. He is a big supporter though. When I first launched, he would always ask what's selling best. When I first developed the citrus recipe, he was like, "Oh I don't understand that, you should just have the beet." Now he loves the citrus and all the other flavors.
What advice would you give a food-focused small business?
I would say stay focused. There are so many things to do and so many distractions. You really need to keep your eye on the ball and persevere.
Where do you distrubute?
I sell at different speciality food retailers in the city, like Zabar's, Foragers, Epicérie Boulud and more. I really want to support my retailers. I also sell at the Smorgasburg Market in Williamsburg, Brooklyn. My wish is not to be selling at the market all the time. I do that just to be able to introduce the product to people.
What are some of your long term goals with the company?
I would like to extend my brand into other products. So, for instance make a Bloody Mary mix, salad dressing, vinaigrettes, just products that will include horseradish.
What about the branding? Do you do it yourself?
When I was starting ISH, I thought that if there's one thing I better do well, it's branding. If I did it well for other people, then I need to do it well for myself. I worked with a couple of friends to come up with the logos and the packaging. I had a very clear vision of what I wanted, so that's always helpful.
[Read about more food and drink entrepreneurs in What's Your Story?]