Meet The Man Behind The Largest Spirits Collection In The Western Hemisphere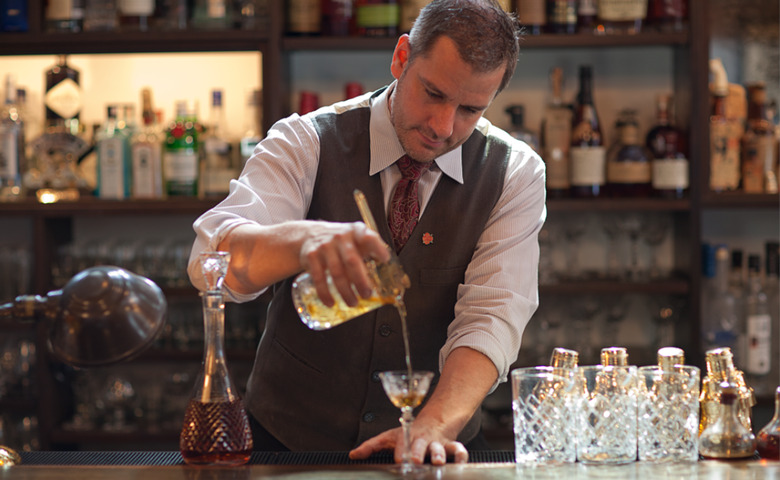 At Tales of the Cocktails Spirited Awards a few weeks ago, Seattle bar Canon took home the prize for Best Spirits Collection in the World. I had visited the bar a few months before the awards and was blown away by the collection that owner and head bartender Jamie Boudreau had put together. Every nook and cranny in the bar is filled with drinking history. Jamie has been a pioneer in the cocktail industry for many years and was one of the first bartenders to embrace molecular mixology and classic cocktail making. It is great to see that he has outdone himself with his very first bar opening. Last week, I sent Jamie some questions about his new bar and the phenomenal spirits collection stored within its four walls. I hope he has a good insurance company!
What a booze collection!
It's big. We specialize in whiskey, but that doesn't mean we neglect other categories. While we have thousands of whiskies, we have enormous selections of gin, rum, tequila, brandy, absinthe and amari. No matter what your favorite spirit is, you're sure to find a favorite or experience something you've never had before. We also have the largest known selection of vintage American whiskey for sale, as well as other vintage spirits that allow us to make vintage cocktails.
How big is the collection?
Our last estimate was around 2,800 bottles and it's constantly growing. The goal, since we're at this stage, is to have the biggest collection of any bar in the world. Right now, we say it's the biggest in the Western Hemisphere mainly because we're hoping to get firm numbers of some bars in Europe. We're about to start construction on more shelving that will allow for another 400 labels. By the time we stop collecting, we'll probably be around 3,500 labels. That is, unless I can find more room for storage.
When did you start collecting?
I've been collecting vintage booze for over a decade know. It was easier (and cheaper) back then as there was more of it available and fewer potential buyers. Kind of like cocktail books and tools, I guess.
What are some of your most valued and collectable items?
Geez, you're asking me to pick out my favorite child! I mean, we have over 200 labels of vintage whiskey! But, gun to head, some stand-outs are: The circa 1880 Amer Picon, circa 1930 Tarragona Chartreuse, 1895 Normandy rye, 1890 Union Club whiskey, 1898 Canoe Club and circa 1880 Westover Maryland rye. While some of this stuff doesn't seem that old, if you consider how long American producers have been bottling whiskey, our collection is a pretty good representation of this American art from the beginning to now. While those individual bottles are great, I'm even more proud of the fact that we have verticals of vintage whiskies.
What is the most expensive item at the bar?
That would be the 1898 Canoe Club Whiskey at $1,225 per shot. While we've only sold one of those, we've sold several 1906 Valley Forge shots at $950 per shot.
Have you ever opened something at 4 a.m. while intoxicated and regretted it the next day?
Fortunately, I have not been afflicted with Simonus Forditis and have great self-control around the booze. The vintage booze is all tucked away in a cellar that would involve too many keys and too many alarms to turn off for a drunk person at 4 a.m. to deal with. Especially when there are so many beautiful and much easier to access bottles in the immediate area of the bar. I wish I could give you a story, but I can't afford to drink that stuff. Hell, I can't even really afford to possess that stuff, which is why I still work seven days a week and rent my flat, instead of owning it.
Where do you find all of these treasures?
At first, it was mainly estate sales. Eventually, I found a dealer and now he informs me of bottles as they become available. But to warn everyone out there, this is not a game for the faint-hearted. If you think Louis XIII is expensive, wait until you get into this world.
What is the philosophy behind Canon?
Philosophy? There's no thought to this joint, we just slapped it together! But seriously, I just wanted to have a spot that had everything I would want in a neighborhood joint. Amazing cocktails, wine and beer. Awesome food. Great, sexy atmosphere and energy. Great service without being intrusive or formal. As for the booze, I've always thought of bottles of liquor (especially when surrounded by candles) as individual works of art that just become exponentially more beautiful as you gather them together. That was how the collection began. I built floor to 15-foot ceiling shelves on two of the four walls and put bottles on them. Now I'm filling them. This is the only art in the building.
Where did the name come from?
can·on [kan-uhn]
noun
1. a body of the most important, influential or superior works in music, literature or art.
2. a standard; criterion: the canons of taste
I feel that our cocktails as well as liquor bottles are art. Over 2,800 bottles and a 107-page cocktail menu can count as a body of the most important, influential or superior works in art, no?
Canon

928 12th Ave.
Seattle, WA 98122
206-552-9755
---
Read more Drink Ford Tough columns on Food Republic: