Around The World In 80 Wine Varietals: Sauvignon Blanc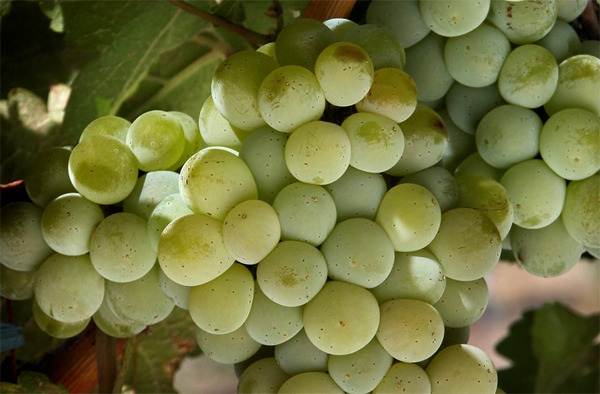 In Around The World In 80 Wine Varietals, contributor Chantal Martineau unearths how a particular grape drinks differently around the globe.
What can you say about a wine commonly likened to cat pee?
In the kinds of bars where you probably shouldn't order wine to begin with, you'll often be given the choice between a big buttery Chardonnay and a grassy, gooseberry glass of Sauvignon Blanc. So, it's natural to assume that when you have a broader spectrum of better wines to choose from, you might not reach immediately for the Sav. But before you give it a miss, make sure you know what you're missing. Sauvignon Blanc is versatile and varied, and very different from one grape-growing region to the next.
The grape variety is grown in Chile, California, South Africa, New Zealand and is associated with several different parts of France. In New Zealand, where the grape has made quite a name for itself since it was first planted in the 1970s, it's known to be big and brassy, ripe and bursting with tropical fruit flavors and sharp herbal notes. Certain California winemakers favor a slightly sweeter and smokier style influenced by barrel aging. South African Sauvignon Blanc producers like to say their style is more "European" – subtler than many New World versions. So, which is the right style? Well, that depends on the drinker. But you might say the earliest styles are white Bordeaux (usually, a blend of Sauvignon Blanc and Semillon) and those of France's Loire Valley, which many consider to be the grape's true home.
The exact origin of Sauvignon Blanc is unknown. It was recognized as early as the 16th century, but didn't gain popularity until some 200 years later. And somewhere along the way, it crossed with the red grape Cabernet Franc to create Cabernet Sauvignon. The appellations of Sancerre and Pouilly-Fumé, on opposite banks of the Loire, helped put the grape on the map. Limestone-rich soils near the city of Sancerre impart a flinty minerality on many wines in the region. On the Pouilly-Fumé side, the wines often have a hint of smoke; fumé means "smoky," after all. Although, in this case, Fumé also refers to the smoke-colored bloom that grows on mature Sauvignon Blanc grapes here.
As for that cat pee aroma you sometimes find in Sauvignon Blanc? It's a descriptor used to communicate a certain musky, herbal, vegetal quality some wines have. It's mostly found in less ripe Savs and, believe it or not, while some people hate it, others go nuts for it. There's no accounting for taste.
To find your favorite Sauvignon Blanc style, try one of these:
From the Loire

Clos Roche Blanche Touraine Sauvignon Blanc 2011
Some of the best-value Sauvignon Blancs from the Loire Valley come from lesser-known appellations outside Sancerre and Pouilly-Fumé. In this case, the region of Touraine. Light in body and alcohol, this organic wine shows soft fruit and subtle herbal notes, with an underlying minerality. Buy it: Chambers Street Wines for $20.
From California

Roth Alexander Valley Sauvignon Blanc 2011
Adopting the creamier style sometimes favored in California, the wine has a peachy sweet edge to its zingy citrus character, with a hint of vanilla perfume. A dash of Viognier was added to it for roundness and to get that pretty perfume just right. But it: K&L Merchants for $13.
From New Zealand

Isabel Estate Sauvignon Blanc 2011
At last count, the Marlborough region of New Zealand's South Island represented some 62% of the country's total vineyard area. And the vast majority of that is Sauvignon Blanc. The style of Sav made popular here can be like a punch in the nose. This family-run estate makes a more restrained style that's still full of the passionfruit and grassy notes the region is known for. Buy it: Sherry-Lehmann for $16.
From Chile

Casas de Bosque Sauvignon Blanc Reserva 2012
Sometimes Sauvignon Blanc expresses zesty citrus flavors like lime and grapefruit or a spicy, peppery character. This Chilean wine from the cool coastal region of Casablanca is made from grapes grown organically. It's lean and crisp, all fresh lime juice and spice in the mouth. Buy it: Astor Wines for $13.
From South Africa

Elgin Valley Sauvignon Blanc 2011
South Africa is often lumped in with New World wines, but its ancient soils have been farmed for wine production since the 17th century. The Sauvignon Blanc from here tends to be more mellow than many New World styles. From a husband-and-wife-owned winery comes this melon-lush yet citrusy-bright wine. Buy it: Williams-Sonoma Wine for $15.
More white wine stories on Food Republic: