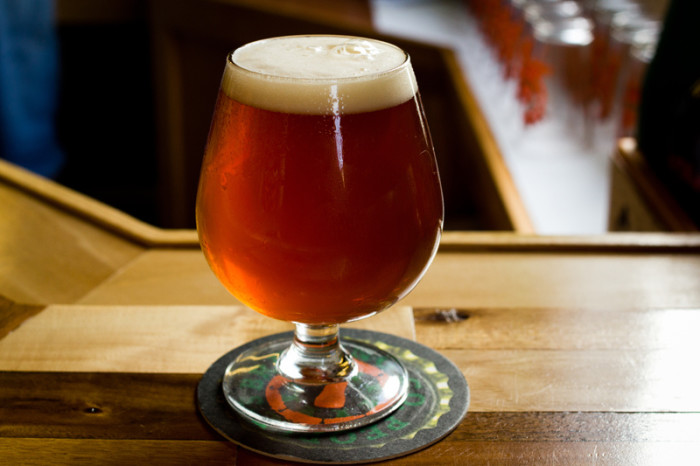 Today marks the beginning of August, and the bitter dog days of summer are here. Thankfully it's also National IPA Day! We gave India Pale Ales (IPAs) a full month of coverage in June, but we saved one of our favorite styles of IPAs just for this day of celebration. Many IPAs are defined by intense flavors of grapefruit and citrus, thanks to the diverse fruity character of hops, but adding actual fruit to an IPA is a relatively new process we endorse.
While we love hoppy beers and fruit beers on their own, there's nothing more refreshing than a good combination of the two. IPA Day also falls right between the summer fruit harvest and September hop harvest — so while the hops might be lacking a monster fruit punch from a year of sitting around, the fruit is at its peak. While this style is still coming into its own, be on the lookout for many more fruit IPAs in late 2013 including Abita's Grapefruit Harvest IPA and Kiuchi Brewery's Hitachino Dai Dai, brewed with orange peel. Drink up and enjoy the last full month of summer with 8 of our favorite fruit IPAs.
1. Dogfish Head Craft Brewery: Sixty-One
The definitive crafters of "off-centered" ales, Dogfish Head isn't a stranger to using grapes (fresh or dried) in beer. While Aprihop and Hellhound On My Ale both are IPAs with fruit added, their newest addition, Sixty-One, is our pick for bringing together fruit and hops so well. Syrah Grape Must is added to their staple 60-Minute IPA, giving it an extremely vinous quality rarely seen in IPAs. Strange as it might sound, it works to perfection, resulting in one of their most accessible offerings.
2. Boston Beer Company: Samuel Adams Whitewater IPA
Sam Adams beers have really branched out in the last few years to include some remarkably experimental offerings. This one combines the body of a wheat beer and the hoppy kick of an IPA with the sweetness of apricots. It not only works, it's really good and super refreshing! There's lots of citrus, from the hops and the fruit, a hint of spiciness and just enough malt to balance things out. If you're after thirst-quenching drinkability that won't leave you tired after one or two beers, this 5.8% ABV ale is a great bet.
3. Cigar City: Homefront IPA
This concept was originally created by former MLB Pitcher and now co-founder of Center of the Universe Brewing, Chris Ray — along with Fremont Brewing in Seattle. It has now expanded to include a different lineup of breweries brewing this beer each year. One of the quirkiest and most awesome concepts in beer history, Homefront IPA is brewed with fresh oranges and aged on donated Louisville slugger bats! The taste is massively citrus and pine (surprise, surprise!) but it works very well. Even cooler, proceeds go to Operation Homefront, a charity which benefits families of wounded soldiers. Cigar City has brewing honors, and it's a home run!
4. Anchorage Brewing Company: Galaxy White IPA
Just a few years ago, brewing an IPA with funky yeast would have been way over the line. Thank goodness for breweries like Anchorage, who are always experimenting with the limits of wild yeast, like brettanomyces. Here they use tart kumquats, coriander and peppercorns and age the brew in French oak foundres (huge oak barrels). With all that going on, it's easy to forget it's an IPA – but it's actually a single hop showcase, featuring only the Galaxy variety. A huge flavor of brettanomyces and kumquat are apparent right away, but the grassy coriander and spicy peppercorns come through in the taste. Very complex, but it's actually really drinkable, even for 7%.
5. Odell Brewing Company: Tree Shaker Imperial Peach IPA
Odell is known for making highlights of their taproom available to the general public. Thanks, guys! This massive fruit Double IPA from their Cellar Series is brewed with over 3,000 pounds of puréed Colorado peaches. It's a sweeter beer with peach and citrus flavors up-front. The yeast is tasty and sweet, reminiscent of a Belgian, while the hops are present but not assertive, which is surprising for a Double IPA. This may be a fruity beer, but at 9.7%, it's got pits.
6. Stone Brewing Company: Ruination IPA — Tropical Heat Edition
Generally we try to stay away from recommending draft-only special releases, but this one is an exception worthy of the time to seek it out. On draft at craft-brew mecca Churchkey in Washington D.C., this is Stone's well-known Ruination with mango and habanero added. I was wary to try this from negative experiences with habaneros and beer; namely, the chiles just overpower the whole thing. This was quite the opposite, as the heat was balanced perfectly with the fruitness from the mango and the citrus hop flavor…and the 7.7% ABV is practically hidden.
7. Pipeworks Brewing Company: MariLime Law
This collaboration brings together Chicago's Pipeworks with Ardmore, PA's Tired Hands Brewing Company for a unique take on a Double IPA. Both breweries are known for their excellent IPAs and use of fruit in beer, so it's no surprise they infused this Double IPA with lime, a fruit more often used to compliment ingredients than act as the star. The lime stands out strong on its own and works well with the hops. The taste is so smooth you'd never realize that it's 8%, which is probably why it's a ninja: it'll sneak up on you while you're none the wiser.
8. Tröegs Brewing Company: Triple Mango IPA
A re-release of a 2012 offering in their Scratch Series, this "Scratch Redux" from the Hershey, PA hop specialists at Tröegs is a Triple IPA that doesn't mess around, clocking in at 11.3% with 125 IBU's. Though this beer has a mountain of hops, the final product is quite sweet from cane sugar, mangoes and a caramel malt backbone. As expected, it's got big tropical and citrus characteristics both from the hops and mangoes – almost more cocktail than strong beer. Despite its huge ABV, Triple Mango IPA will actually find its way into six-packs – so drink with caution!
Read these IPA stories on Food Republic: