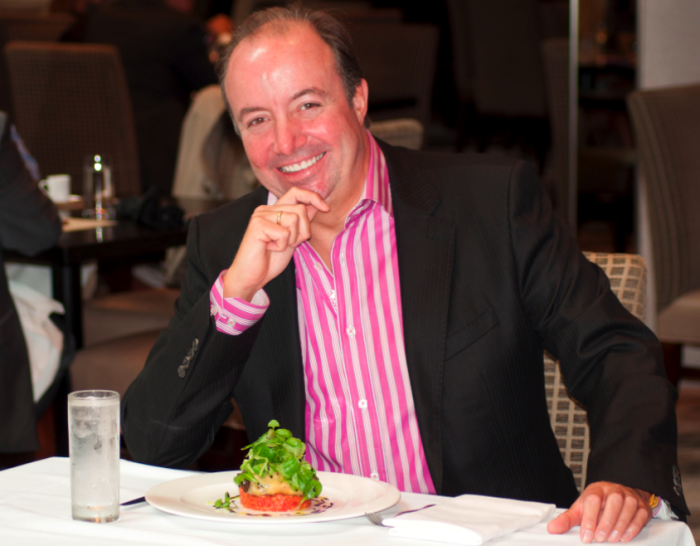 "Restaurants are hotspots in New York for three to six months, and then they can die. New Yorkers want to be there during this time. They want to be seen there during this time." Pascal Riffaud, a one-time head concierge of New York's famed St. Regis Hotel, is the man behind a website and app that secures clients these coveted tables. Today's Epicure charges members an annual fee of $1,000 – shorter-term memberships are also available – to gain access to reservations at some of the city's most popular restaurants (the website also offers weekend tables in Los Angeles, Miami and Westchester County).
"On demand" reservations, namely, ones at exceptionally popular venues on short notice and/or for larger party sizes are billed at a supplemental cost between $45 and $95. So, how does the system work exactly? And is it any different — not to mention unfair — than scalping tickets to a sold-out concert or a Broadway play?
Riffaud books the tables well in advance under pseudonyms — there are over 200 restaurants listed — and posts them to the website, usually without the restaurant's knowledge. Members can then "grab" the confirmed reservations, much like they would on OpenTable. The exclusivity (read: cost) of membership ensures that these in-demand tables are available mere days – and sometimes hours – before the confirmed time.
Disclosure: At my request, Riffaud provided me with a complimentary one-month subscription to Today's Epicure. I was able to book a table for six as "Gina Barber" at L'Artusi and secured a same-day reservation — this time under my name, since Riffaud has a relationship with the restaurant's owner — for a dinner date at Bond St.
So that 8 p.m. dinner you've been dreaming of at Lafayette? It can now become a reality later this week, instead of calling today for a spot on some weeknight in late August. (A spokesperson for Lafayette would not comment for this story.) We caught up with the company's founder to talk about the evolution of restaurant reservations and just how ethical he finds his own service.
How has the reservation process changed over the years?
Chefs have become celebrities – they used to have one or two restaurants. Now, they're opening restaurants left and right. Your favorite chefs can have 25 to 35 restaurants. Since chefs have become celebrities, going out to restaurants has become more of a production, like going out to the theater. Nobody used to talk about chefs like they do today and there is not one day where chefs are not in the news. There used to be a time when you could go to Le Bernardin and it would be busy, but not like now. These restaurants are now busy 365 days per year and trying to score a table has never been more challenging. More people are also able to afford these types of restaurants, which was not the case 20 years ago.
How many members does Today's Epicure have?
We have about 500 members. It is mostly individuals and there are a few corporate accounts.
What are some of the most popular tables on the site right now?
I would say The NoMad is probably one of the hottest tables. ABC Kitchen, ABC Cocina and Carbone are up there. Then you have the classics, like Eleven Madison Park, Daniel, Jean-Georges and Le Bernardin. We cater to both types of restaurants.
Do you have a relationship with a lot of restaurant owners? Do they know about your service?
I have great relationships with some owners who know about it. What I'm able to do with them is show multiple reservations – like OpenTable – and call owners directly when clients book it through my site.
And for other restaurants, you call in advance and book tables with a pseudonym?
There was a time when phone lines opened for restaurants at 9 a.m. and you could call at 10 and book a table. Now, you might be the 25th caller at 9, and at 9:15, the restaurant will say it's fully booked. Is it true? I cannot say. Some restaurants just want to fill the books and they'll keep some tables for VIPs and friends. We call when the lines open and book reservations under certain names and then put them on our website for our clients to grab them. If the clients cancel, we give the table back to the restaurants and they have no problems filling them. We also cancel the reservations that our clients don't grab.
Do you feel like your system is unfair to individuals who are trying to make reservations through normal channels?
Not really. I'm doing something that you can do – it's not like I'm buying something. Moreover, it's not even a certainty you can get your own table. These restaurants fill up every single night and there are still long waitlists.
So, why is your service worth it? And who are your clients?
Our market is the people who go out regularly. We have different types of clients. Most of them are from Wall Street and use us for last minute reservations, especially for business. Then, you have the foodies – people who love to go out and eat. It's very rare nowadays that people make plans a whole month in advance – other than special occasions like birthdays or anniversaries. The average time people make dinner reservations is between five and 10 days before they dine and that's how we help them.
---
Check out these NYC restaurant stories on Food Republic: