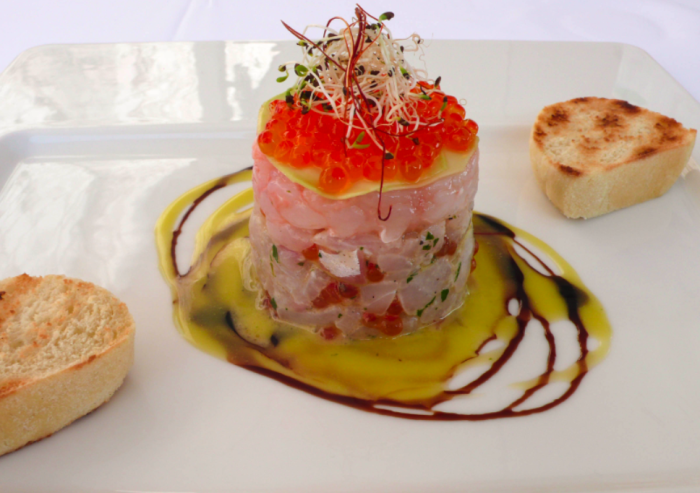 Zadar's Old Town, which occupies the northwestern part of the Zadar peninsula on Croatia's Dalmatian coastline, is surrounded by medieval fortress walls and framed by Adriatic islands. During the 16th century, the Venetians helped the city withstand Turkish sieges by building a large drinking water cistern with five ornamental wellheads (pet bunara), which are emblematic of Zadar's resilience. The ever-evolving city is an emerging culinary destination, with top chefs flocking to new and old restaurants. Many stay true to their Mediterranean roots — fresh seafood, delectable homemade pastas, risottos and blitva, a mixture of mangold (in the chard family) and boiled potatoes — but innovative dishes now mingle with more traditional fare. Here are five classic and creative Dalmatian dining options, appropriate for a city that juxtaposes the historic and contemporary.
Pet Bunara
As the name implies, this 30-year-old restaurant is tucked away on a street adjacent to the Five Wells Square. Vlado Babac took over the business seven years ago, and in the past couple years, he has focused on using organic produce. Unique dishes such as Turkey Steak "Pet Bunara" stuffed with fig jam and breaded with almonds make use of local ingredients and Mediterranean culinary influences. Babac's sister Sandra makes a popular line of fig products, "Fig Lady," which are sold in the restaurant. End your meal with homemade fig brandy. Stratico Street, +385 23 224 01o, petbunara.hr
Groppo
In its second season, this restaurant snagged coveted real estate on an elevated terrace overlooking the main pedestrian thoroughfare, Kalelarga. Start with Dalmatinski pijat (Dalmatian Platter) including skuta, a ricotta-like sheep's milk cheese from Pag Island and šokol, a native dish from nearby Nin made of pork neck prosciutto smoked with red wine and pepper. Here, you can find traditional fare with a twist: crni rižoto na bodulski (black risotto with cuttlefish) is made with red wine instead of white, yielding a richer flavor. Complete the meal with Zadar's famous Dalmatian cherry liqueur, Maraschino, which uses a traditional sixteenth century recipe from a Dominican monastery pharmacist.

Siroka Ulica

22, +385 23 250 802, restaurant-groppo.com
Atrij
Situated in a prime location at the main entrance to the Old Town, Atrij's casual yet sophisticated outdoor seating beckons you to enjoy a bottle of wine and watch passersby. With a former judge from the popular MasterChef Croatia television show at the helm of this revived establishment, which entered its first season this summer, expect playful but precise cuisine and a selection of 30 Croatian wines by the glass. Mate Janković strives to use fresh, local ingredients whenever possible, and his wine list is exclusively Croatian. Try the octopus mixed with house-dried tomatoes, local olives, apple vinegar and a flirty celery topping, then tuck into Grandma's Pot, a codfish and chickpea stew served with polenta. Jurja Barakovića 6, +385 23 316 424, atrijzadar.com
Foša
Tucked away on a peaceful bay at the end of Zadar's Riva promenade, the cuisine here is as dazzling as the spectacular sea views. Croatian chef Damir Tomljanović breathed new life into this 40-year-old fish restaurant when he arrived in 2007. During high season when the menu trends towards the traditional, you can call ahead and request to experience the chef's current off-menu suggestions such as sea bass tartare with lime-marinated Adriatic shrimp, paper-thin avocado and river fish eggs, or risotto with local Maraska cherries, sour apples and seared goose liver. Kealja Dmitra Zvonimira 2, +385 23 314 421, fosa.hr
Gourmet Kalelarga
Located just off Narodni Trg (People's Square), this modern gem is new to the scene since its opening in June 2012 as part of Art Hotel Kalelarga, a boutique hotel with 10 thematically designed guest rooms. Some of the best desserts in town can be found here thanks to Miriana Pilipović, one of the top pastry chefs in Zadar, who makes more than 50 types of desserts on rotation. Try the Torta s maslinovim uljem (olive oil tart) with olive oil, dark chocolate, white chocolate and lemon, which is unique to Zadar. Kalelarga 23
Kristin Vuković is a freelance writer living in New York City. See kristinvukovic.com for more information.
More European city guides on Food Republic: