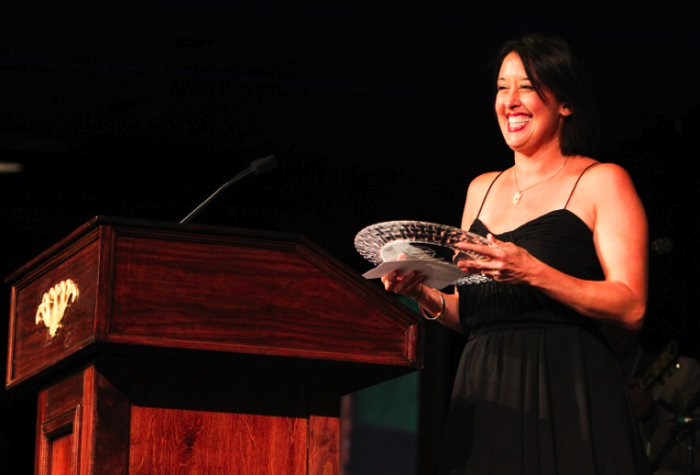 Last week, the city of New Orleans hosted the 11th year of cocktail and spirits festival Tales of the Cocktail. TOTC is an annual gathering of bartenders and drink enthusiasts who travel from all over the world and descend upon the French Quarter to gain knowledge at the 200+ seminars that are led by global spirit and cocktail experts. There are also many events where you get to hear from Master Distillers, drink at tasting rooms and be entertained at giant parties thrown by some of the world's biggest spirits companies. It remains the largest international gathering of its kind. The big finale to the week is the Spirited Awards, which are essentially the cocktail and spirit worlds' equivalent of the Oscars. This year, over 1,000 attendees packed into the Hyatt Regency to find out who the winners would be.
New York dominated the evening by winning roughly half of the awards, marking a big change from last year, when London stole the show. The Clover Club and The Dead Rabbit each took home three awards, while Saxon + Parole won Best Restaurant Bar and The NoMad walked away with World's Best Hotel Bar. Charles Joly, who works with famed chef Grant Achatz at The Aviary in Chicago, took home Best American Bartender. It was great to see Jamie Boudreau's phenomenal collection of spirits get recognized with the Best Drinks Selection for his Seattle Bar, Canon. Perhaps the most awkward part of the night went to Fords Gin, winning Best New Product. You see, I was the host of the awards and thus I was already on stage. I think it was the first time that anyone saw me at a loss for words.
Anyway, here is the final list of winners. As you can see, it was a certainly good year for the U.S.
Best New Product – Fords Gin
World's Best New Cocktail Bar – The Dead Rabbit (New York)
World's Best Cocktail Bar – Drink (Boston)
Best American Bartender – Charles Joly, The Aviary (Chicago)
International Bartender of the Year – Jack McGarry, The Dead Rabbit (Brooklyn)
Best American Cocktail Bar – The Clover Club (Brooklyn)
Best High Volume Cocktail Bar – Clover Club (Brooklyn)
Best Restaurant Bar – Saxon + Parole (New York)
World's Best Drinks Selection – Canon Whiskey & Bitters Emporium (Seattle)
World's Best Cocktail Menu – The Dead Rabbit (New York)
World's Best Hotel Bar – The NoMad Hotel (New York)
Best Bar Mentor – Julie Reiner, The Clover Club (Brooklyn)
Best American Brand Ambassador – Todd Richman (Sidney Frank)
Best International Brand Ambassador – Jacob Briars (Bacardi)
Best Cocktail Writer – Gary Regan
Best Cocktail Writing Publication – Difford's Guide (London)
Best New Cocktail/Bartending Book – Drink by Tony Conigliaro
Lifetime Achievement Award – Salvatore Calabrese
Read more Drink Ford Tough columns on Food Republic: