Behold: The Beers That Pair Perfectly With Lobster Rolls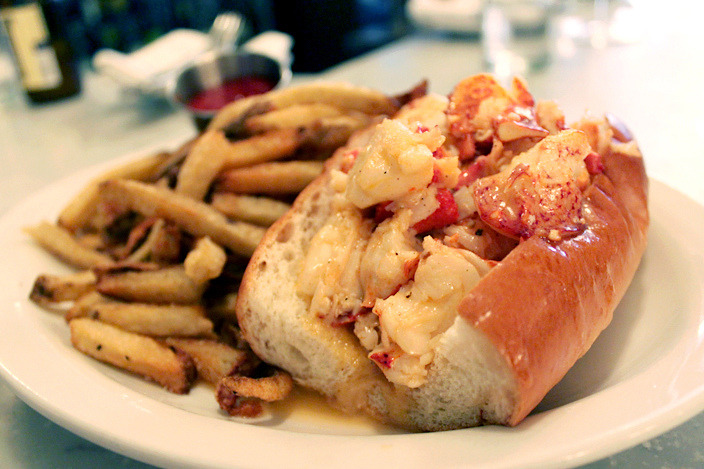 No food screams summer in the Northeast more than fresh lobster. While there's a time and place for spending a good hour cracking one open and extracting every bit of meat, when you're on the go, nothing hits the spot like the informal luxury of a lobster roll. Though they may resemble more casual fare, street food even, that exquisite meat makes this a must-try summer dish. That's where Lobster Roll Week comes in.
Ultimately, the beauty of the lobster roll lies in simplicity. The most important rule of thumb for pairing is not to overpower the taste of what you're eating, so big imperial stouts or double IPAs just won't work here. But don't fret, there's an incredibly diverse world of beer-styles to pair with. Here are eight of our favorites to get your claws around.
1. Allagash Brewing Company: White
Wheat beer is a great, light choice for pairing with most seafood but the flavors go particularly well with lobster meat. Allagash hails from Portland, Maine, the place for lobster in the U.S. and their white is one of the most flavorful example of the style. Orange and coriander notes really compliment the lobster's naturally sweet flavor, and a touch of acidity from the wheat cuts through the density of the buttery roll.
2. New Belgium Brewing Company: La Folie
This one may surprise you, since red wine is generally not recommended to pair with seafood. Truth be told: Flemish sour ales are actually a wonderful compliment to a lobster roll. Though you could do just as well with a traditional Belgian sour like Rodenbach, New Belgium's La Folie is the pick here owing to its unique sweetness, which balances the sour cherry aspect beautifully. These flavors help cut through the fat and the acidity compliments the rich meat. Hell, the meat even goes so far to bring out more flavor in the beer! It's a match made in shellfish heaven.
3. Goose Island Beer Company: Sofie
The Saison style has exploded in the past few years and some of them are incredibly funky – we'd suggest staying away from those if you're pairing with something as wonderful as a lobster roll. Instead, try Goose Island's Sofie, a Belgian-style ale partially aged in wine barrels with citrus peel. While Sofie does have a subtle brettanomyces funk, a fresh bottle should be much more citrus and earthy pepper-forward, which adds flavor to the lobster and can stand up to both a thick coat of mayo and a buttery roll.
4. Boston Beer Company: Samuel Adams Porch Rocker

Sam Adams puts out some great summer seasonals, but this is our pick because it's unique: a German-style Radler, which mixes Helles beer with lemon. A touch tart and heavy on the carbonation, this refreshing beer is great for the heat, incidentally, when lobster rolls are in prime season. Though beer purists are correct in saying this is technically not 100% beer, it still makes a great pairing due to the pronounced citrus flavor. Hold the lemon wedge and let the beer do the work.
5. Sierra Nevada Brewing Company: Summerfest
The light hoppiness of a Czech-style Pilsener is a great pairing for lobster. Sierra Nevada's take on this European brew is a great choice if you want a beer that won't overwhelm but still has a ton of flavor. You'll taste bready malts, grains and spice from the saaz hops, and the beer as a whole is simple, refined and perfect for summer, like a good seersucker jacket, which is my favorite thing to wear while eating a lobster roll.
6. Harpoon Brewery: Harpoon Summer Beer
Summer beers actually named "summer beers" can be pretty hit-or-miss, but this is a perfect lighter beer (at just 4.8% ABV) to compliment the heaviness of a lobster roll. Brewed in the German Kölsch style, this ale is refreshing and crisp with just a touch of hop bitterness. On a hot day you really want something refreshing and dry, and you can't go wrong with Harpoon's Summer Beer.
7. Cisco Brewers: Whale's Tale Pale Ale
For an easy-drinking but slightly hoppier experience, go for an English pale ale. Cisco sticks close to the classic interpretation using English two-row Maris Otter Malt for a hearty backbone. While it may look amber in color, it's bursting with all the flavor of a fruity hop pale thanks to English East Kent Goldings hops. It also comes in cans, which you know we're a big fan of.
8. Otter Creek Brewing: Wolaver's Oatmeal Stout
Oddly enough, stout — the lighter, non-imperial kind — is a fantastic pairing with lobster meat (and especially lobster rolls) as it compliments rich food and seafood both extremely well. While it might seem a bit too hearty for the season, it can get quite chilly during the evenings in New England, so even in summer, a stout is in style. Wolaver's Oatmeal Stout is full-bodied but also extremely smooth and even a bit sweet, with hints of dark chocolate and a little coffee bitterness. It's definitely got a hoppy presence, some spiciness and lots of great roasted character from the malt. An unusual pairing worth experiencing while you're eating all those lobster rolls.
Have some Lobster Roll Week recipes with your beer: