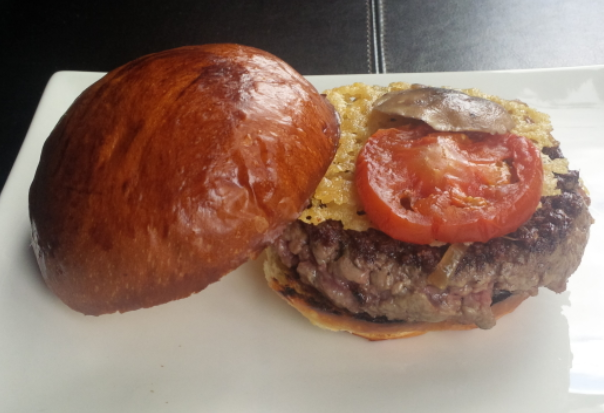 Umami Burger is opening its first New York location this Monday in Greenwich Village. The LA-based chain's NYC outpost will serve all its classic selections, as well as a couple of items unique to the location, like the duck patty.
It'll also include a full bar and nearly 20 cocktails, along with several draught beers and a wine selection, making it the most booze-friendly of all 19 domestic locations (ftw!). We're already sold on the Village Mojito, infused with coconut milk and chipotle, and The Royals, a cognac-based cocktail that drinks like sweet tea. While local burger enthusiasts will be quick to stack its products up against those at Shake Shack, Umami Burger fancies itself differently. There is no counter ordering here — patrons sit at tables in a two-story casual setting and order from waiters. There are already plans to open two additional NYC locations (Financial District and Williamsburg) in 2014.
A press preview earlier today provided us with a chance to sample from the extensive menu. All of Umami's meat products are ground in-house and served medium-rare. The Truffle Burger is a rich blend of beef, served with roasted garlic aioli, house truffle cheese and a truffle glaze. The Ahi Tuna Burger packs seared tuna on a bun with sprouts, avocado, gingered carrots and wasabi tartar sauce. Even the Original Burger bursts with flavor, featuring classic umami ingredients — a Parmesan crisp, shiitake mushroom, roasted tomato and caramelized onion.
As for those Shake Shack comparisons, they're sure to stir up debate. We'll hold back for now and let you draw your own conclusions.
Umami Burger
432 6th Avenue
212-677-8626
More New York City stories on Food Republic: