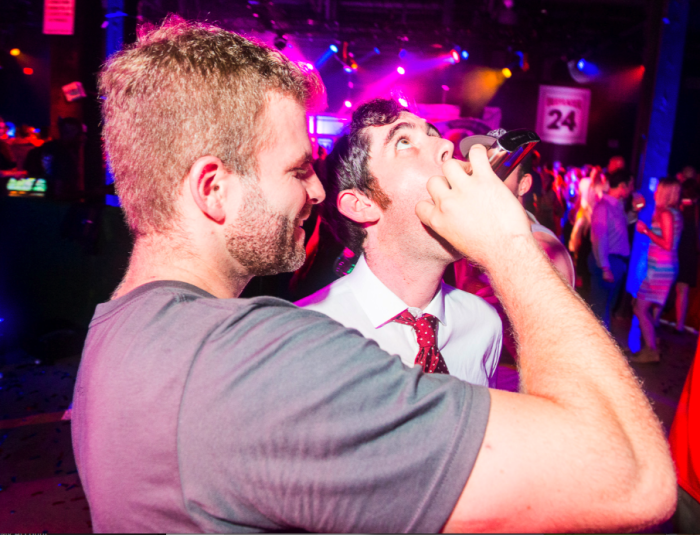 A lot of the world's best bars might have been missing one or two staff members last week, as New Orleans hosted the 11th Annual Tales of the Cocktail Awards. The week is like summer camp for the booze business, and during the festivities you're bound to spot some star mixologists ordering frozen Irish coffees at Erin Rose, or armfuls of Miller High Life and chili cheese fries at the Alibi, or trying to figure out where the best late-night pool party is happening.
No summer camp would be complete without an awards ceremony, and this year New York City dominated the winner list. We managed to corner some of Saturday's winners fresh off the podium and at the after-party.
Food Republic favorite Julie Reiner won three awards: Best Bar Mentor, and her bar Clover Club won for Best American Cocktail Bar and Best High Volume Cocktail Bar. New York newcomers the Dead Rabbit won Best New Cocktail Bar and the World's Best Cocktail Menu for their tome-like list of 19th century cocktails, and Jack McGarry took the prize for World's Best Bartender. The NoMad Hotel won World's Best Hotel Bar, marking the first time an American bar won in the category. The team at Saxon + Parole won for Best Restaurant Bar.
Food Republic contributor Simon Ford won Best New Product for his stellar Ford's Gin. We were instant fans when he served us some pre-launch secret stash at the last Food Republic Test Kitchen.
In other cities, James Beard Award winner Charles Joly from Chicago's Aviary won American Bartender of the Year. We congratulated him on a big year, and he said, "You have to do the work!" We're pretty sure there's a larger than fair share of talent involved as well. Canon in Seattle's Capitol Hill were given the title of World's Best Drink Selection. And Drink in Boston came home with the grand title of World's Best Cocktail Bar. We're looking forward to having a tipple with them next time we're in Beantown.
Todd Richman, the guy who has gotten all of us to take Jagermeister seriously, won the award for Best American Brand Ambassador, and I guess that means we'll be celebrating with Jager-marinated BBQ for the rest of the summer!
Be sure to check back soon for a complete recap of the awards from our very own Simon Ford.
More Tales of the Cocktail coverage on Food Republic: