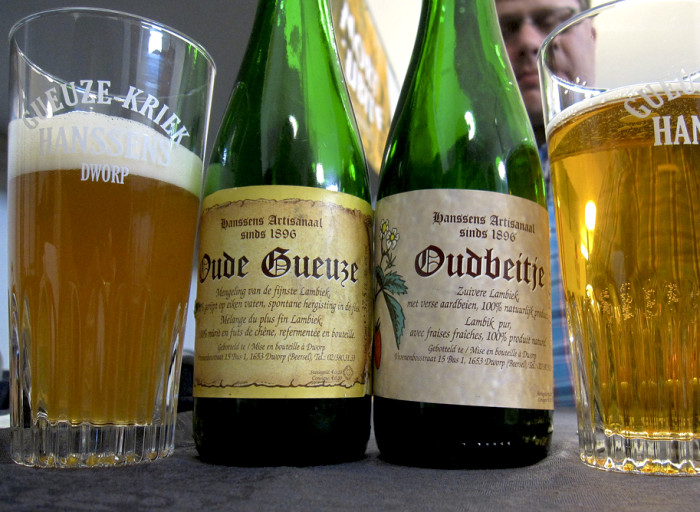 Strawberries are a staple of summer dishes and cocktails, but one area they've only recently been blooming is in the beer world. This past April, Budweiser made headlines when they released a strawberry variant of their Lime-A-Rita beer cocktail. It makes a great gift for someone you hate, but that's about it. Thank goodness craft beer came to our rescue, bearing delicious fruits from this summer's strawberry harvest. For a boozy summer treat outside of Frozen Drinks Week, here are five of our favorite strawberry beers.
Cascade Brewing: Cascade Strawberry
Perhaps the Pacific Northwest's best producer of sour ale, this incredible offering is right up there with the best of 'em. The 2012 edition is a blend of wheat ales barrel-aged in oak for 12 months, then aged with strawberries for an additional three months. Every bit of the master craftsmanship shows: huge smell and taste of tart strawberries mixed with lemony citrus, lactic acidity and smooth oak from the barrel-aging. Even at 7.1% ABV, it's a remarkably refreshing beer to be savored on a hot day.
Almanac Beer Company: Farmers Reserve 3
There are plenty examples of American Wild Ale looking to a single fruit for flavoring, but Almanac's Farmers Reserve #3 uses two. It's brewed with local strawberries from Swanton Berry Farms and baby nectarines from Blossom Bluff Farms, it's then aged in used wine barrels for a whole year. The result is tart ale with huge fruit flavors that really showcase both fruits, something we've found to be extremely difficult to pull off. This is definitely one of the year's best new sours but it's a limited release, so if you see it make sure you grab at least one!
Samuel Smith Old Brewery: Samuel Smith's Organic Strawberry Fruit Beer
Like the other Samuel Smith's fruit beers, this one is easy-drinking and well-balanced between tart and sweet. There's a top note of strawberry jam with very little trace of alcohol or hops but a pleasant hint of toasted malt in the background. It's a crisp, refreshing beer even non-beer drinkers would enjoy.
Abita Brewing Company: Strawberry Harvest Lager
Strawberry's lactic flavor often drives brewers to pursue a sour ale over a lager for fear of coming off as too artificial-tasting. This is a wheat beer which leans toward the sweeter end of the strawberry chart — Abita's kind of tastes like strawberries and cream with nothing fake about it. It's really refreshing, nicely carbonated and at 4.2% ABV it's a sessionable fruit lager that won't overwhelm.
Hanssens Artisanaal bvba: Oudbeitje Lambic
Hanssens is known for their killer gueuze, but they make some great fruit lambics, too! Prepare yourself for a remarkably sour beer — perhaps it's best to try another on this list to acquaint yourself with the lactic strawberry taste first, then dive into this one. Despite the sourness, it's still packed with strawberry flavor along with that surprisingly addictive funky, horse-blanket aroma and taste. The Outbeitje Lambic is an experience that you should have if you're interested in lambic or are a fan of the sour side of fruit beer.
More beer to drink this summer on Food Republic: