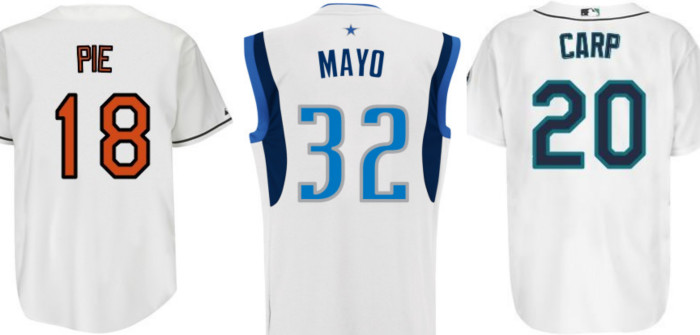 Today, Wednesday July 17, marks the only day of the year in which there are no live sporting events in any of the four major U.S. professional leagues. Yes, we know that many of you are going through severe withdrawal — before meaningless MLB midsummer games begin again tomorrow night, of course. As a distraction, we've assembled a roster of 20 of our favorite current and former professional athletes who have names resembling food and drink items. This is Food Republic, after all.
TEAM TWO COURSES
Coco Crisp
It's a cereal! It's a dessert! It's an overpaid outfielder for the Oakland Athletics! The owner of baseball's undisputed best name is hitting a pedestrian .263 while raking in over $7 million this season.
O.J. Mayo
Talk about an unbeatable one-two combo. We wonder which brand of mayonnaise the recent Milwaukee Bucks signee prefers with his morning orange juice.
Marlon Byrd
Team Two Courses (and the Mets) took some heat for signing an admitted PED-user, but the move has paid off — the half-carnivore, half-pescetarian outfielder is on pace to hit close to 30 home runs this year.
Gelo Orange
You know you're a boss when your name alone makes you the subject of an article on SB Nation. If Jell-O doesn't already have an endorsement deal with the Wake Forest defensive end, there is no justice in the world.
***
TEAM FISH
Tim Salmon
Having spent his entire minor league and 14-year major league tenure with one team (the California/Anaheim Angels), Tim effectively put the whole farm-raised vs. wild salmon debate to rest with a successful career.
Mike Trout
The Angels have clearly perfected a formula, sticking with a freshwater species and carefully bringing up the star centerfielder in their farm system before he swam his way upstream to the big league club in 2011.
Mike Carp
Perhaps jealous of their perennially better division rivals, the Seattle Mariners tried their hand at the freshwater fish business. Their attempts failed, however, culminating in Carp's trade to the Boston Red Sox for the ever-dreaded "player to be named later."
Catfish Hunter
An independent arbitrator recently ruled that the Hall of Fame pitcher belongs to Team Fish rather than Team Two Courses, who had also placed a waiver claim for his services.
Mardy Fish
His last name is "Fish." He's on "Team Fish." LOL.
**
TEAM GOURMET
Walker Sturgeon
Congratulations, insignificant player for obscure college football team! Your last name has singlehandedly merited your inclusion in a published article.
Allen Champagne
See: Sturgeon, Walker.
Eddy Curry
Does the former highly touted center have a cool last name? Is he currently hovering above 300 pounds playing for some team called the Zhejiang Golden Bulls? Is he still somehow costing the Knicks both money and draft picks? Yes. Yes. Yes.
Dijon Thompson
After a 16-game career in the NBA, the former Knicks draft pick packed his bags and headed for Europe. As of 2011, he finds himself in – you guessed it – France.
***
TEAM COMFORT
Chili Davis
One of the few accomplished athletes on this list, the former baseball slugger got the nickname "Chili" when a bad haircut in sixth grade prompted a friend to ask "How'd the barber cut your hair? With a chili bowl?"
Bubba Franks
With he and Mr. Davis combining to weigh almost 500 pounds, we're starting to wonder if there's some sort of unspoken agreement between comfort food companies and namesakes of their products.
Felix Pie
Some basic research tells us that Felix's last name is pronounced [PEE-ay]. We don't care. He will always be [PIE] to us.
Channing Frye
A third former Knick on this list? Only this franchise could somehow manage to be a laughingstock in an article assembled completely randomly.
***
TEAM DRANK
Todd Coffey
Perhaps a boost of caffeine would help the journeyman reliever, who finds himself a free agent after eight nondescript seasons in Major League Baseball.
Paul Coffey
He played in the NHL from 1980 – 2001 and holds the record for most goals in a season by a defenseman (48). Point is, Paul is single-estate. Todd is Sanka.
Boof Bonser
Where to begin, where to begin? Unsure of why Mr. Bonser finds himself on this list? We'll keep things (semi-) classy here and let Google do our dirty work.
More Sports Crossovers on Food Republic: